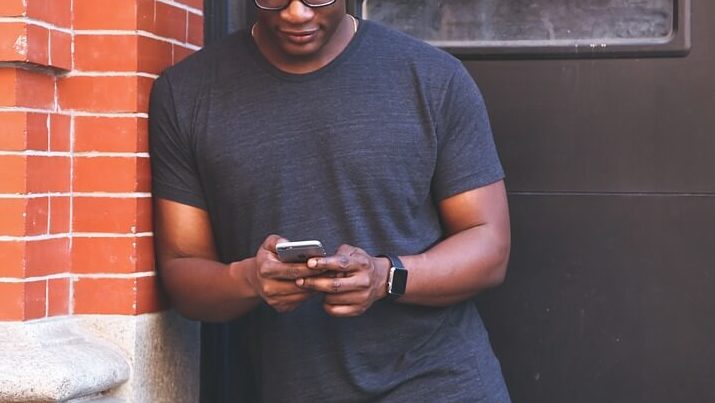 We have previously covered a wide variety of mobile apps for electricians, comparing some of the leading apps on the market so you can find the best one to suit your business.
Now we are taking the winners from those categories and including some of the most important mobile apps to help you stay organised on the job and prepared for any situation, no matter what your trade is.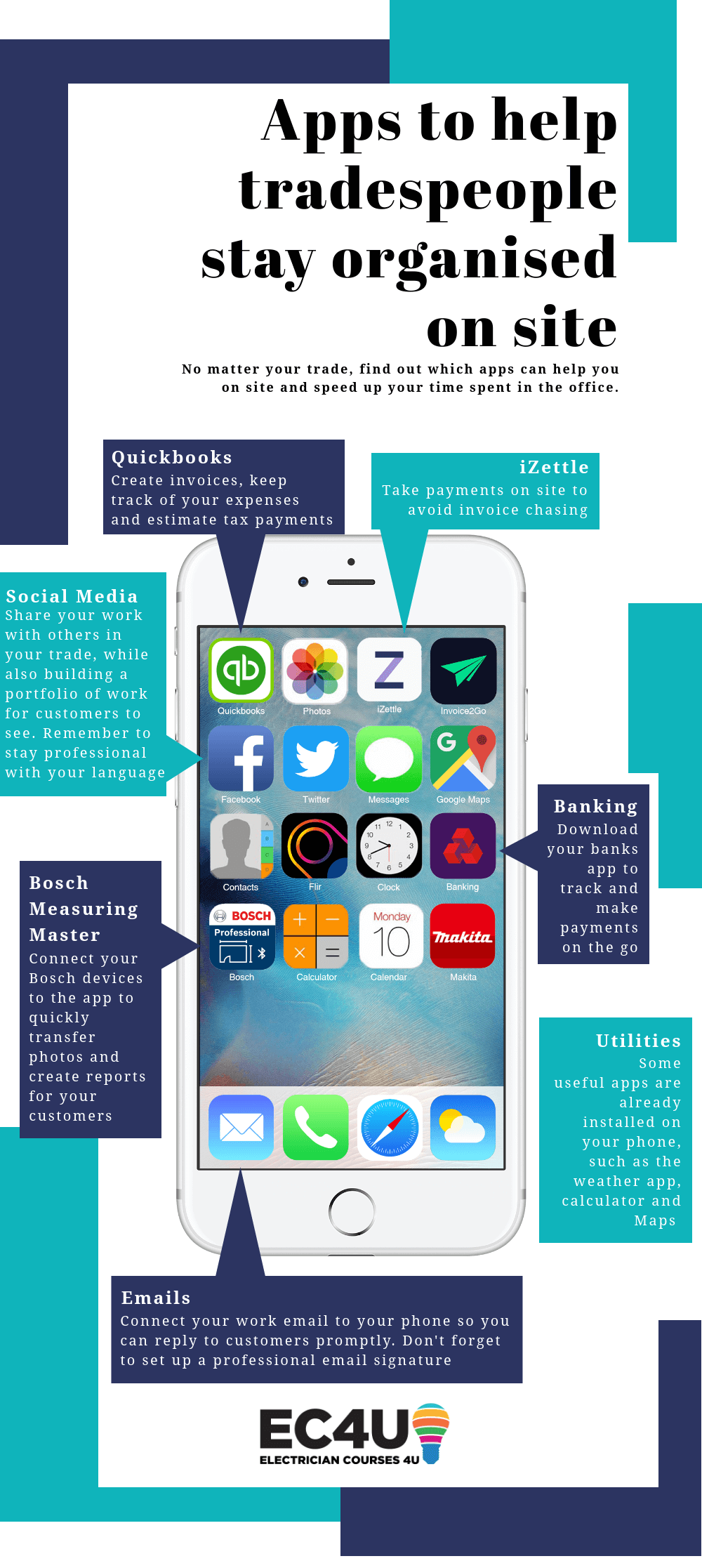 To share our 'Mobile Apps for Busy Tradespeople' infographic on your website, simply copy and paste the embed code below:
Emails
Stay connected on the go and connect your professional work email to your phone, so that you can reply to emails from customers promptly and efficiently. Having access to your work email also allows you to send invoices to customers quickly, as many other apps like Quickbooks will connect with your email account.
Remember to set up a professional signature for your email, including your logo and contact details (such as website and phone number).
Social Media
In today's modern day, many tradespeople are active on social media, sharing photos of their work and updates on projects.
Not only does it allow you to connect with potential customers and show them examples of your finished work, but it also allows you to network within your trade community and make new contacts.
Google Maps
Don't get lost ever again. By having Google Maps on your phone you can easily find the best and quickest route to your next destination.
It's important to arrive promptly for appointments, especially with customers, so make sure you plan in advance your route if you are unfamiliar with the location.
Weather App
If your trade includes working outside, it's best to get ahead on the weather conditions. Even though there is still a chance the weather can change in an instant, it will give you a good idea on what to expect over the next week.
Accounting
We are recommending Quickbooks, which we also use as a business, but also because it offers a variety of features that are perfect for small businesses.
It can help track your expenses, create and send invoices, estimates tax payments (depending on your package), and even allows you to run a payroll system. It offers a simple system to navigate through and quickly learn.
Invoicing
We've found Invoice2Go (the pro package) to be another competitive invoicing app available for tradespeople, as it allows you to create an invoice template, track your expenses and also allows you to take payment through a variety of routes.
You can schedules invoice reminders to go out to customers, access reports when you have no signal and also tell you when an quote has been opened by a customer.
Payment
iZettle provides one of the best transaction fees of just 1.75% no matter what card the customer uses. Connecting the app with the card reader is simple and easily allows you to take payments for jobs on the move, ultimately saving you time chasing up overdue invoices.
You can also create invoices on the app, create monthly reports, and customise receipts for the customers. Any payments will be made into your bank within 1-2 working days too.
Banking
To save time, it's best to install your banks app on your phone. By having easy access to your account, you can pay people instantly and also check that customers have paid you too.
Cheques and cash deposits into a business account are charged by your bank, so being paid via BACs is a simple, easy and free solution.
Makita Tools
Looking to save space in your tool bag? Makita have developed a handy app that has a distance measure, spirit level, sound level meter and torch, available for free on iOS and Android. It's ideal app for when you are making quick estimates on site and helps save space in your tool bag.
Bosch
All tradespeople can benefit from the Bosch Measuring Master app and is free to download for iOS and Android.
It allows you to connect Bosch tools via Bluetooth to control remotely, create projects and add photos, email directly from the app, create detailed plans and document temperatures. Some functions on the app will work better when used on a tablet, such as when you need to create plans.
FLIR
If you have the FLIR mobile thermal camera attachment, you will already have the FLIR app installed. However, if you have a FLIR thermal camera with WiFi capabilities, you can also download the app to gain access to more features to help your business.
Similar to the Bosch app, you can import photos to create professional reports for your customers, but you can also stream live video and listen back to voice recordings and control your camera remotely.
If you're still not sure which app is right for you, take a look at our ultimate guide to apps for electricians, which compares some of the leading apps available. 
Back to blog