3 Days
£385 inc. VAT
18TH EDITION COURSE NOW ALSO AVAILABLE ONLINE!
Read more »
18TH EDITION COURSE NOW ALSO AVAILABLE ONLINE!
Looking to complete our 18th Edition course but not sure you can take the time off work? Take a look at our online 18th Edition course which you can complete from home, in your time and at your own pace.
Click here to find out more.
Who is this course for?
The 18th edition course is for both newcomers to the electrical industry or for those wishing to update their existing qualifications to the current 18th edition wiring regulations. This is an essential qualification for anyone looking to join a competent person scheme and self certify that their installation work meets current building and wiring regulation guidelines.
We are also running an online 18th Edition course which you can complete from home, find out more here.
When booking our 18th Edition Course, you will have the option of paying for the course in full (£385 inc. VAT) or reserving your space by paying a deposit (£150 inc. VAT).
Book this course
In Centre Training
Course Overview
City & Guilds 2382-22 18th Edition Course
This course qualification is officially known as the Level 3 Award in the Requirements for Electrical Installations BS 7671:2018.
The aim of this course is to provide you with a great understanding of the Wiring Regulations, which you must follow when carrying out any domestic or commercial electrical installation work. This qualification will also be essential if you want to join a Government Approved Part P Scheme Provider, like NICEIC or ELECSA.
The IET 18th Edition Wiring Regulations 2018 is a large brown book, full of regulations that we must follow as domestic electricians. The book content can sometimes appear quite daunting, however, as electrical training specialists, we will ensure that you understand the key chapters and appendices, and how to reference the regulations prior to taking your exam.
The 18th Edition course will cover all the sections of the book listed below:
Part 1 – Scope, object and fundamental principles
What BS7671 covers, the objective of the regulations and the basic principles of the regulations
Part 2 – Definitions
A detailed list of definitions used throughout the book
Part 3 – Assessment of general characteristics
Covers characteristics that the electrical installation is to be compared against
Part 4 – Protection for safety
This deals with the technical requirements for protection from various effects, such as electric shock
Part 5 – Selection and erection of equipment
Covers the technical aspects of selecting the type of equipment and how it is to be installed
Part 6 – Inspection and testing
States the requirements for the different types of inspection and testing
Part 7 – Special installations or locations
Locations which contain a greater risk than standard locations
Part 8 – Functional Requirements
Prosumer's low voltage electrical installations
Appendices
Tables and charts containing information relevant to other sections of the book
Why choose us for your 18th Edition Training Courses?
• Excellent pass rates
• State of the art training facility
• Small, professional and friendly classes
• Quality training
Our 18th Edition Course includes the following:
Introduction to the qualification
The role the Wiring Regulations play in the industry
BS7671:2018 structure, design and how to use it
Explanation and guidance of the numbering systems
Parts 1 through 8 of the Wiring Regulations book
Course Duration
The Wiring Regulations course takes place over 3 days. The core course times are Monday – Friday 9:00 AM – 4:30 PM. Please take a look at our course FAQ'S for further course information.
Qualifications
City & Guilds 2382-22 Level 3 Award in the Requirements for Electrical Installations BS 7671:2018
The exams
The exam for the 18th Edition course will be completed online. You will have 120 minutes to answer 60 multiple choice questions. You can take your Wiring Regulations book into the exam with you for reference.
Course literature
The following publications are to be purchased by all customers wishing to take part on the 18th Edition Course. These books are ONLY for sale to customers who have booked a course with us. Books will not be posted out and will be available on the first day of your course.
£80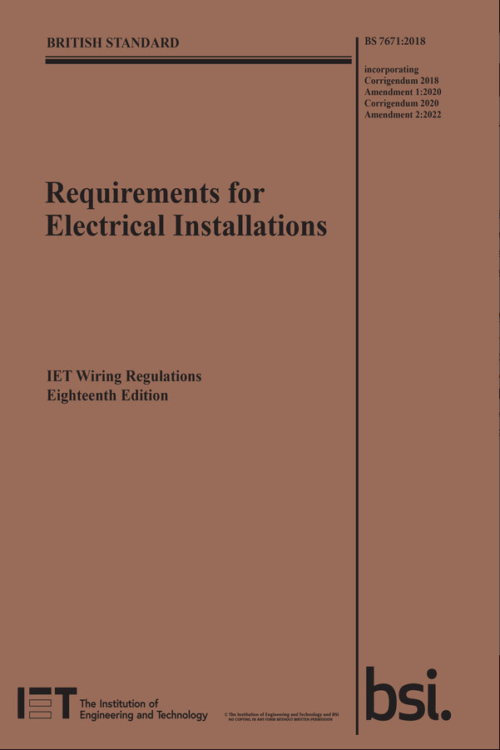 Add to cart
Entry Requirements
There are no entry requirements for this course however we would recommend that those new to the industry with no installation experience consider taking our Key stage electrical course first.
If you would like any further information about the 18th Edition training courses or any of our electrician courses, please call us on 01444 872145 and we will be delighted to help you.
FAQs