2 Days
£235 inc. VAT
City & Guilds
"Why such good value?
What's the catch?"
Read more »
"Why such good value?
What's the catch?"
We keep being asked why does your Part P Course (City and Guilds 2393) only take 2 days and is cheap in comparison to other electrical training providers.
What's the catch?
The simple answer is we are not cheap and there is no catch, some of our competitors are simply over pricing and uncompetitive! We are fully aware that some training providers run this City and Guilds 2393 course over 5 days. As we have a 100% pass rate for this course there is no need for you to spend anymore time or money on a 5 day course to achieve the same qualification.
Also we manage all of our business costs with close scrutiny so that we can keep all of our overheads as low as possible and not pass any additional costs on to our customers. This in turn allows us to be competitive and realistic with all our course prices.
Who is this course for?
This electrical training course is perfect for those wishing to undertake domestic electrical installation work and demonstrate that it complies with Part P of the building regulations. Anyone who wants to carry out electrical work in flats or houses must be competent to do this and have a good understanding and knowledge of the current Part P building regulations.
When booking our Part P Course, you will have the option of paying for the course in full (£235 inc. VAT) or reserving your space by paying a deposit (£100 inc. VAT).
Course Overview
Part P Course for a Domestic Electrical Installer
This qualification is officially known as the City & Guilds Level 3 Certificate in the Building Regulations for Electrical Installations in Dwellings (2393-10).
This Part P course will deliver an excellent understanding and working knowledge of the Building Regulations which have been in place since the 1st January 2005. Part P of the Building Regulations is specific to electrical installations within domestic dwellings and covers the do's and dont's we must follow as domestic Installers when working in somebody's home.
Our Part P Course includes the following:
Legislation


Health and Safety, The Building Regulations, Approved Document P, Notification to building control and non-notifiable minor work.

Design


Design of circuits, selection of materials and installation.

Mains Position


Location, Supply systems, Earthing and Bonding, Labelling and Installing of Residual Current Devices.

Circuit Specifications


Standard circuits, final circuits, fused connection units, lighting circuits, Cooker circuits and water and space heating.

Special Locations


Kitchens, Locations containing a bath or shower and outdoor lighting.

Inspection and Testing


The requirements for inspection and testing

Safety


Pre-Work Surveys and tests, safe isolation.

All Parts of Schedule 1 relating to electrical work


Parts A,B,C,E,F,L,M,P.

Government approved Part P Competent Scheme Providers


ELECSA, NAPIT, NICEIC
Course Duration
This course takes place over 2 Days. The core course times are Monday – Friday 9:00 AM – 4:30 PM. Please take a look at our course FAQ'S for further course information.
The exams
At the end of this City and Guilds 2393-10 Part P course you will have to take a multiple choice online exam which consists of 20 questions and you have up to 40 minutes to complete it. The good news is that you are able to take your course book in with you (Electricians Guide to the Building Regulations) as you are being tested not only on your knowledge but also your ability to reference the book to find the right answer.
Course literature
The following publications are to be purchased by all customers wishing to take part on the Part P Course. These books are ONLY for sale to customers who have booked a course with us. Books will not be posted out and will be available on the first day of your course.
£25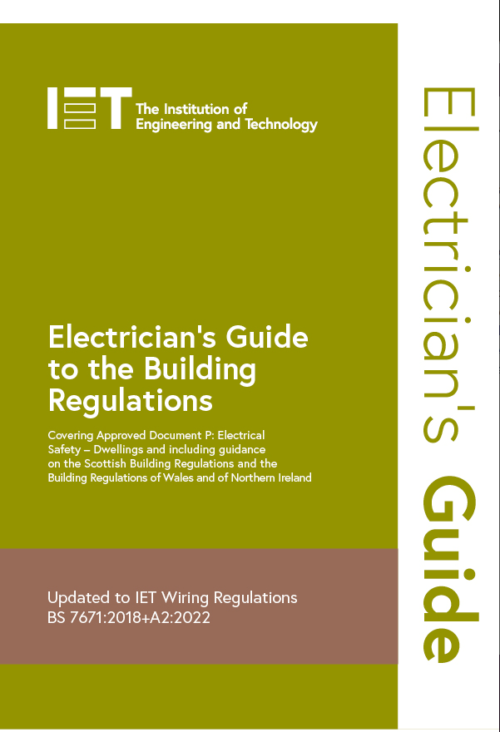 Add to cart
Entry Requirements
This course has no entry requirements.
If you would like any further information about our Part P course or any of our other electrical courses, please call us on 01444 872145 and we will be delighted to help you.
FAQs