The Ultimate Guide to the Best Electrician Apps
There is an app for everything in today's advancing technology, and that includes apps for electricians, meaning you can spend more time on the job and less time worrying about accounts and invoices.
In 2019, there were 204 billion app downloads made and this is predicted to rise over the coming years as more and more turn to apps to help them through their daily life.
There are a variety of electrician apps available, those that help you run your business, complete certificates, create invoices, take payment and even electrical calculators to help you on site. We have compiled an ultimate guide to apps for electricians, comparing costs, features and services so you can find the right app to suit your business.
Estimating, Quoting and Invoicing apps
Powered Now
This app is designed with electricians in mind. It is a pay monthly subscription services, but offers a month free trial to test it out with your business.
Powered Now can do invoicing, estimating and appointment scheduling, and also accept payment. All of your invoices are backed up automatically to the cloud, if you create a quote, you can turn it into an invoice with one click, VAT and tax calculations are done automatically, and it stores client information. It will also sync up with PayPal to take payment on site, meaning less chasing for money after you've finished the job, however payments via PayPal are charged at a 2.75% transaction fee.
It is a very comprehensive app that seemingly covers everything you could possibly need, including, expenses tracking, which is guaranteed to make filing your taxes easier and simpler. You can also use the app on any device, whether it's your phone, tablet or laptop/PC. Another handy feature is that, even if you are without signal, you can still access your data and record data, as everything is saved to the Cloud as soon as you get signal.
Invoice2Go
Perfect for invoices and quoting on the go, it offers professional template designs and allows you to track your expenses by taking photos of receipts. A benefit of using Invoice2Go is that it also accepts payment, through credit/debit card and Apple Pay (via Stripe), or PayPal, making it quicker and easier to take payments on the move.
When you issue an invoice for work completed, invoices are sent out with a date to be paid by and a 'pay now' button is also visible on the invoice for the customer. You can select your preferred payment method (card, Apple Pay or PayPal or all), and if they opt to pay via credit/debit card or Apple Pay, the payment is processed through Stripe and charged at Stripe's normal transaction fee of 1.4% + 20p. If they opt to pay via PayPal, then it is charged at PayPal's normal transaction fee of 2.75%. Both transaction fees are taken off the total amount paid before it is transferred into your bank accounts; Stripe payments can take 2-7 days and PayPal is instant into your PayPal account.
You don't have to worry about chasing payments either, as you can select when you would like to send payment reminders to customers, meaning you spend less time following up on payments. Like Powered Now, this app allows you to record data and access reports even when you are offline without phone signal. However, the only drawback with this app is most of the beneficial features are only available on the pro package.
Your Tradebase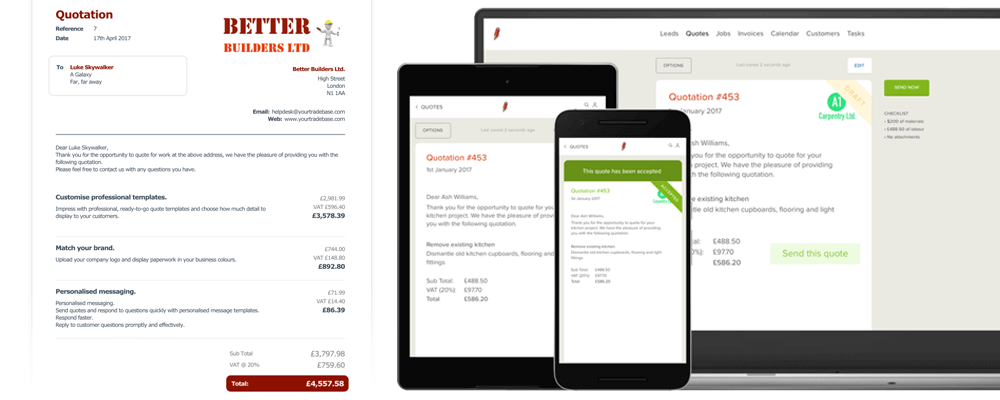 This app is great for producing quotes and estimates, before turning them into invoices, which can be easily emailed to customers or printed off. After invoices have been sent, you can then track payments and if see you have money owing. You also have the ability to send payment reminders by the press of a button.
Within the app, you can also create material lists and templates for recurring charges. If you're managing a team, you can even schedule and assign work to different members. Updating your customers is important when building a strong working relationship, which Your Tradebase understands and allows you to send visit confirmations directly to your customers and can also set task reminders for yourself.
The app is guaranteed to make you feel a bit more organised with its variety of management features, such as job tracking, note and file storage, calendar to schedule jobs, appointments and surveys.
Fixington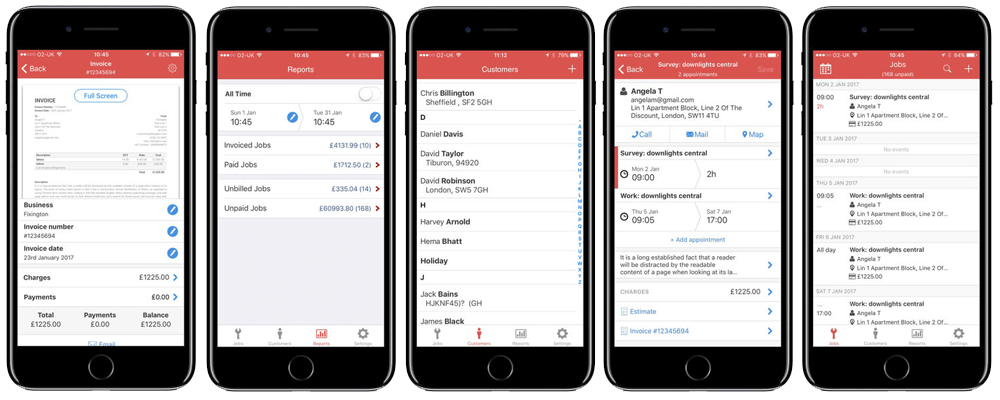 There is a free app available, Fixington, which is a calendar for tradespeople to help keep you organised, but it can also issues invoices, estimates and can take payment via iZettle card reader (transaction fee 1.75%). The only downside to the app is that if you want to access it on your desktop, you have to pay £10 a month to upgrade to Pro, but it operates perfectly on mobile and tablet devices.
However, if you are on site and want a free app to test out with no commitment or trial period, it is incredibly useful with some great features too. You can record payments, store customer details, email customers from your phone, see just how much you're earning, who hasn't paid, all of which is backed up automatically to a central server.
The app also allows you to work flexibly, either online or offline, meaning if you don't have a phone signal, don't worry – you can still look through the app, add jobs and edit existing ones. It automatically saves the next time you are get signal. You can also register your interest to find jobs with them for free, meaning no paying for leads.

The winner…
The apps that stands out are PoweredNow, with prices starting at £4.99 per month, and Invoice2Go, with a pro package costing £99 a year. Both have a comprehensive list of features that is enough to manage any trade business. Invoice2Go has the bonus feature of being able to accept payments via credit or debit card on the app at the lowest transaction fee of 1.4% + 20p, via Stripe.
If you're after a free app with no trial period, Fixington stands out to be the handiest. Despite being free, it still covers a great range of features and even accepts payments through iZettle card reader.
If you are new to the trade, all paid for apps offer a free trial period to test them out, so make use of the trial period to find the app which works best for you and your business.
Accounting software apps
Although trade management apps, like Invoice2Go and Powered Now, will help you collate your invoices and track your expenses, you may still be interested in accounting software/apps for your business.
By using accounting apps, you can control your business financially, track your takings, all the while reducing costs and workload for an accountant.
Quickbooks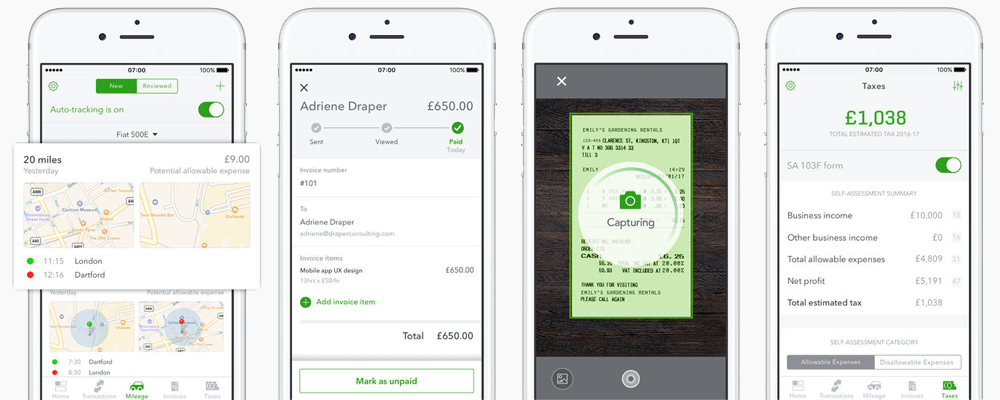 They have three app packages for self employed and small businesses, all suitable for electricians or larger electrical companies.
If you have no employees, the self employed option is fine. But if your company is a bit bigger and you have a few employees, you'll need one of the small business packages, as this will also allow you to do your VAT and save on paying your accountant to do it.
Both packages with Quickbooks allow you to categorise your business expenses, track sales, expenses and profits, and also helps estimate/calculate tax. You will also never have to worry about backing up your data, as Quickbooks will do it every day for you.
The app will also connect to your bank, for quick and automatic bank transactions and importing. It is worth noting that you can also create and send unlimited invoices using the app, which is a bonus if you were looking for an accounting app that does it all.
Another bonus is that with the Quickbooks Self Employed app, you can also track your mileage for your business, which helps when it comes to claim your tax back on journeys. (Please note: mileage tracker is only availiable on Self Employed App, not Small Business app).
Sage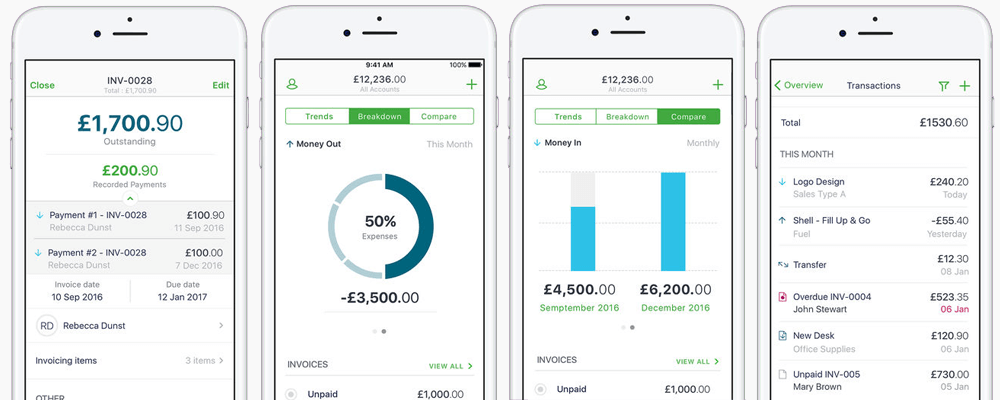 Another easy accounting software is Sage One, which offers two packages for small businesses and sole traders. You can create custom invoices, keep your accounts up to date easily and also have the handy feature of automatically calculating your VAT returns and submit them directly and securely to HMRC.
Sage One will keep your customer and supplier details safe, so you can quickly create invoices. The software is available via your desktop/laptop or a mobile app, so you can easily keep track of your payments and expenses on the go or at your desk.
Connecting to bank automatically, you can reconcile your business transactions quickly and manage your account via your deskop/laptop or via the free Expenses and Invoices app.
Although Sage may appear the cheaper option at packages starting from £3 a month, there are a lot of add ons to consider such as if you are running a payroll or you want to accept payments, whereas other apps include this in their packages.
Xero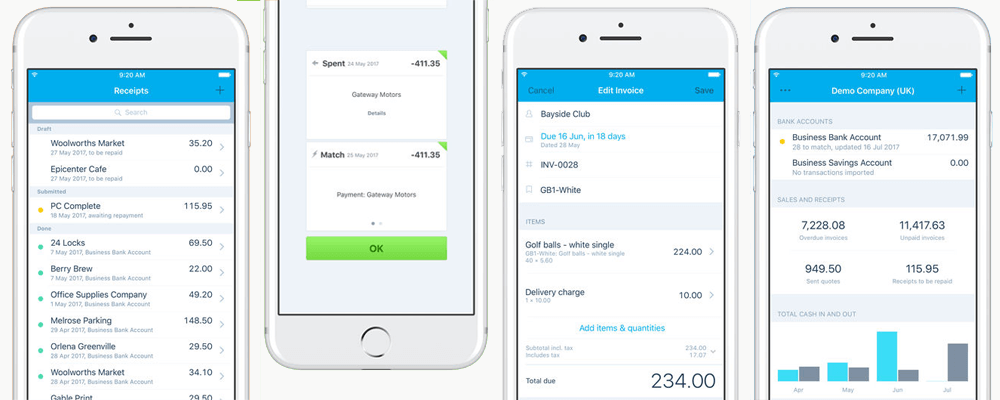 Another online accountancy and management app that covers a variety of features that small businesses need, is Xero. With Xero, you can easily check the balance of your accounts to see how your business is doing on the app dashboard. You can track yours and your staff's expenses using a snap and go facility.
If you are a manager you can even approve your staff's expenses on the go. You can reconcile your bank transactions at any time on the mobile app, suitable for both iOS and Android. There is a built in payroll facility with Xero that even lets you send payslips to your staff.
Customer details are stored on the app to make it quick and simple to create new invoices and look up details. There are payment options available for Xero, with PayPal or Stripe. You can send both quotes and invoices to your customers with a single click.
You can also set up payment reminders for customers too, meaning you don't need to worry about chasing payments. Xero will also let you know when a customer has seen an invoice and when it has been paid. You can track and manage your VAT online and through the app, and you can also file your returns to HMRC online too. It works with all VAT schemes too, making it a universal fit for your small business.

The winner…
If you are VAT registered, Sage One Accounting will carry a huge benefit as it will calculate and submit your VAT returns directly and safely to HMRC.
However, if you are under the VAT threshold, it won't matter to you and Quickbooks presents the simplest systems, with everything you need in one software.
Electrical Certificate apps
Filling out certificates by hand is becoming a thing of the past, with electricians now turning to reliable electronic sources to complete paperwork and keep copies safe. If you're thinking of turning to electronic solutions for your certificates, here are three of the top electrical certificate apps, as recommended by those in the trade.
iCertifi
iCertifi is a popular choice amongst electricians because of the variety of certificate apps available from the company, including BS 7671 certificates, PAT certificates, fire certificates, gas safety certificates, and also electrical visual inspection certificates. iCertifi have a variety of apps available, all of which are sold separately.
With iCertifi, you can take your phone or tablet device to work, fill out the paperwork then and there, ultimately saving time. You can send an unlimited amount of electrical certificates, with no pay and go prices or invoice cap. The certificates comply with all Part P Scheme Providers.
One stand out app by the company is called iCertifi Cloud, which allows you to start a certificate on site on your phone or tablet, then complete it on your laptop. It is an upgrade on the standard iCertifi BS7671 app which only caters for iOS iPhone or iPad.
iCertifi has also released a Fast Calc, which is an instant electrical calculations app for your phone or iMac desktop and works even with no data connection. It covers a variety of electrical calculators, including 3 phase voltdrop, PFC, Resistance, cable calculator (voltage drop, percent drop, load) and Lux level.
The only drawback is that iCertifi Cloud is currently the only app by iCertifi which is available across all devices, whereas their single apps are available only through iOS devices.
EasyCert
This mobile app is available on both iOS and Android, and also has desktop access too. It comes with unlimited certificates, which you can customise with different colours, fonts, add company logos and scheme registrations logos too.
It comes with a complete selection of certificate templates to choose from, including BS7671 certificates, fire alarm and emergency lighting, solar PV and site survey forms. For a full list of all of the certificates catered for on EasyCert, click here.
You can share the certificates with your customers via email, or you can print them out or save to the cloud/another app. It also features online web back up to ensure that your certificates are safely stored.
NICEIC Online certificates
For NICEIC registered electricians, they offer a pay as you go option for digital certificates. It is a free service just for those who are registered with NICEIC and is £1 per certificate. There is a full selection of certificates to choose from and no software is needed to complete them, it is all done via a web based system, which means you must have a phone signal to fill them out.
You also have the added bonus of once you finish a certificate, the NICEIC has full integration with building control, allowing you to easily notify building control with one click.
However, you can also fill the certificates out on your tablet, desktop or laptop as they are stored in the cloud. Although there are no fully customisable certificate templates, you can add photos of installations or faults, etc, for easy reference and you can rest assured that all certificates comply with BS 7671. For a full list of all of the certificates catered for on NICEIC, click here.

The winner…
If you are registered with NICEIC, the pay as you go method is very simple and easy, as it will pre-fill certificates with all of your information straight away. You can have multiple people editing NICEIC online certificates at once, and it is accessible on desktop, mobile and tablet.
However, the NICEIC certificate option is only available with a internet connection. If you are looking for a more independent and rural option, then iCertifi is your next best option as you can create and access certificates offline, as well as being able to fully customise certificates. Both certificate apps allow for easy sharing with the customer, as you can email as a PDF, print, or save to the cloud.
Payment apps
Having a card machine with you on site is a huge bonus, which is why we are looking at payment apps that offer card readers. You can secure a deposit for a job there and then and also accept balance payments when the job is completed. At the end of the job, if a customer is happy with the work completely, asking them to settle the bill can mean no chasing for final payments weeks after completing a job.
Just remember that not everyone will be comfortable paying with a card machine and some customers may still prefer to pay via bank transfer or cheque.
SumUp Air Card Reader
The SumUp Air card reader charges 1.95% per transaction, which it takes off before transferring the money to your bank account. They claim to be the most advanced reader and the leading mobile point of sale company in Europe.
The Air card reader operates via Bluetooth and has a li-ion battery, with a battery life of up to 500 transactions. To charge, simply plug it in via a micro USB charging point. The card reader pays out into your bank account in 2-3 working days and offers full telephone and email support if anything goes wrong. After each transaction, you can send a receipt to the customer vis SMS text or email.
You can use the card reader together with SumUp's app, on iOS and Android, which gives you dashboard reporting to see how much money you've taken. The card reader comes with no fixed contract or monthly fees and a 1 year warranty.
iZettle Reader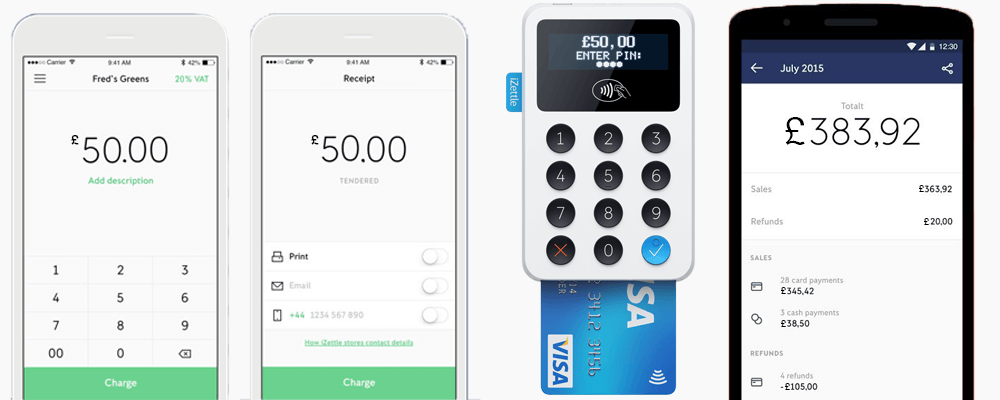 iZettle is one of the most popular card reader choices, as it charges the least for every single transaction, at standard rate of 1.75%. With an 8 hour battery life, or 100 transactions, it's not as much as SumUp's but its features and low transaction fee make up for it.
The app also now allows you to produce invoices, a new feature, however they charge a transaction fee of 2.5% if paying via invoice. The card reader and app together will take payments from all major credit and debit cards, record sales, and allow you to create a personalised product library for recurring costs, like labour.
It keeps all of your receipts for you, just in case you ever need to re-issue or need them for your accounts, and they can also be emailed to customers. Receipts can be customised with your company logo and name.
Payments are deposited into your bank within 1-2 working days, and the iZettle GO app works well alongside it to produce daily and monthly reports for you to track how well you business is performing. The app can be accessed both on your mobile and on desktop, and the reader comes with no fixed contract or monthly fees and a 1 year warranty.
PayPal Here
Arguably the most popular money app around, PayPal offers a card reader service for those with a PayPal account. Many of the management and accounting apps mentioned work alongside payment apps, including PayPal's.
Transaction fees vary, between 1.5% and 2.75%, depending on the amount of sales you take a month. If you sell less than £6,000 a month, there is a 2.75% transaction fee. If you sell between £6,000-£15,000 a month, there is a 2% transaction fee. If you sell between £15,000-£55,000 a month, there is a 1.5% transaction fee.
Working alongside its PayPal Here app, you can generate custom sale reports, manage an inventory of products, customise your receipts for your business and take any type of payment, contactless, via smartphone, chip and pin or swipe.
Once the card reader is fully charged, it can last up to 7 days on standby, or withstand 100 transactions before it needs recharging. There is no fixed term contract or monthly fees, the card reader has a 1 year warranty, and all payments are deposited immediately into your PayPal account.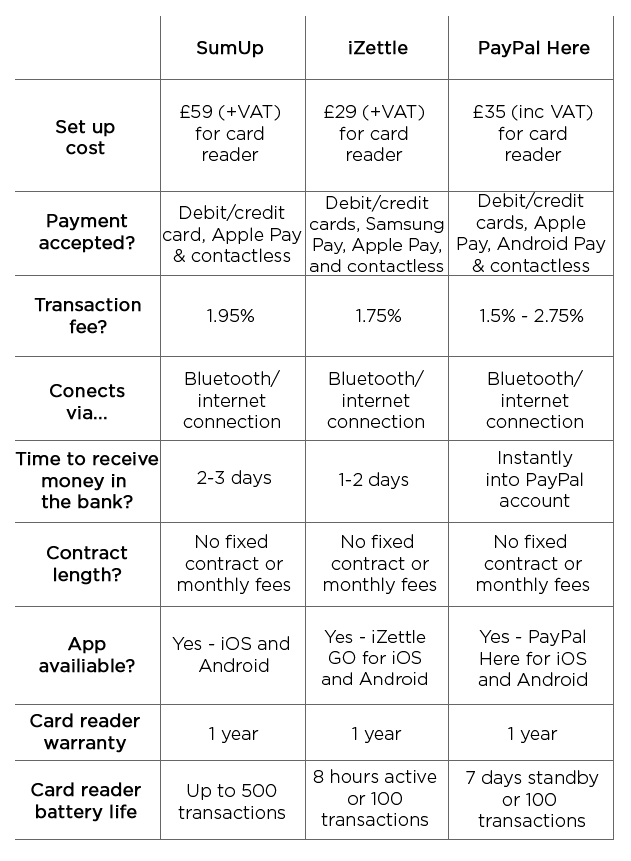 The winner…
iZettle card reader and app has the best transaction rate at 1.75%, compared to SumUp at 1.95% and PayPal's max 2.75%. However, the battery life of SumUp far exceeds the others at 500 transactions, whereas both iZettle and PayPal have a battery life of an average 100 transactions.
The app with the widest variety of payment types accepted is iZettle, and it is also the cheapest card reader of the three. The time for the money to arrive in your bank is also very good at 1-2 working days. You will find that some management apps will work alongside card readers like iZettle and PayPal, which is helpful for having the same information all in one place, for example Fixington free app accepts payment through iZettle.
Alternative solution
Alternatively, if you are looking to keep your costs as low as possible, then it might be worth looking into Stripe, which is an online dashboard available via your desktop or laptop. You can take payments via the dashboard at a low transaction fee of 1.4% + 20p. Receipts are then emailed to the customer and payment is transferred into your bank in 7 days. Stripe then offer an app to track and manage payments on the go, called Stripe Dashboard.
To take money via Stripe, you have two options: Invoice2Go (Pro package £99) or PayApp (free app), both apps accept credit and debit cards and process them through Stripe, maintaining the lowest transaction fee of 1.4% + 20p.
PayApp is recognised by Stripe as an app that works alongside it. There is no card terminal needed and PayApp do not charge an additional transaction fee to use their app. The money still follows Stripe's process and will be transferred into your bank in 7 days. You are able to enter card details and email receipts, as well as 'capture card details' ensuring they are correct via digital detection.
If you are after the absolute cheapest transaction fee and a free app to take payment, then a Stripe account could be a great alternative for you.
Electrical calculators and help apps
mySchneider Electrician
Schneider offer a free quotation and management app, MySchneider Electrician, which aims to help speed up jobs and free up your time. The app requires you to become an Electrician Partner, which is their free scheme that helps support other small electrical contractors.
Once you join on as a partner, you are listed on their 'Partner Locator' which allows customers to find you on the Schneider Electric site. A great feature on the Partner Space is also the e-design tool, which helps your visualise installations and find the best solution for the job.
The app also has a quotation tool on it, which allows you to give customers an idea of costing then and there, which you can later follow up at home.
Tooli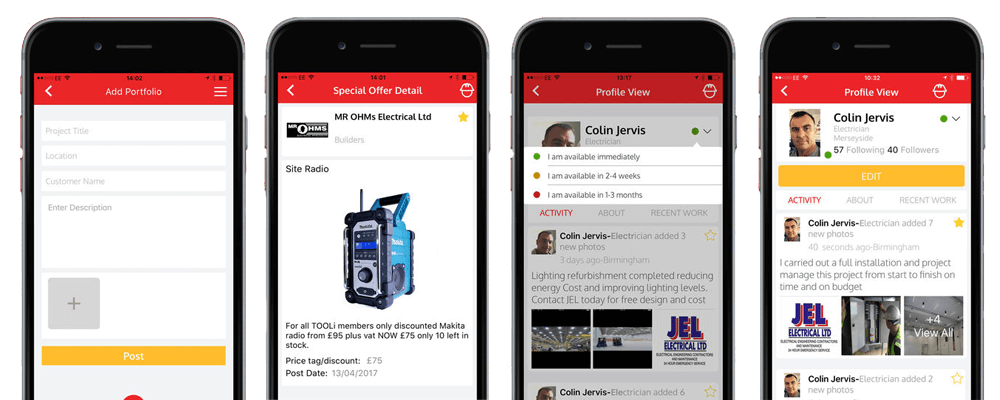 A new, free app on the market is Tooli, which operates like a social network for tradespeople and is free for everyone. At the core you have your profile, showing off your recent work and qualifications to potential customers and employers in a portfolio format.
From the app, you can get notifications of jobs in your area and special offers on tools and equipment too, you can post updates on current jobs, you can use the search facility to find jobs and contractors near you, and most importantly you can network with others.
Another bonus with the app is on your profile you can add an availability indication, to inform potential clients and employers of when you are free to work. If you are looking to hire an electrician for your company, you can even add a job advert offering a skilled position and also browse available contractors.
Makita Mobile Tools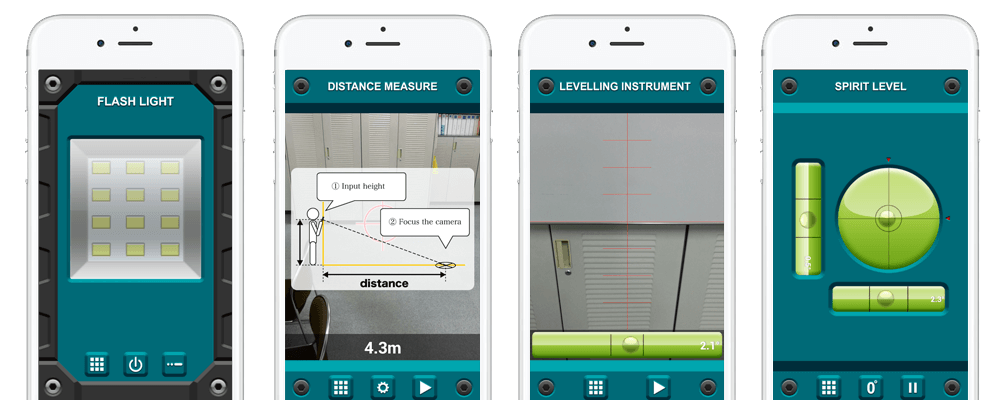 The Makita Mobile Tools app is available on iOS and Android and offers a variety of handy tools, all without ads and is free too. Features include a spirit level, torch, distance measure, sound level meter and levelling instrument. It is a great all round app to have on site with you and help save on tool bag space.
Megger Cable Calc+
Cable Calc+ is a free app from Megger, which works without an internet connection. With the cable calculator, all you need to enter is the cable type, cable length, reference method and the max load of the cable in kW or watts. After, the app will then calculate and display the min cable size, the load current in amps and also the volt drop (displayed as volts and as a percentage).
Always remember to check the information produced against the cable manufacturers regulations, but the app is a great, quick and handy app to have on site.
MileIQ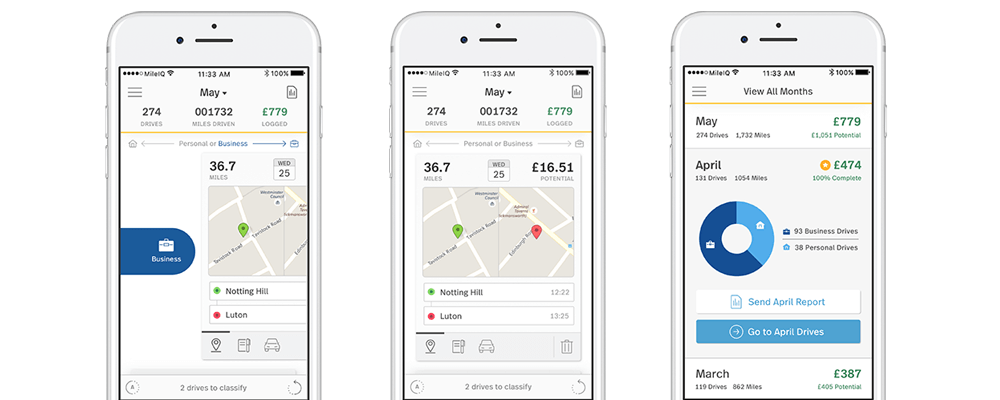 Perfect for electrical contractors, MileIQ offers stress free solution for automatic mileage logging. While you drive, MileIQ works in the background of your phone, recording every journey you make, making it easy to compile a monthly report for your tax deductible mileage.
MileIQ is free for up to 40 drives every month, however if you are looking for unlimited drives each month, then take a look at their paid options.
Seaward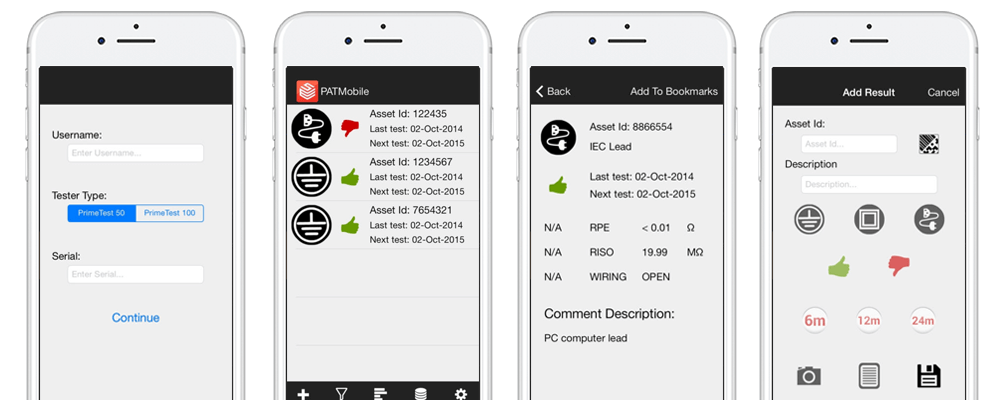 For PAT testing, the free Seaward PAT Mobile app makes it simple and easy. Working alongside their Prime PAT testers, the app produces and saves digital log results. You can export your data, tag photos (especially useful for failed visual inspection items) and also print result labels (printing from your Android only).
ProCerts
Recommended to us by our electrical trainers, ProCerts offer a variety of apps for electricians, such as Cable Size Calculator, Ohms Law Calculator, Watts Amps Volts Calculator, Max Zs Calculator, Generator Calculator, and Electrical Tools & Reference (all of the apps in one).
The only downside is that you have to either download a few different apps for free and pay for one or two apps by ProCerts, or alternatively pay a small fee for all of them in the Electrical Tools & Reference app. These type of apps can prove to be invaluable on site and also save so much time looking up tables and doing calculations, so is worth considering.
Remember…
Every electrician app offers something different and it is important that you use the trial periods available to test apps out with your business.
Look out for apps that work alongside each other for seamless business management, and ultimately allowing you to maximise on time spent on the job instead of in the office.