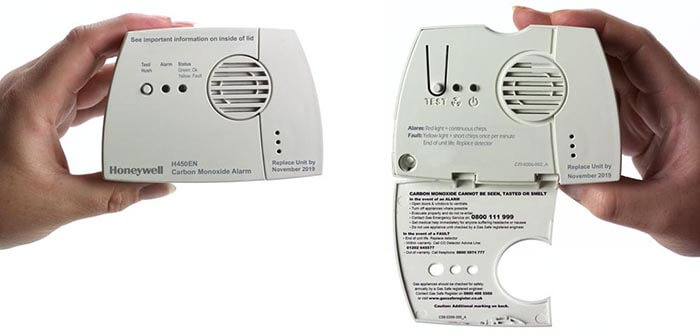 More than two thirds of homes in the UK do not have carbon monoxide (CO) alarms installed. In 2016, CO Be Alarmed reported there were 50 deaths due to CO poisoning and estimated an average 4,000 people require hospital treatment every year.
With millions of people at risk of not being alarmed in the case of a CO leak, it's never been more important to get one installed.
What is Carbon Monoxide?
It is known as the silent killer, because you cannot smell it, taste it or see it and it can mean fatal consequences.
Carbon monoxide is produced by fuel burning appliances, which most homes will have in the form of cookers, boilers, fires and heaters. CO can also be released outside by items like BBQ's and camping stoves, but there is enough oxygen for it to dissipate.
However, when carbon monoxide is released in high levels into a much smaller area, like your home, the danger is much greater.
Symptoms of Carbon Monoxide Poisoning
It is law that in England and Wales, that a CO alarm must be fitted if there is a solid fuel appliance being installed. This is because of the fatal dangers a CO leak can have, as it starves your body of oxygen.
The main symptoms of CO poisoning to look out for are headaches, short of breath, dizziness, feeling sick, fainting and falling unconscious. 50% of those killed by CO poisoning are children under 12 or the elderly over 60, as their bodies cannot cope with the effects of reduced oxygen.
High levels of exposure can cause fatal injuries and even death, but even a small exposure over a long period of time can mean you risk loss of vision, balance and memory. The longer you are breathing in CO, the higher its concentration. So don't put it off and get a CO alarm today.
It's important that all fuel burning appliances in your home are serviced and maintained regularly by a registered engineer, as faulty appliances can often be the cause of increased CO exposure. We recommend getting them checked and serviced every year.
Remember not to block any ventilation, as this can also result in a build up of CO in places like vents and chimneys. Clear your chimney every year, to make sure there aren't any blockages.
Carbon Monoxide (CO) Detector Alarms available
To detect carbon monoxide in your home, you need a separate alarm to your existing smoke alarm.
CO alarms are designed to detect and measure current levels of carbon monoxide, and if the level is too high, it will sound an alarm to alert you.
Make sure your alarms are: at head height, not on the ceiling or floor, and not close (within a metre) to an appliance that produces steam. A good rule of thumb is to place the alarm on a wall, shelf or bookcase. If you can, install a carbon monoxide alarm on every floor of your house and replace by the date stated on the alarm.
There are a variety of carbon monoxide alarms available, such as: interlinked, battery operated, smart devices and even digital displays to show the active levels of carbon monoxide.
Although battery operated alarms are most common, interlinked alarms are best practice for both smoke and CO. Interlinked alarms work best because if one alarm senses a fire or increased CO levels, then the rest of the alarms in the chain will be alerted and sound a joint alarm. So if an alarm senses high levels of CO downstairs and you are in a room in the roof, you will be alerted.
Installer responsibility
Installers are face to face with customers every day and therefore have a responsibility to inform if there is lack of CO protection in the home. Spreading the word on carbon monoxide safety is also very important, as many homeowners incorrectly think their smoke alarms will detect any high levels of CO.
If you have been called out to change a CO or smoke alarm, then it is also worth recommending interlinked alarms to customers. Remember, interlinked alarms are a legal regulation requirement in rental properties.
Want to read more about alarms? Find out the laws and regulations for smoke and carbon monoxide alarms in rental properties.
Photo credit: Honeywell
Back to blog