EC4U Rating:
Features:
Durable chassis, wheels and telescopic handle for domestic, site and commercial use
50 different compartments and pockets for your tools
Larger compartment for bulkier tools, such as drills and testing equipment
A4 document storage pouch
When travelling to and from jobs, having a tool bag big enough to fit all of your tools and equipment inside is vital. There are many designs of tool bags available in the current market, from tote bags to holdalls to backpacks, and when deciding on the tool bag for you, you need to think carefully where you will be traveling and how many tools do you need access to?
You have spent your hard earned money on your tools, which is why protection is important. Each bag will have a different style of storage within it, to keep your tools safe when in transit and on the job. Some bags offer separate compartments for technology devices and flat spaces for paperwork, others will have different sections for larger tools and multiple pockets for smaller hand tools.
CK Magma have designed a new and improved tool bag which offers all of this in one, catering for a wide variety of tool types, storage and easy transportation too. The Technicians PRO Wheeled Case offers a large storage capacity for all of your essential tools, pockets for essential paperwork and even a space for business cards.
The front zip opens up the bag to allow you to view all of your tools, with Velcro fastenings available to keep the front in place. "The compartments in the bags make everything readily accessible and easy to get to," our trainer explains. "It's quite well laid out with lots of different pocket combinations, and it has a big compartment to put drills, testing equipment and other larger tools in. I regularly use tool rolls, which also roll up and fit nicely within the back compartment."
One major feature of the tool bag is the telescopic handle, which allows you to drag the tool bag to anywhere you need to be. Although the idea of a backpack style tool bag may appeal to tradespeople within cities, allowing you to pick it up and move wherever you need to go, the wheeled design does the same job, except with less pressure on your back.
"The handle makes it ideal for city traders, especially if you're using public transport, as you don't need to worry about lugging heavy bags around and injuring your back (or anyone else), you can simply pull it along behind you."
"Back injuries are one of the most predominant things within the trades industry, so anything that saves wear and tear on your body is great. The bag feels very durable, not like the wheels are going to get damaged easily and it moves along easily behind you too."
The only downside our trainers found with the bag were the zips. "The zips stick at each corner," our trainer explained, "so the positioning of the zips could definitely be improved so that they can open smoothly."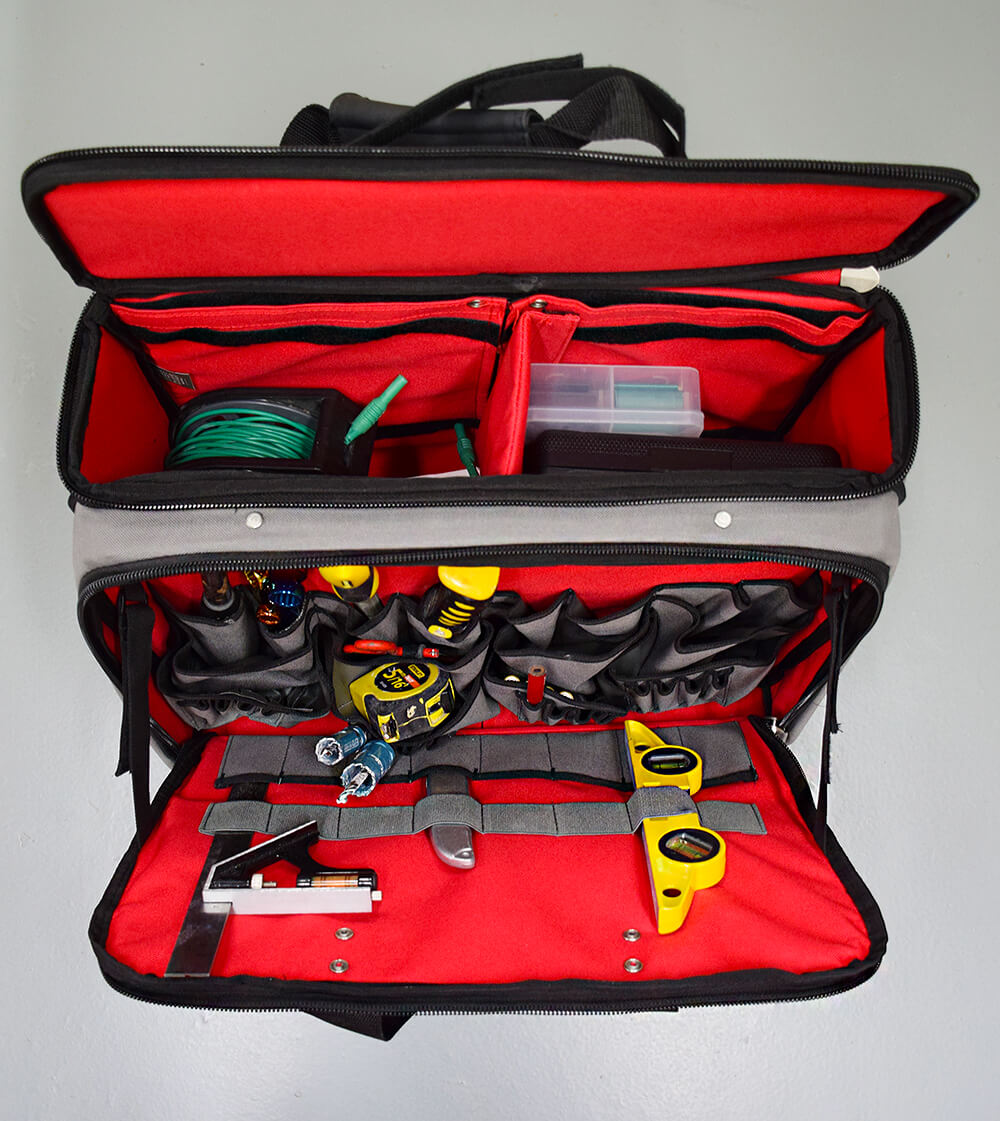 "Overall, I've knocked a star off for the poor zips, but the pockets and compartments are ample and would take the tools you would put in, and they are robust enough so they won't get damaged or rip."
Pros:
Quick access to all of your tools as the bag opens up
Brilliant storage for essential tools
Telescopic handle prevents back pain and is convenient for domestic work
Cons:
Zip is poor quality and regularly sticks at each corner
The CK Magma Technician's PRO Wheeled Case retails for £159.48 (ex VAT). Visit CK Magma to find out more and where you can purchase.
Back to Electrician Tools