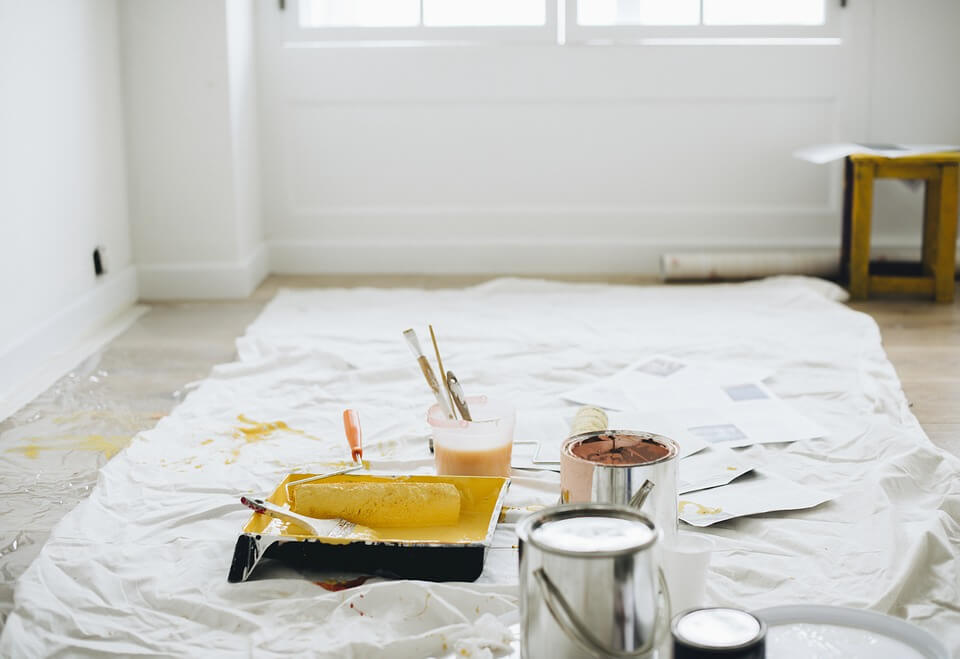 With the continued slow movement of the UK housing market, home owners are once again looking at improving their existing property. In this blog we're going to take a look at some of the options available to you to improve your existing home.
The first thing you need to decide is what is it that you want to change about your existing home? Do you need more space? More light? Or maybe it's the current layout that you don't like. Once you know exactly what it is that is causing you an issue you can narrow down more effectively what sort of improvement that you wish to make.

Interior remodel
This is a great way of making the most of the existing footprint of your home. The first thing to do is look at how your home is currently used. Where is most your time spent?
In most family homes the majority of time is split fairly evenly between kitchens and living rooms; is the way your house is currently laid out conducive to this?  An interior remodel can help you use the spaces more efficiently and seamlessly. You could opt for an open plan living/kitchen arrangement, or if that is too much, maybe look at opening up doorways and walls to create a more connected space whilst still maintaining a feel of separation.
The good thing about interior remodeling is that there is no need for planning permission to be obtained when carrying out the work. If, however, structural elements of your home need work or changing then you will need building regulations approval as will any electrical work that is carried out.

Extensions
These are quite often one of the first things that come to peoples mind when they think about how they can improve their home. There is one key thing you need to know when deciding to extend and that is if your extension falls under permitted development or requires planning permission.
If your extension meets certain requirements it may fall under the remit of permitted development. This means that there is no need to obtain planning permission beforehand.
As stated there are some caveats to be met for the extension to come under permitted development.
A full list of these is available on the planning portal website, but in brief they are;
Materials should be similar
The extension not to sit forward of the principal elevation
Rear extensions can be no more than 4m in depth for a detached house or 3m in depth for a semi detached or terraced house
Eaves can be no higher than 4m and if with 2m of a boundary no higher than 3m
Side extensions can't be greater than half the width of the original dwelling
This is just a brief look into what caveats are required for extensions, and there are further requirements in place you need to consider, such as if your property is in a conservation area then side extensions aren't allowed. To find out more visit the Planning Portal.
People utilise their extensions in different ways. One approach is to use the extension as a means to reposition appliances such as tumble dryers and washing machines into utility rooms, created by the extension, making the kitchen more of a living space rather than a working space.
Another is to use the extra space created by an extension to open out and expand existing rooms. The options as to what you can do with your extension are endless and a lot will come down to personal choice and the way you wish to use your home.

Loft Conversions
If for whatever reason you can't go outwards with an extension, then a loft conversion can make a useful addition to any home.
Whether it's converting it into an office or a grand luxury master bedroom, loft conversions, like extensions, can be carried out without having to apply for planning permission if they fit within the permitted development criteria. This includes dormer windows as long as they don't sit forward of the roof and as long as they sit no higher than the roof. Again, if you are in a conservation area or your building is listed, planning will have to be involved.
A loft conversion also has the added advantage of not removing any of your outside space meaning you are still able to make the most of your garden.
You will need to find out though that firstly your loft is structurally suitable for a conversion and also will it physically suit your needs. Because of this, it is always best to get a specialist installer in at an early stage that will be able to advise you on the suitability of the space for your requirements.

Garage conversions
If your property has an attached or integral garage, the chances are it is being used more as a storage area than for its original purpose.
Converting it into useful living space seems like a relatively simple exercise to open up more living space in your home; there are a few things to watch out for though.
If your garage is attached to the side of your house rather than an integral part of it, it may be that the foundations need reinforcing which will require going through building control.
Equally if your property is either listed or in a Conservation Area than you will need planning permission, there is also the possibility that your property has planning conditions attached to it that state the garage has to stay as parking so this will also need checking.
Despite these possible hurdles it can still make good sense to go ahead with a garage conversion, even discounting the extra usability it can bring to your home, the majority of the time a garage conversion will add more in value to your home than it costs to have it carried out.

Outbuildings
Rather than looking just at your home itself, have a look at the garden and ask yourself: can you fit an outbuilding out there?
Outbuildings can be ideal, especially if you want to make use of the extra storage space they can offer, or alternatively one can be used as a location for a home office or a garden room. Like the above examples as long as you stick to certain criteria they fall under the remit of permitted development meaning there is no requirement to go through planning for them.
There is a massive range of outbuildings available, suitable for whatever your needs are. From simple, traditional sheds suitable for storage, through to pool houses and saunas, their usage is incredibly varied.

Gardens
Moving away from the traditional lawn surrounded by flowerbeds type gardens, to one covered in raised pine decking was quite the thing a few years ago. Currently, however, lawn and planting are somewhat back in vogue.
With increased awareness to the positive effects that lawns can have when it comes to situations such as drainage, they are being re-introduced where previously they were removed. This doesn't necessarily mean that you have to lose usable space though.
Clever use of paving, decking and shelter can make your garden an extension of your home without losing the benefits of your lawn. Consider using either a fixed or retractable canopy to provide shelter from either sun or rain, and make careful location of decking or paving a key priority, and you will end up with a more inviting, usable space.

Electrical work
It's important to realise just how much more electrical equipment is in the home now compared to even 20 years ago; daisy chained extension leads full of plugs are a common site in many homes. Even lighting has changed considerably; your typical 70's terrace was traditionally built with one ceiling rose per room.
The wiring itself in a house will also physically degrade over time and will at some point need replacing, combined with the introduction of improved protective devices such as RCDs and SPDs a rewire is something a lot of properties will require anyway.
Rather than just looking at it from a practical standpoint however, replacing and upgrading your electrical system also offers the opportunity to embrace modern design and usage and significantly change the look and feel of your home.
Clever use of lighting can transform the feel of any room, hidden up lighters or down lighters can provide a relaxing calm feel whilst still providing useful light. Replacing existing socket outlets with the USB compatible type, and adding more socket outlets to a room can help get rid of unsightly multi plug extension leads.
Careful positioning will allow you to hide cables belonging to appliances such as TVs and sound bars, whilst the USB ports will allow you to plug in and charge devices such as phones and tablets without taking up a socket outlet.

Re-decorating
This is potentially the easiest and quickest way of making your home feel like new. Fresh paint on the walls can be simple, but make a huge impact on your home.
Be adventurous with your palette and steer away from neutral colours and whites and the impact will feel much greater. You can tie a new paint scheme in with new furniture as well, complimenting pieces can make a whole room feel that little more special.
Don't think you need to stick to traditional method of solid colours on walls either, careful use of masking tape will allow you to create geometric patterns in contrasting colours that add interest to any paint scheme.
Don't be afraid of texture either, the first thing that comes to mind when textured paint is mentioned is awful 70's woodchip  effect, but things have moved on from there. Various paint manufacturers are offering a range of paints that can leave finishes, such as a suede like effect. Used carefully, these can make a substantial impact on any room.
Back to blog