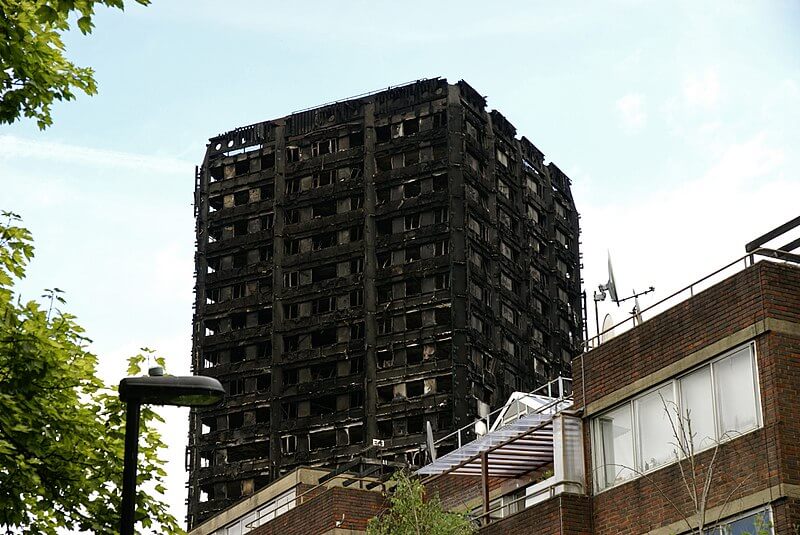 Nearly two years ago, a tragic fire in Grenfell Tower led to 72 people losing their lives. The fire in the 24 storey residential building sparked a nationwide inspection into the safety of almost 4,000 high rise buildings across the UK.
The government funded an independent review of Fire Safety and the Building Regulations, which was led by Dame Judith Hackitt. This review was finalised in May 2018 and sets out a number of recommendations for the government to take into consideration, which aims to support residents as well as build a more robust regulatory system. Given the recent Grenfell Tower fire, which ultimately prompted the review, many of the recommendations have been made with a focus on high rise residential buildings.

Fire safety of tower blocks in the UK
In 2017/18, there were 801 fires in high rise residential buildings, that were 10 storeys or taller. This is an increase from the 713 fires that occurred in 2016/17. This is an all time record high for fires in high rise buildings.
With one in every 200 homes in England being in a high rise building and the increased number of fires, it is imperative that these buildings, both publicly and privately owned, have the correct protection put in place and inspections are carried out thoroughly.
The tower block fire at Grenfell is something many have seen coming, since private sector companies began taking over building control services in 1990s. There is a question that had the public sector still maintained control over inspections of buildings, would these buildings be safer? Previously, inspections within the public sector have proven to be lengthy and thorough, ensuring that all criteria is met and a certain level of standard is upheld. With private firms handling inspections, there is a risk that inspections may not be as thorough or certain standards may slip without realising.
Safety inspections carried out after Grenfell which focused on fire safety found that many high rise residential buildings across England fail to meet current fire safety standards. In Manchester, a massive three quarters of all tower blocks failed to meet fire safety standards during an inspection, which has ultimately raised the question of how thorough previous inspections have been on high rise buildings.
Within the Hackitt review, a key recommendation put forward to implement has been the introduction of a new Joint Competency Authority (JCA), which will ultimately comprise of the Local Authority Building Standards, fire and rescue authorities and the Health and Safety Executive. The new JCA will help monitor the safety of these buildings and manage any safety risks that come to light.
Dutyholders would also be nominated for every high rise residential building to monitor standards constantly and also feedback any safety concerns.

Cladding protection on tower blocks
One of the reasons for the quick spread of the fire at Grenfell was the type of cladding used on the building, aluminium composite material (ACM), which has ultimately led to an investigation into the flammability  of the cladding.
Just 10 weeks after the tragic events at Grenfell, the emergency safety investigation discovered that 262 other high rises in England used either the same (ACM) or similar flammable cladding. Hackitt revealed also that flammable cladding is being used in many countries around the world and she spoke about how we now have the opportunity for a "cultural change in construction" to stop building firms cutting corners just to save money.
As of April 2019, there are still almost 40,000 people in the UK living in high rise buildings that have the same ACM cladding that Grenfell was wrapped in. The Government issued a ban in November 2018 on the use of ACM cladding since Grenfell; however, that doesn't apply to existing buildings, only new buildings. It is a strong recommendation and advisement that those high rise buildings which are using ACM cladding have it replaced.
The government has recently allocated £400m to help social sector landlords to safely replace the ACM cladding. As a result of the funding, all social sector high rise blocks have either removed their cladding or have put a plan together to remove it.
However, two years on from the fire, just 10 private high rise residential buildings have taken action on replacing the material. No funding has been allocated for privately owned high rises and it is the responsibility of the owners and developers to pay out for the replacement of the cladding. The cost can be as much as £3 billion, but it is emerging that many owners are passing this cost onto the leaseholders instead.

Residents to pay for cladding
As their house value drops, leaseholders of the flats in privately owned high rise buildings are stuck in limbo as many owners are refusing to pay out the millions to fund the changes to the cladding. Instead, they have put interim safety measures into place, with the use of round the clock fire warden patrols, to help the residents feel safer, but this is another cost which will ultimately come back to the residents to cover.
The Ministry of Housing, Communities and Local Government (MHCLG) have spoken of the importance of making people feel safe in their homes and have stated that "we have repeatedly made clear that building owners and developers must replace dangerous cladding quickly and leaseholders must be protected from these costs."
Leaseholders in privately owned blocks have been advised by the housing minister that they are able to contest these bills in court, if they are deemed unreasonable.

What is happening in the future
Recently, it had been called for sprinklers to be installed in all social housing tower blocks, by London Fire Brigade, as a way to slow down the spread of fire, giving residents more time to escape.
It became a legal requirement in England within the 2007 Building Regulations that every new residential tower blocks over 30 metres tall should be equipped with sprinklers, yet it is reported that fewer than 1% of council tower blocks have sprinklers fitted.
Throughout the whole of the UK, it is not a requirement for existing tower blocks to retroactively have a sprinkler system installed. But that hasn't stopped a number of councils who have answered the call for sprinklers. Croydon Council, Wandsworth Council and Birmingham Council have all announced lengthy programmes to have them installed in a number of their existing blocks.
From the tragedy of Grenfell, it has been an awakening for many large developers and has helped raise awareness of the current Building Regulations.  We look ahead to the introduction of the JCA, to enforce simpler regulations for buildings and ultimately lead to safer homes for residents.
Get clued up on fire alarms for your home in our complete guide to fire alarms, where we look at regulations, best placement for alarms and the different types of fire alarms available.
Back to blog