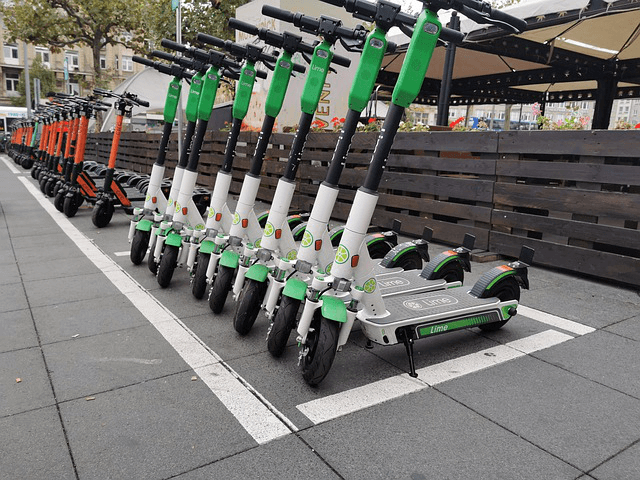 With sales of e-scooters growing exponentially and the latest e-scooter rental trial starting in London this month, what exactly are the laws around using an e-scooter? Are they as dangerous as we think? Can they help us reduce harmful emissions?
Halfords have recently reported a 184% year or year rise in the sale of e-scooters, and this number is only set to rise if they become legalised for private owners on the roads. So where can you use e-scooters at the moment and what rules must you follow when using them?

What the Law says
It is currently illegal to use a privately owned e-scooter on a public road, cycle path or pavement. E-scooters are classed as a motor vehicle and therefore, must follow the rules that apply to motor vehicles under the Road Traffic Act 1988. To legally ride a privately owned e-scooter it must be registered with the DVLA, licenced, taxed, insured and fitted with number plates. Since an e-scooter cannot meet these requirements, it cannot be classed as road legal. The only place that you can ride an e-scooter is on private land, given that you have permission from the land owner.
It is not a legal requirement to wear a helmet when riding an e-scooter but it is highly recommended that you do.
If renting a scooter as part of the government e-scooter trial, you must hold a provisional or full drivers licence with the 'Q' category in order to ride an e-scooter. This can be included within the 'AM', 'A' or 'B' categories on some licences. You must also avoid using your mobile phone, driving under the influence of alcohol/drugs or exceeding the speed limit of 15.5mph. If you are found to be doing any of these, you can be fined and/or given penalty points.

E-scooter Government trial
Last summer the government announced the launch of a new large scale trial for rental e-scooters in the UK. There are currently over 30 cities taking part, helping the government to test the applications of e-scooters in everyday life. Once the trial is over, the government will likely enter into a consultation phase before deciding whether or not to change the laws around e-scooters.
In most cities the scooters are limited to 15.5 mph, however, some cities such as London have decided to reduce this to 12.5 mph. The rental companies have also taken advantage of geo-fencing technology which can slow the scooters down in some areas and stop them from leaving the designated trial zones.
Before hiring an e-scooter you will need to download an app, register and complete an online safety training course. Once this is complete you are ready to rent your e-scooter. The cost can vary depending on your location but typically you pay a £1 unlocking fee and then anywhere between 14p-20p a minute.

Are e-scooters dangerous?
The dangers of e-scooters have been reported on regularly since the beginning of the rental trial last summer. The exact number of e-scooter accidents is not known, however, it is said to be rising sharply. People have been fined and banned from driving after being caught riding whilst under the influence of alcohol, and a 15 year old boy was given 6 points on his future driving licence after being caught riding at high speeds.
E-scooters are also becoming more heavily involved in crime as they are seen as 'quick and nimble'. According to the Met police, E-scooters were involved 574 recorded crimes in London, such as robberies or assaults, between 1 July 2020 and 30 April 2021.

The benefits of using an e-scooter
The most obvious benefit of using an e-scooter is the environmental benefits. If less people are using cars, mopeds and public transport – the amount of pollution is going to be cut. In busy cities such as London your journey times are going to be reduced, and they are much cheaper than a car! For people who want to reduce their carbon emissions and cannot ride a bicycle, this gives them an easy alternative for getting around. If the rules are followed correctly and safely, e-scooters could provide a quicker and more environmentally friendly method of transport for messenger services and take away delivery drivers.

The future of e-scooters
Until the current government trial ends the future of e-scooters looks uncertain. For now, privately owned scooters remain illegal on Britain's roads and will stay that way until the law changes. There is still a lot of confusion over the correct use of e-scooters and the more the public can be made aware of the rules the better. For now, the trials will continue and hopefully this will be an opportunity for people to learn how to use the scooters safely and sensibly, whilst making the most of the benefits they offer.
Back to blog