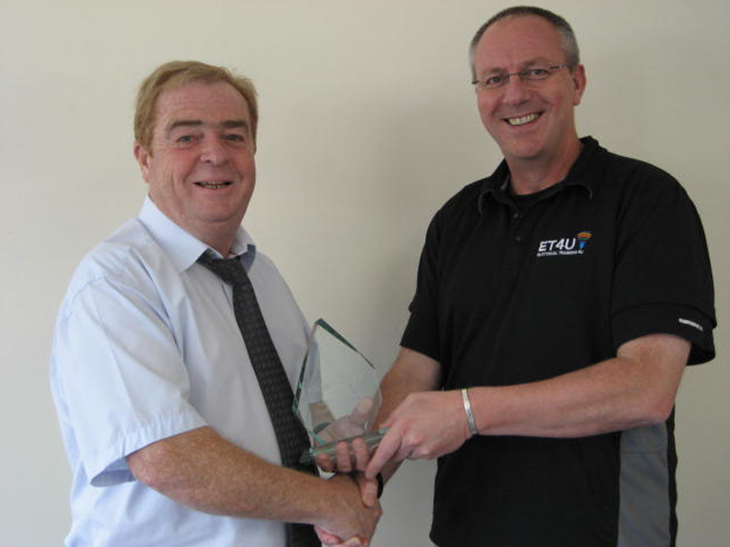 For the second year running, Kewtech has awarded us the 'best electrical training centre', this is a great achievement for us and we really do believe that the facilities we have are second to none in the industry. We are always trying to improve our facilities and training experience that we offer to customers who come to train with us and it's great to see this being rewarded.
The reason we differ from other training providers is due to our strong focus on real-life scenario practical training. We have built real life building scenarios, which has a vast range of electrical circuits and consumer units to work on.
The award was presented by Phil Smith, the managing director of Kewtech.
Phil Smith said "Electrician Courses 4U have won our Best Training Centre award for the second year running. This is based on their direct and professional approach to customers, especially in regards to electrical testing and inspection, where they are able to pass on the benefits of close relationships with top manufacturers. They also particularly excel at delivering small classes with an increased 'practical experience' approach to training, opposed to focusing fully on theory, which leads to excellent pass rates."
An award like this shows we're making the necessary improvements to continuously stay above any competition in terms of quality facilities and the professional training we provide. We also strive through excellent feedback that we receive from our customers, such as John Callaghan from Essex, who trained here for 4 weeks on our Domestic Electrician Package, who said:
"The trainer demonstrated the ability to teach the audience. Fantastic knowledge and dealt with the challenge very professionally. The Training Centre and facilities are excellent, best of 4 Training Centres I visited. The course had good pace and healthy support. I would absolutely recommend to others."
We look to continue winning awards for our facilities and our training in the years to come.
Find out more about our centre by taking a looking at our brand new practical electrical training centre refurbishment!
Back to blog