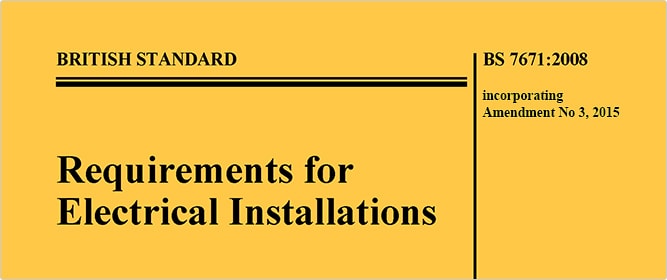 July 1st is here and with it brings the 3rd amendment of the 17th edition Wiring Regulations! These are the key changes you need to look at and as of today, all installations and designs must comply with the amendment and certified to the new amendment.
The IET explained that "potential life-saving changes make this a vital update" for professionals. So what has changed in the new yellow copy of the 17th edition Wiring Regulations? Some changes include that of: Part 2 definitions, where they have now been expanded and modified; wiring in escape routes; changes to earth fault loop impedances for all protective devices; risk assessment approach for the omission of RCDs in non-domestic situations; and fire safety being one of the most important changes made in this amendment.
Regulation Numbering System
The Regulation Numbering System has incurred some changes, with the European CENELEC standards now having a 100 series number and the UK Standards now having a 200 series number. Changes made to Part 2 definitions are significant, as they have been expanded and modified. The term 'competent person' is no longer included in BS 7671, instead 'Skilled Person (Electrically), as well as 'Instructed Person' has now been changed to 'Instructed person (Electrically)'.
Important changes to earth fault loop impedances (Zs) for all protective devices have been made throughout the new amendment, as a result of the new correction factor of 0.95% known as Cmin (the symbol for voltage minimum) which has been applied. This change is made to allow for fluctuations in supply voltages. In Part 4 of BS 7671, you will notice these changes in the new tables supplied, showing the reduction in maximum Zs values. All socket outlets rated at 20A or less for ordinary persons should now be RCD protected as well. If not, a risk assessment should be carried out before issuing a certificate.
Metal Clad Consumer Units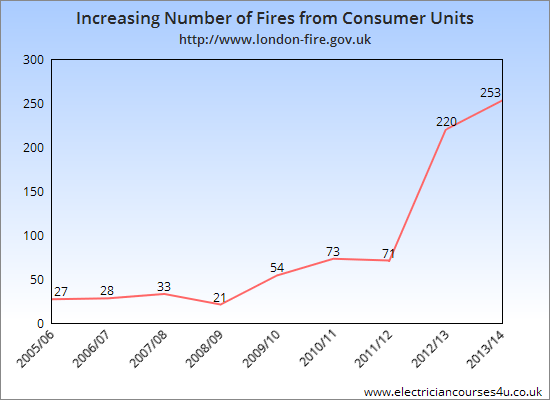 Arguably the most important change made in the 3rd amendment is that of fire safety in domestic premises and the current issues, brought to light by London Fire Brigade (LFB), surrounding consumer units in the domestic premises being identified as the source of ignition. LFB has recorded statistics showing that the number of incidents involving consumer units has increased rapidly to an average of five house fires a week. With an increased worry of fire risk on the rise, they have developed this amendment, to safeguard against the risk of fire that can be produced from the overheating of connections in consumer units. The change sees the move from plastic consumer unit enclosures to a non-combustible material, such as steel. LFB believe that another major source of fires recorded is wires that have not been properly secured when the consumer unit is installed, which has previously resulted in deaths of fire fighters when attempting to rescue people in fires, because of collapse of wiring systems and then getting tangled up upon escape. This has called for the new amendment to require new wiring systems in escape routes (such as under stairs), meaning that all cables installed within an exit route from a building will now have to be clipped into place by metal fixings/cable ties or held in metal compartments, so that no wiring can become a trap in an emergency situation.
With consumer units in installations forming part of a TT system, a fault will likely incur between the tails and the metal case, which will result in the metal case element becoming live and due to the TT earthing system the primary protective device is unlikely to disconnect within the required time. To prevent this from occurring and still comply with the requirements of the regulation 531.4.1, it has been recommended to install an RCD in the tails between the energy meter and the consumer unit, whilst using insulated bushes where the tails enter the new metal consumer unit/protective cabinet.
Professionals must ensure that the work they are carrying out is up to date, certified and meets the new amendments made in the 17th Edition, and is carried out in a safe and appropriate manner. Remember – January 2016 is the implementation date for the non-combustible consumer units within domestic premises. Make sure you grab your new copy of the 17th Edition today, available to buy online in print and digital format.
If you enjoyed this, take a look at all the major changes made to BS 7671 Amendment 3 here!
Back to blog