IP Ratings Explained
When installing lights in your home or purchasing electrical equipment, you need to be aware of what IP codes are and how they affect your product choices.
What is an IP Code?
IP codes are shorthand for International Protection Marking IEC Standard 60529, quite often you will hear IP referred to as Ingress Protection. It is created by the International Electrotechnical Commission (the IEC).
The IEC is an international body made up of members from 60 countries and helps set and maintain standards that are used globally. The standard itself provides classification and rating of the degree of protection provided against intrusion, dust, water and accidental contact by electrical enclosures and mechanical casings. Its aim is to provide more detailed definitions on the level of protection a piece of equipment has, rather than relying on terms such as 'waterproof' or 'splash proof'.
IP Codes should always be expressed in the following way, for example: IP68
A breakdown of the code is as follows:
IP – the IP indication is mandatory, this states that the following digits are part of an IP code
6 – The first digit indicates solid particle protection; there are a range of numbers that can be used here.
8 – The second digit indicates liquid ingress protection; again, there are a range of figures that can be used here
Occasionally there may be the addition of a letter at the end of the code e.g. IPXXD, this provides additional information about the protection provided
Looking at our example IP code again, IP68 we can ascertain that it is both dust tight and suitable for complete immersion.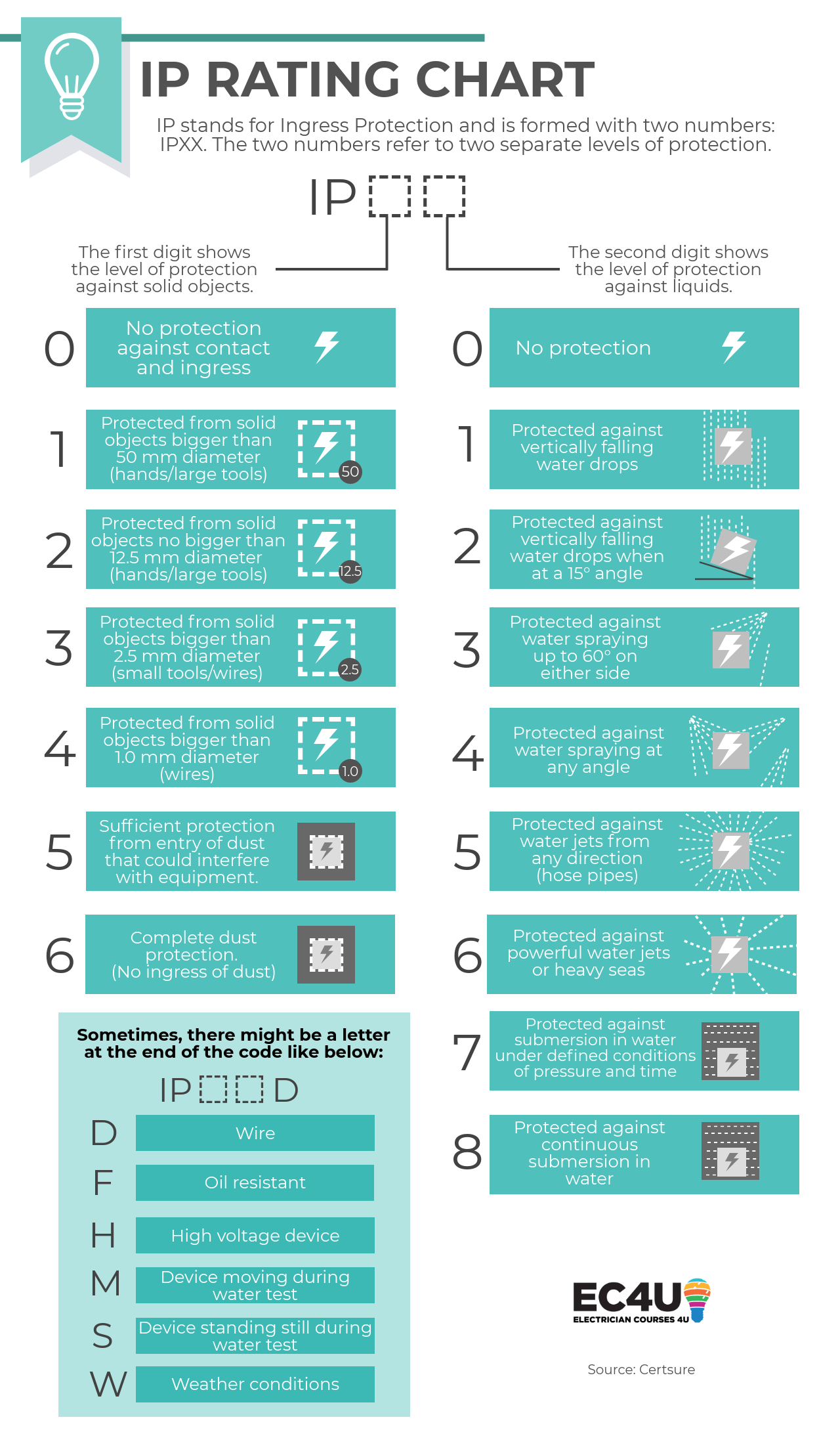 To share our 'IP Ratings Chart' infographic on your website, simply copy and paste the embed code below:
IP ratings around the home
Within the home there are certain requirements that all equipment, including fixed wiring accessories such as sockets and switches, must meet. One of these is minimum IP ratings. In general EVERY piece of equipment that is installed must have a minimum IP rating of IP4X on all horizontal surfaces and IP2X on all vertical surfaces.
The idea of this is by having the Horizontal surfaces rated at IP4X it is difficult for large particles of dust and fluff commonly found in the home to make their way inside the enclosure, thereby removing one potential cause of fire.
Having the vertical surfaces rated at IP2X prevents someone inadvertently coming into contact with what could be live parts inside the enclosure. In general, in the UK it is hard to find a product which doesn't meet these specifications unless the product in question has been damaged.
Bathrooms however have much stricter rules on the IP ratings of equipment that is allowed to be used in them. Bathrooms are broken into 'Zones'. The minimum IP rating of the equipment to be used is defined by which of these Zones it is going to be used in. The diagram below illustrates the different Zones in a bathroom.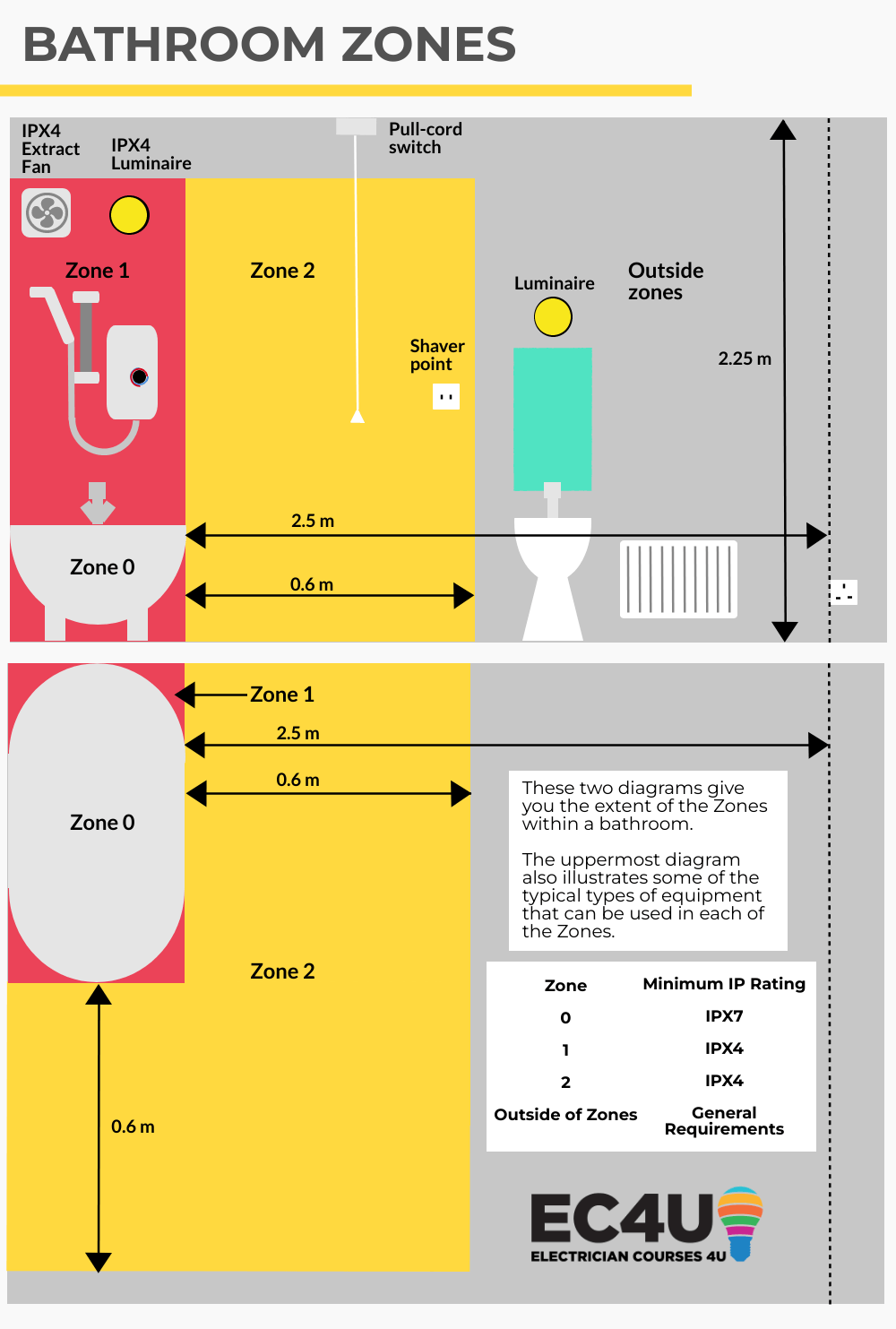 To share our 'IP Ratings Chart' infographic on your website, simply copy and paste the embed code below:
This means that when selecting equipment to be used in any of the zones it MUST meet these minimum requirements i.e. an extractor fan that will be used in Zone 1 of the bathroom it must be rated to at least IPX4 and marked up as such.
Certain types of equipment are not allowed to be used in the different zones of the bathroom regardless of their IP rating; they are outside of the scope of this article however so we will just list them here. For a more detailed explanation of some of the terms used below, please take a look at our guide to electrician's terminology.
Zone 0 – No switchgear allowed. 12V SELV equipment can be used as long as the safety source is outside of the zones
Zone 1 – Only 12V SELV switchgear is allowed to be used as long as the safety source is outside the zones. 25V SELV and PELV equipment can be used as long as the safety source is outside the zones.
The following types of fixed equipment may be used as well:
Water heaters
Luminaires
Towel rails
Ventilation equipment
Shower pumps
Electric showers
Whirlpool units
Zone 2 – Switches and sockets outlets are allowed as long as they are SELV. Fixed, permanently connected equipment is allowed to be used.
IP Codings in gardens and other outdoor spaces
Electrical equipment and accessories for general use outside do not have to meet specific IP ratings in the same way equipment used in bathrooms does. It is however required to be weather proof'.
With socket outlets the easiest way of meeting this is to ensure that they have an IP rating of at least IP54. This is relatively easy to meet as the majority of the sockets designed for outdoor use that you can buy tend to be rated at IP66.