How to boost your electrical business and save money
The electrical industry is now worth more than £16.6 billion, as reported by NICEIC, and the opportunities for work are growing at a staggering rate.
We're here to help you boost your electrical business and maximise on the opportunities out there waiting for you!
There is a high demand for skilled trades, especially with the introduction of desirable smart technologies aiming to make homes more efficient. This growing demand means tradespeople are positive about the future, with 48% believing their businesses will continue to grow and improve over the next year.
In a recent report by NICEIC, 95% of contractors saw smart meters to be an opportunity for the industry to grow, 76% saw wireless technology to be an opportunity, while the surge of intelligent buildings and integrated control systems is seen as an opportunity to 94%.
To share our 'How to Get More Business' infographic on your website, simply copy and paste the embed code below:
Your business and the services you offer
If your business isn't registered with a government approved Part P scheme provider, then now is the time to take that leap. By joining a Part P scheme provider (like NICEIC or ELECSA), you are able to sign off all notifiable work and no longer need to sub contract another registered electrician to sign it off for you.
Notifiable work can include anything from adding a new circuit, work in a special location, a house rewire or a consumer unit change. It is a simple way to expand your business, as by offering both minor and notifiable work you immediately open yourself up to reach more customers.  You can do more of your own work, with the bonus of no waiting on others to help you complete the job and take a greater share of the profit.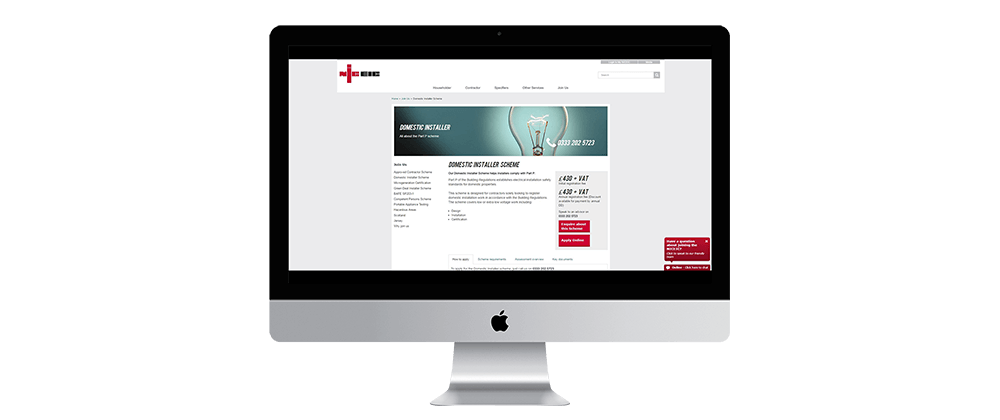 Customer relationship
The job doesn't finish when you leave the site. Part of creating a good customer experience means making sure they are happy with the work completed and that they have your contact details to hand, should any problems occur in the future with the installation. This way you are future proofing your company by establishing a relationship between you and the customer. You can leave a business card with the customer or even get stickers created with your contact details on to leave on the consumer unit as a reminder.
Online marketing
The process of building a professional presence online begins with your website. We are now in an era that if you are self employed, you will need a website and it will effectively be your shop window. It can be a place for you to showcase your previous work and show what you are capable of doing, whilst also allowing people to find you easily.
Websites help drive business to companies; if your website impresses the customer, they will call. But how do they find you? It's important that when creating your websites, you make it Google friendly so that your business is as visible in the search engines as possible. Remember to include keywords in your website that explain the search criteria of your business name.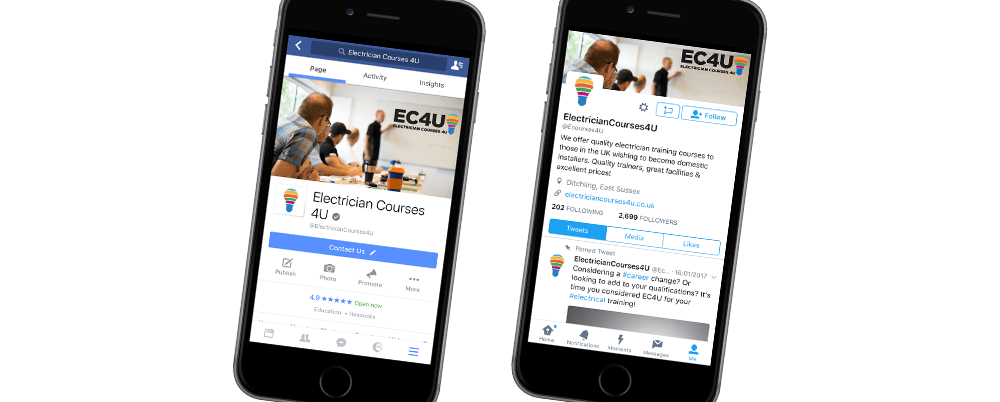 Social Media management
Social media has become a powerful asset for businesses in the digital age. Many tradespeople are now embracing the idea of using a social media platform as a free portfolio of completed work. It also serves as a new and unique way to get your name out there to both customers and other tradespeople. Networking on social media can mean that you connect with tradespeople that you wouldn't meet normally, and offers you the chance of exchanging work if they are nearby.
Marketing tools for your electrical business
The first routes that come to mind when you think marketing of your business are probably online registers for trades, which you can join for an annual fee and your name is seen by thousands of potential customers. However, there are other routes that you probably haven't thought or have written off as pointless.
How to promote your business
Professional flyers can be more effective than you think. With the digital age booming, it is rare nowadays for a tradesperson to pop a flyer through someone's door, but you should never underestimate the appeal of a local and qualified tradesperson. When advertising your services, it's important to include keywords that mean something to the customer, like professional, punctual, reliable.
A flyer can act as a great physical presence in someones home as a reminder if something goes wrong, they have someone to call on. If you deliver great customer care and fix the problem, it is likely then that that flyer will later be passed on to other friends and relatives.
You could even advertise an offer when the customer presents the flyer, to help entice customers. Remember to say if you are DBS checked and/or the scheme you are registered with, as the customer can then check. Make sure your brand is memorable and bold – you want to be different – and then extend that brand logo to everything: flyers, website, van, t-shirts, as this will make you look more professional.
New business opportunities
There is a lot of electrical work out there, but how do you make sure you get your fair share? Advertising your company sometimes doesn't need to cost anything but a good service. Something as simple as being tidy and going the extra mile for the customer can mean consistently returning customers, and also their friends and relatives too.
Networking with tradespeople
If you've hit a dry spell for work, it's time to make that phone ring and get in touch with other electricians and tradespeople. Search local registered electricians on the Competent Person Scheme Register and call around to see if there are any electricians who need any help on projects in your area. Another option is to go online to Checkatrade and look at associate trades nearby and give them a call, tell them your qualifications and see if they need any additional electrical help.
Smart homes installations
Smart technology has become a popular choice for homeowners and the number of connected devices is expected to rise to 50 billion by 2020. It is an opportunity for electricians to grow their business by offering simple, smart solutions for homes, such as energy efficiency, remotely controlled devices and lighting personalisation.
With many "plug and play" options available, this is an obvious quick choice for many consumers. But for installers, it is the more complex installations that expertise is still required for, for example, larger, wired-in smart home systems that integrate with many aspects within the home.
Further installer opportunities
By 2021, there will be a new sustainable aim to renovate older buildings that would previously be demolished to make way for new homes. This new agenda will drive home the importance of renovating existing properties to meet the current needs, and also quickly help with the growing demand for new houses and the shortage of skilled labour required in order to build homes.
This will therefore open up opportunities for contractors to take on more rewiring work, as well as installing smart technology into these older properties.
Bonus money saving tip
If you don't have an accountant, it might pay you to start looking into getting one. A good accountant will ultimately help save you money and maximise your profits. It's important to look for a local, small company as they will provide a good service, while keeping costs low.
The more you can do yourself, the cheaper it will be for an accountant and the more money it will then save you. Keep a record of all of your costs and tax deductibles (like fuel and food) in an excel spreadsheet, and organise hard copies of those receipts in a secure place.
Top 10 ways to gain more business
Be smart with your money: an accountant will help save you money and organise your accounts so you can spend more time on the business.
Build an online presence with a strong, Google friendly website.
Positive word of mouth: make sure you leave a good impression on customers.
Expand your services: joining a Part P scheme provider means more job opportunities for you.
Professional flyers create an impact and are powerful marketing tool that stays with customers.
Network with other tradespeople and potentially gain a few jobs in the process.
Leave a physical presence with previous customers, such as flyers, consumer unit stickers, fridge magnets and business cards, so they can pass on to friends and relatives.
Social media portfolio of work and build a network with other trades.
Make sure your company name and branding is bold, memorable and relatable to the customer. Remember consistency with your brand and keep it the same on your van, flyers, t-shirts, etc.
The best way to get business is through being clean and tidy, as 61% of people are likely to recommend you if you are.