Branding your business
When considering the branding for your small business, there are several things you need to think about and several pitfalls to avoid.
Naming your business
Meaning something to your customer
The first and perhaps most obvious point is that the name of your business needs to mean something to your potential customers. Unless you have a unique business or product, the chances are that you will be competing against many competitors who are offering a similar, if not identical, product or service.
This means that if you name your business with yourself in mind it is not going to help you reach potential customers as opposed to a rival with a targeted company name that speaks to their customers about what it is that they offer. Ideally you want to have something related to either the industry you are in or the product or service you offer in your company name. This way you are not leaving any confusion in the customer's mind as to what exactly it is that you are offering.
No vanity projects!
As much as it may be tempting to put your name in the companies, try to resist doing so. There is a myriad of Smith & Sons and Jones &Partners out there, unless you are a well-established family business who have been in business longer than most of your potential customers have been alive, these names say nothing about you as a business and what it is that you offer. As a result, it pays to steer clear of this type of name and instead focus on something a little more unique.
Securing your business name
Once you have come up with a name for your business, the next step is to see if that name is free for you to use. Firstly check companies house and do a company search for your companies name. Once you've done this it is worthwhile registering a domain name using your company name.
There will usually be a charge for this via a company, such as Fasthosts. Don't just secure the domain name that matches your companies name directly, also secure variations on the name that could easily be mistaken for your name. This will help protect the identity of your brand.
To share our 'Branding your business – leaflet' infographic on your website, simply copy and paste the embed code below:
Logo, colour scheme and graphics
As well as a name that will make you stand out you will need to think about how you want your business to look, including logos, graphics, work wear, websites, marketing literature; all should carry the same theme and look like they belong together.
There are a host of free and subscription based online tools that can allow you to create your own logos and graphics. Companies such as Wix often offer free logo design software to tempt you in to buying more of their product. The advantage of using these sorts of site is that your resulting work is often then available in a variety of file formats and resolutions. This means that when you're working with other companies, such as those printing van graphics or work wear, you'll have a copy of the graphic in the file format and size that they work with.
The alternative is to work with a graphic designer, although this may seem to be quite a step to take its worth noting that there are lots of independent graphic designers out there. If you find one who is reasonably local, it also allows you to work closely with them and make tweaks and changes as necessary.
If you are going down the do it yourself route, there are a few things to bear in mind, including…
Limiting your colour palette
Using lots of different colours can work when done by someone who knows what they're doing and how different colours complement each other, but it can however prove tricky to pull off. It's much easier and in a lot of cases more effective to make use of a limited colour palette of two or three colours. If you're not sure which colours work best together, the traditional choice is to either choose opposites on a colour wheel such as red and green or to use different shades of the same colour.
Keep it simple
Try to avoid making your logo and text too complicated. With your logo, you want an image that is instantly identifiable as yours, so try not to be too derivative of existing logos out there. Not only will it mean you don't stand out as readily identifiable, it also potentially opens you up for legal action due to copyright infringement.
When choosing a text, try to avoid using a serif style font (a font that makes use of small lines attached to the end of larger strokes, Times New Roman being an example) instead choose a sans serif font as these tend to be easier to read quickly and look less cluttered.
Remember to check copyright of certain fonts, as although some will be free for reuse in any capacity, some will not be for commercial/advertising use unless you buy a license for it.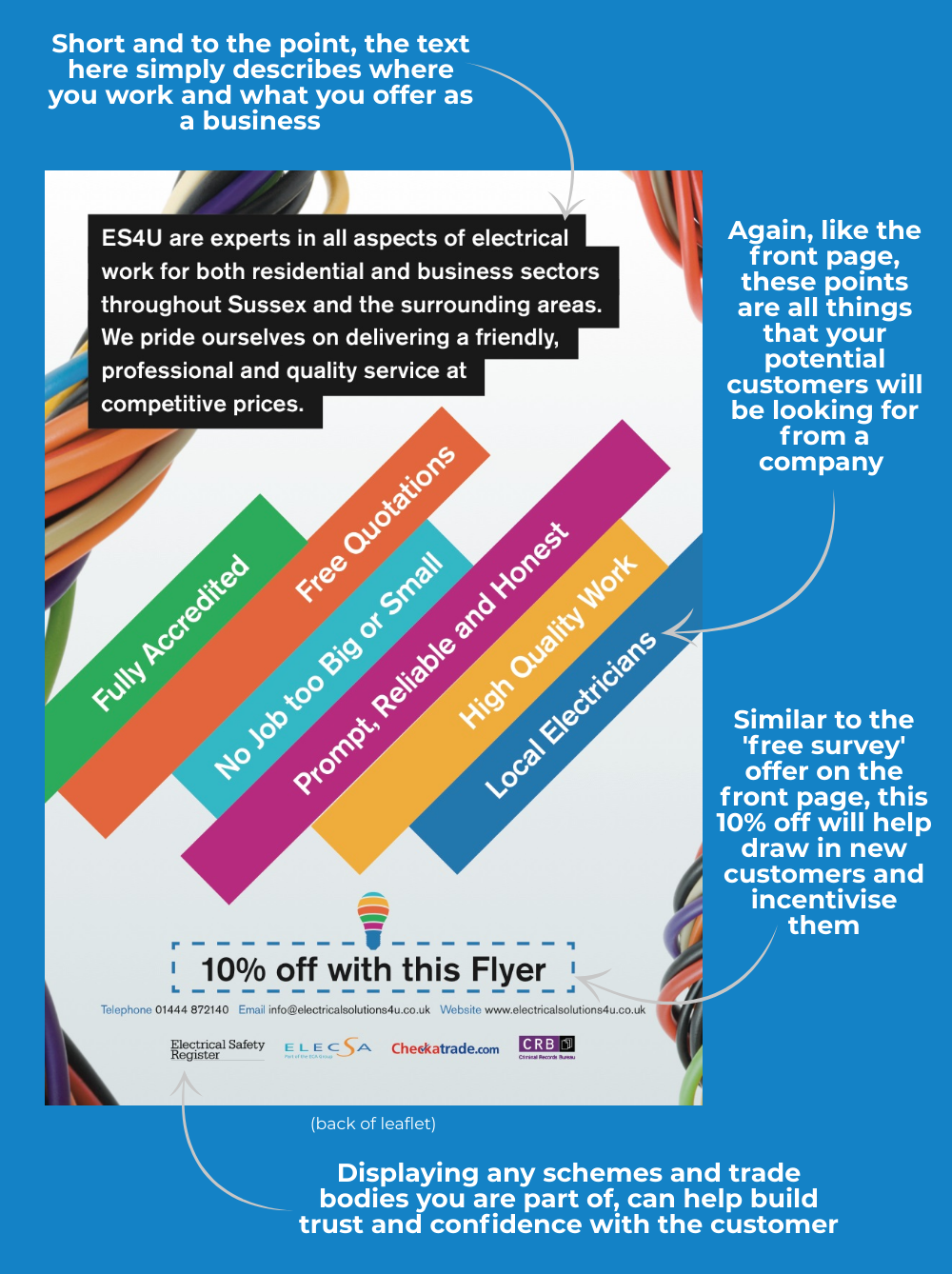 To share our 'Branding your business – leaflet' infographic on your website, simply copy and paste the embed code below:
Advertising your business
Any literature you produce such as brochures and leaflets is, by its very nature, going to have a certain amount of text in it. Here then is an opportunity to tell your potential customers what is unique about you. Avoid putting masses of text in any literature, just use it to get the essentials across, the area you are willing to provide a service, if you're offering a particular service, such as being an electrician.
When talking about what you offer, the temptation is to write about all the different things you can do, including re-wires, consumer unit changes etc. The issue with this is that everyone knows this, this is after all what electricians do. Instead, talk about what you will be to your customer, you'll be clean and tidy, polite, on-time, you're fully accredited, essentially all the things that you would want as a customer if you were buying a service off of someone.
Again, use a serif font for your body of text; try to have it stand as clearly out from any background as possible. If you have images, such as photos providing a background to your literature, consider having the text sat in a block of contrasting colour e.g. white text over a black block.
Contact Details
Make your contact details clear and ideally have no more than two points of contact, a phone number and an email address. The phone number needs careful thinking about. Chances are your business number is going to be a mobile phone number, but to give your company the air of a large well established firm, consider making use of a remote secretarial service.
These will answer the phone using your company name, take any details you require and pass this information on to you. As well as making your business seem more professional it has the added bonus in that you won't be answering your phone in front of your current customers or potentially missing a voicemail.
Websites and Social Media
Having a website and some form of social media presence is going to be an essential part of marketing your business. It is important to ensure that your branding carries over to your website too. Ensuring you have consistency between these resources and any print media/company work wear etc will help strengthen the identity of your company.
Remember to include your website on any promotional print material as customers will then have another platform to take a closer look at your business and what you offer to them.
Read on to learn about how to build a website for your small business!