EC4U After Course Support
Taking your first step into the electrical industry can be quite daunting for some. We want to ensure that every customer that leaves our centre is successful and confident, which is why we support you every step of the way.
No other electrical training centre offers after course support like EC4U. We are unique in how we care and look after our customers, not just during their training, but when on the job too.
We currently offer 3 different support options for you once you finish your qualifications. Online, phone and face to face, you are sure to be supported in every single way.
Technical Helpline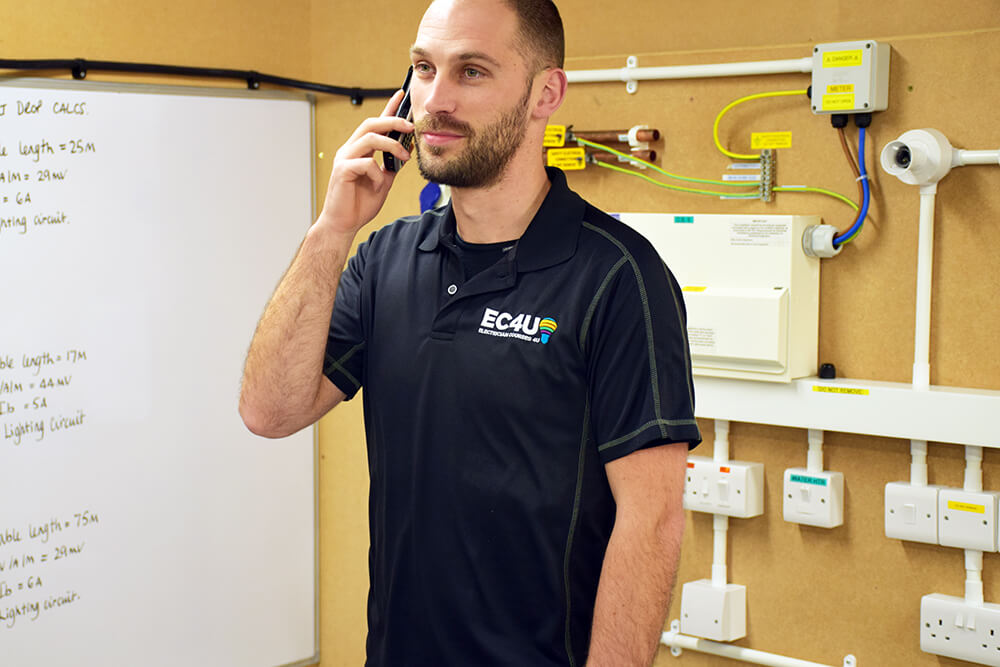 You have just finished your training with us, got your first job on site and have suddenly run into trouble – no problem!
We understand that you may want advice on a difficult circuit or if something is missing and giving you incorrect readings, or whether you just want a bit of reassurance that you are doing the correct testing procedure.
Recently, we launched a brand new, dedicated technical helpline just for our previous customers, so that they can get on the job advice and support quickly, through a direct line access to our experienced electrical trainers.
This service is only open to those who have completed their training with us previously and completely unique in every way, as no other training centre offers support quite like this. We ensure that you are never alone on site and help is only a call away.
Click here to read more about the EC4U technical helpline.
EC4U Alumni
Once completing your qualifications, all of our customers are invited to join a private EC4U Alumni group. The group is only open to those who have trained with us in the past, with more than 500 members already.
It is a supportive community that allows you to seek quick on-site technical help from other past customers and our experienced trainers, while you're on the go. It is also a great place to network with others, see if anyone in your area needs a hand on site and also catch up with those who trained with you on the course.
If you are a previous customer of EC4U and would like to join the Alumni, then please get in touch with us!
Click here to read more about the EC4U Alumni.