Children's Electrical Safety
Electrical dangers lurk in your home, whether you know it or not. From plug socket covers, no RCD protection, and overheating gadgets, it's important to spot these hazards before they spark and cause harm to you and your family.
Children are naturally inquisitive about what adults do, and it's important we teach them the hazards of electricity from a young age.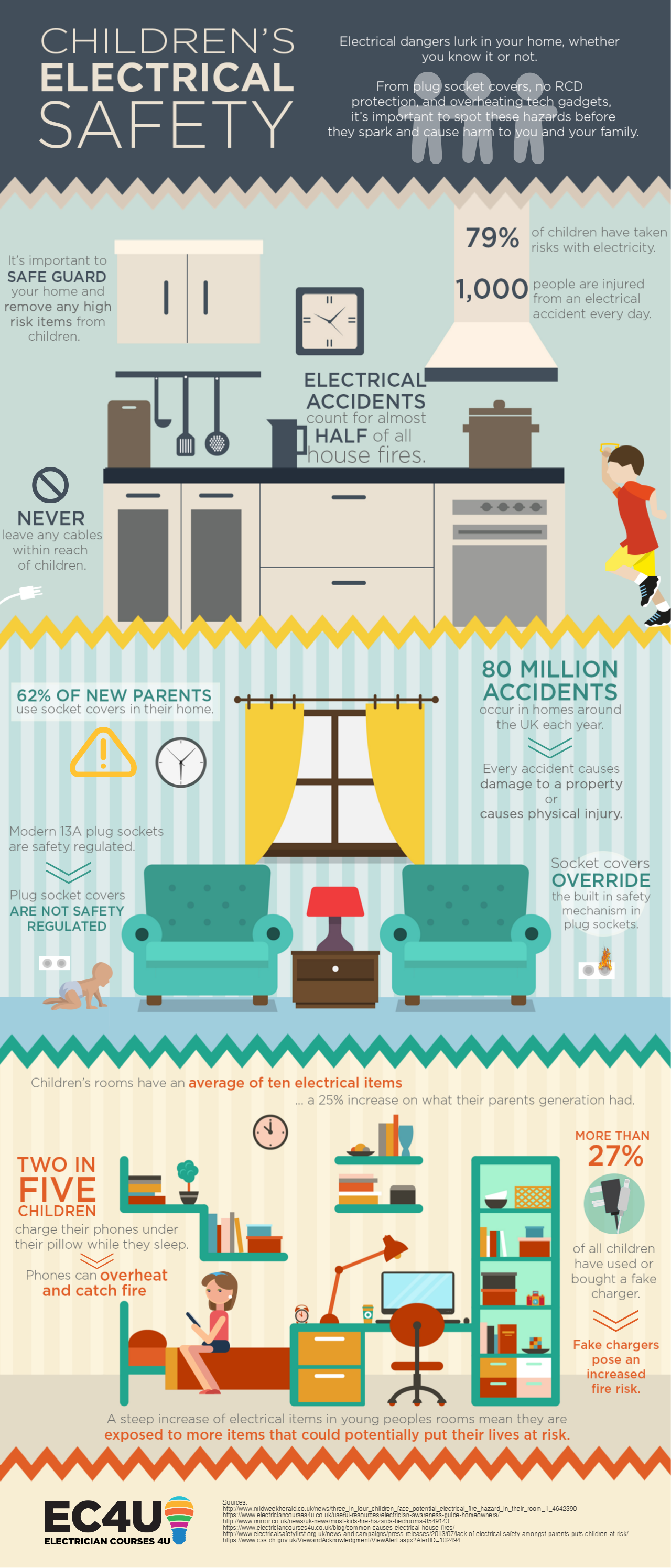 To share our 'Childrens's Electrical Safety' infographic on your website, simply copy and paste the embed code below:
Electricity Safety Tips for Children
If you're a parent looking to provide some valuable safety information for your children then this is a great resource to print off and have as a handy reminder for them to learn from.
By teaching children about electrical safety early on, you can make sure they know exactly what to avoid doing and also what to do to prevent others from doing, if the situation were to arise.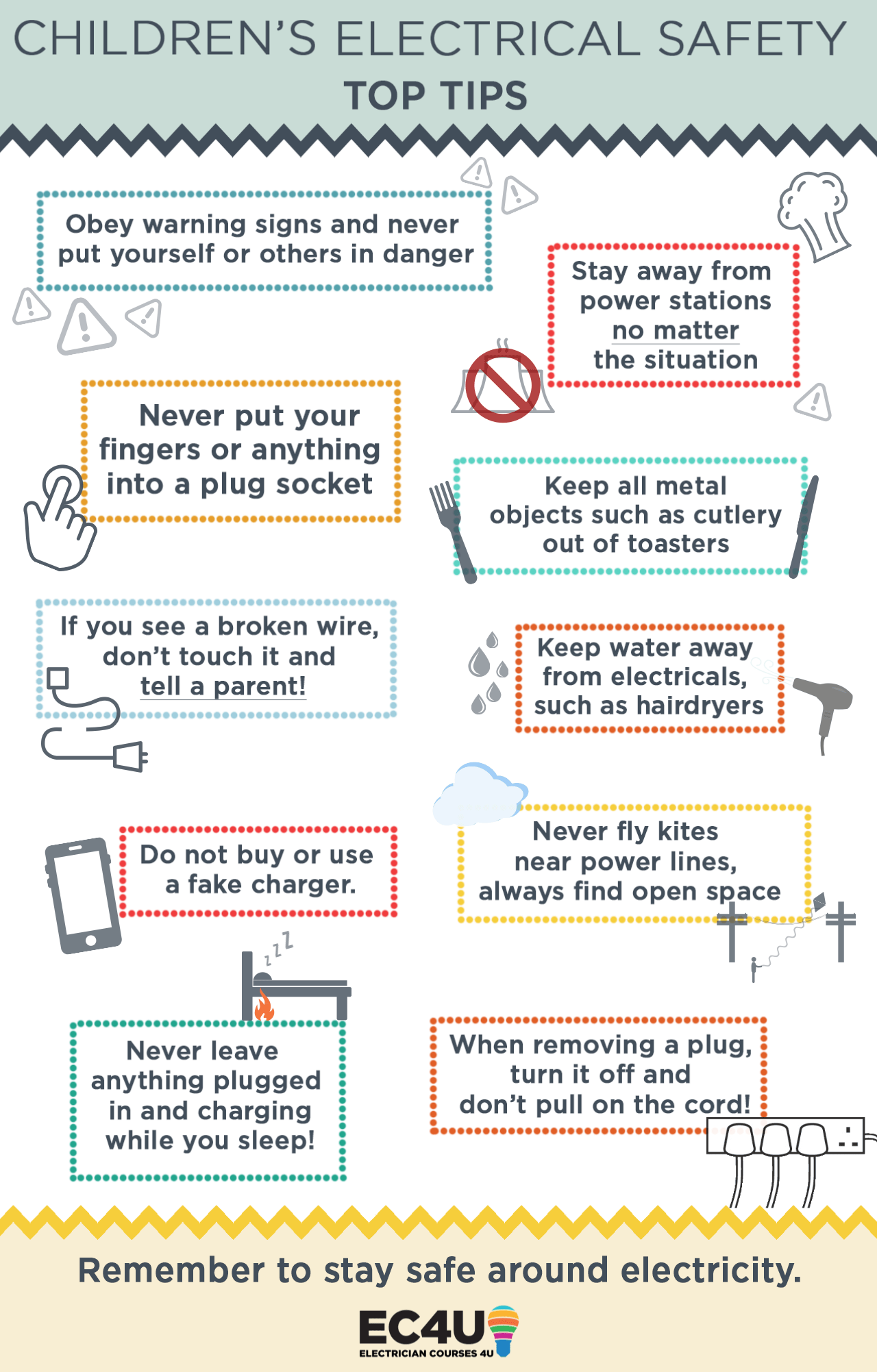 To share our 'Top Electrical Safety Tips for Kids' infographic on your website, simply copy and paste the embed code below:
Top Electrical Safety Tips for Kids:
Keep all metal objects such as cutlery out of toasters
Never put your fingers or anything into a plug socket
Keep water away from electricals, such as hairdryers
Obey warning signs, never put yourself/others in danger
When removing a plug, turn it off and don't pull on the cord
Never fly kites near power lines, always find open space
Stay away from power stations no matter the situation
If you see a broken wire, don't touch it and tell a parent
Never leave devices plugged in and charging while you sleep
Do not buy or use a fake charger
Tech savvy generation
In the past 20 years, technology has developed in leaps and bounds, and more and more young children are getting their hands on it from an early age. From mobile phones, electrical appliances, and laptops, access to these luxury items is available at the tip of their fingers and so are the risks.
It is reported that 79% of children have taken risks with electricity and 1,000 people are injured from an electrical accident every day. These facts are just some of the reasons why it is more crucial than ever that your children know the importance of electrical safety.
The number of gadgets in children or teenagers rooms has grown to an average of ten electrical items – a 25% increase on what their parents would have owned when they were growing up. This steep increase of electrical items in their rooms means they are exposed to more items that could potentially put their lives at risk.
Over 53% of children have admitted to leaving their phone, laptop or tablet device charging on their bed. It is a common cause for electrical house fires; the device heats up as it charges on the flammable material of the bed, and can lead to the battery catching fire and exploding.
A further two in five children are charging their phones under their pillow while they sleep. This is extremely dangerous as the device is sandwiched between two very flammable objects and there is nowhere for the heat to dissipate and will continue to overheat until combustion.
Cheap chargers only make this fire risk greater, as the imitation, bargain chargers are not safety tested to UK standards and often are made up of faulty parts (which overheat quickly). More than 27% of all children have used or bought a cheap, fake charger, leaving them open to potential electrical fires.
Electrical accidents count for almost half of all house fires and many are unaware of the risks they face when they plug in a device. Young people need to understand the risk that comes with using electrical items and gadgets and the deathly effects it can carry in some situations.
Dangers of Plug Socket Covers
With 62% of new parents using socket covers in their home, many are still unaware of how dangerous plug socket covers can actually be. We all know children to be naturally inquisitive, especially with items that adults use, namely plug sockets. However, the plug socket covers sold in many retailers are actually more dangerous than the plug sockets themselves.
Modern 13A plug sockets are safety regulated, plug socket covers are not. The pinholes on a 13A plug socket have been designed so they are too small for children's fingers to fit into. They also have a built in safety mechanism, which means that only the earth pin is open and the bottom live holes are covered by insulated shutters, preventing objects from being shoved in.

There is a risk that safety covers can be turned upside down by curious children into the earth pinholes, and therefore open the bottom two live pinhole and override the safety shutter feature. This is extremely dangerous as it can leave children vulnerable and at risk of electrocution.
Socket covers also damage your plug sockets as they force them open, loosening the connections.
Recently the NHS recognised the danger of socket covers as they banned them in all of their premises. Their new alert stated that "the use of plastic 13A electrical socket inserts can overcome the safety features designed into socket outlets".
It is important that all homes have proper RCD protection installed to prevent electrical fires and any dangerous and fatal electrics shocks. Currently only 38% of new parents have RCD's fitted into their consumer unit and they can be the difference between life and death.
It is hoped that with the NHS recognising the risk of socket covers, that parents will soon take notice and see how safe their modern plug sockets already are for children.
Common Electrical Hazards
The average home is littered with potential electrical hazards for children. It's important to safe guard your home around children and remove any high risk items from from their reach.
Safety precautions for children are universal, no matter the age, however the risk is greater the younger the child is due to their inquisitive nature.
80 million accidents occur in homes around the UK each year, with every one having caused damage to a property or caused physical injury, which is why it is so important to recognise any common electrical hazards in your home.
Eliminate the dangers today by checking around your home for any of the listed concerns below:
When you aren't using appliances, switch them off.
Keep all cords out of reach of children, whether they are plugged in or not. Plugged in appliance cords that are not connected to devices like phones or laptops pose a great risk as children could put them in water, or even their mouths.
Keep all heated appliances, like irons, hair dryers and hair straighteners out of sight and reach.
Don't rely on socket covers. Remember that regular sockets are regulated and safe.
Make sure you have RCD protection within your consumer unit. RCD's help protect from fatal shocks and reduce the risk of fires too.
Keep all drinks away from electrical items.
Remember to keep your children safe around electricity.
If you enjoyed reading this and want to find out more information about electrical safety, read on about how plug socket covers are unsafe…