Electrician Awareness Guide for Homeowners
How much do you know about what electricians do? Are you aware of the regulations they must follow? Do you ask for proof before they carry out work in your home? Is your electrician registered with a government approved scheme? These are all important questions homeowners need to ask themselves when thinking about hiring an electrician to carry out work in their home.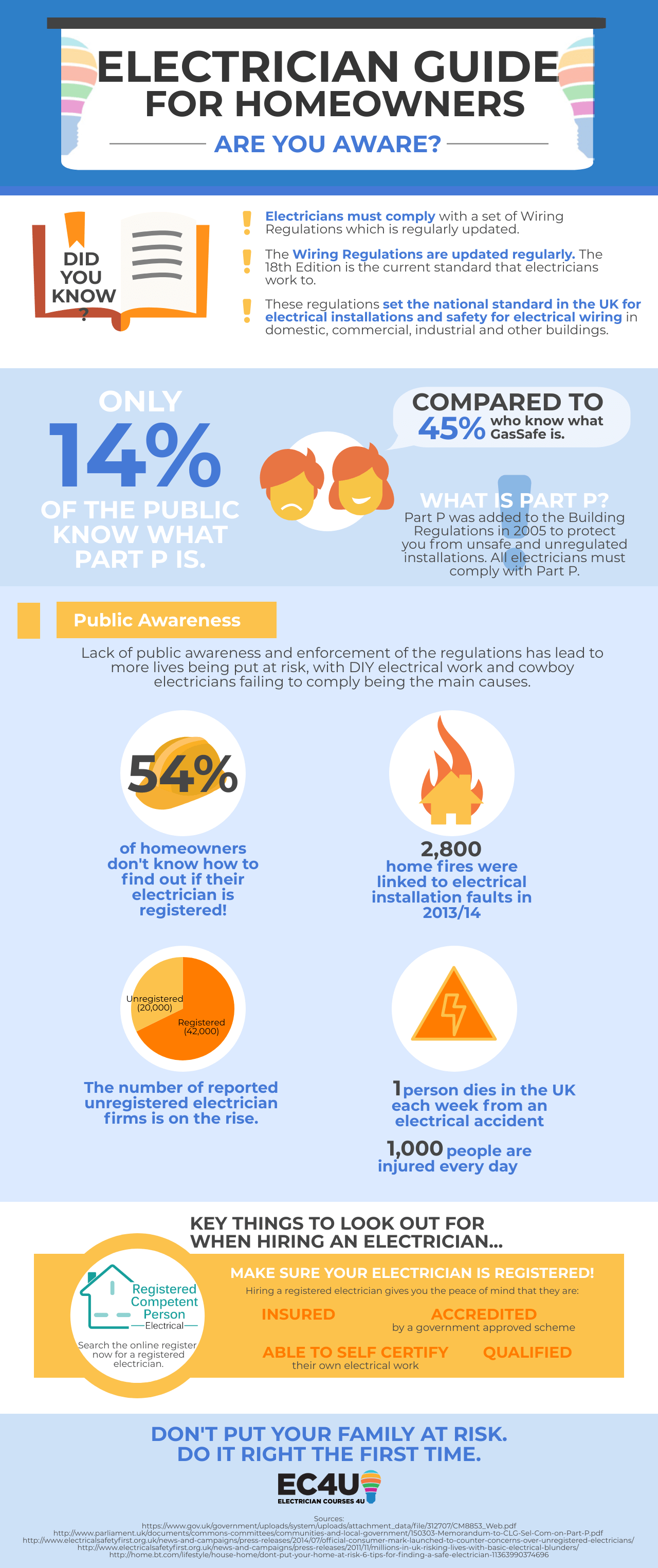 Please feel free to share our 'Electrician Awareness Guide' infographic on your website, by simply copying and pasting the embed code below:

Disasters can occur when systems are poorly installed or improperly checked, which means you then face the risk of serious injury or death in some cases.
It's been reported that 2,800 home fires have been linked to installation faults in 2013/14, which could have been carried out improperly by unregistered electricians, who may also not be up to date with the current changes made by the UK national standards.
People aren't aware of the true danger that electricity possesses, which is why it is important to raise awareness on the subject. Something as simple as an RCD – a Residual Current Device, which will prevent you from getting a fatal electric shock if you touch something live and cuts the power – is taught in GCSE science today, yet 70% of the public have no idea what it is.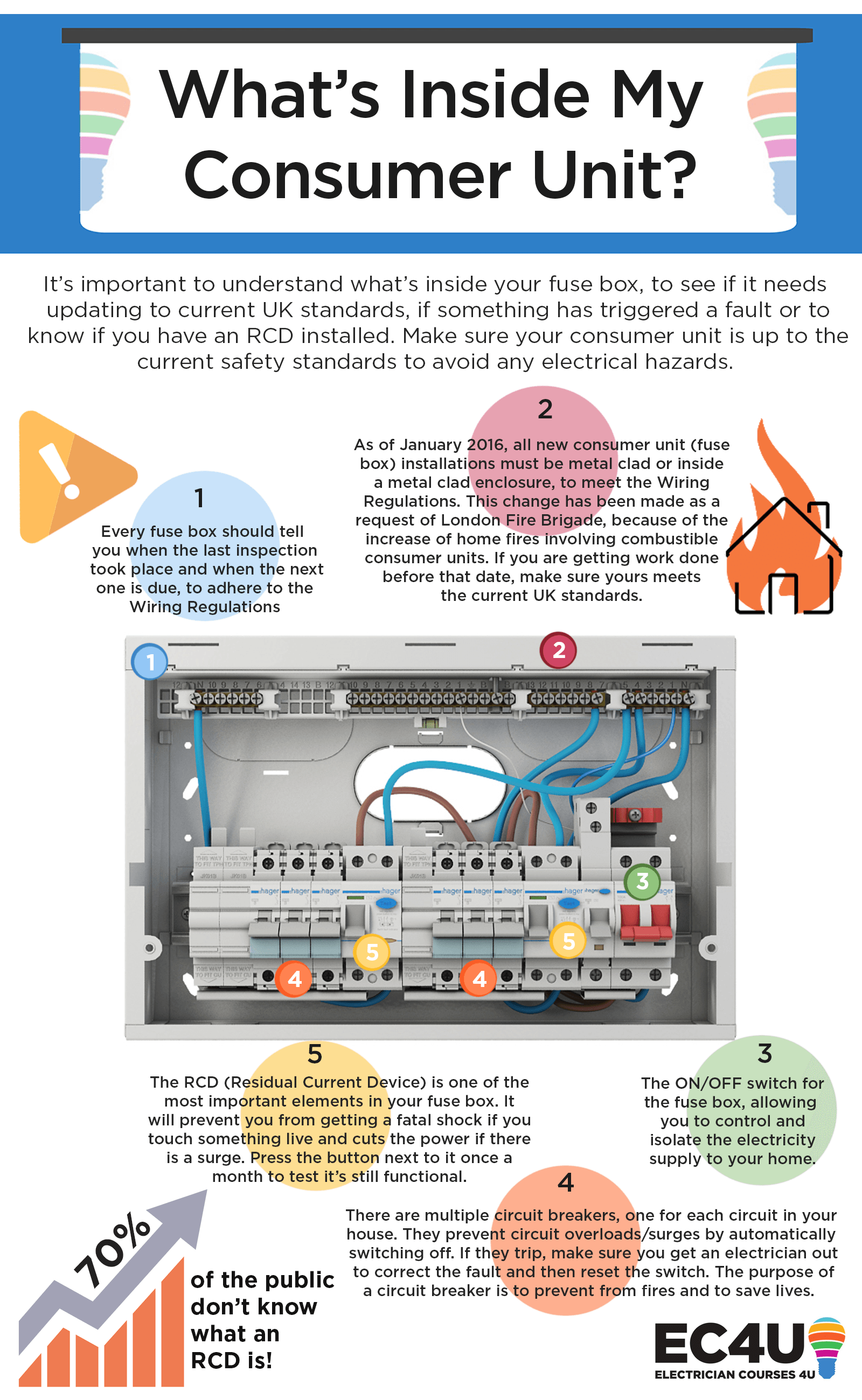 Please feel free to share our 'What's Inside My Consumer Unit' infographic on your website, by simply copying and pasting the embed code below:

Electricians must comply to the IET Wiring Regulations, which goes through regular updates, with the most recent being the 18th Edition, released in July 2018. The regulations set the national standard in the UK for all electrical installations and safety of electrical wiring in domestic, commercial, industrial, and other buildings.
These regulations have been put into place to benefit the public and their safety, just as much as electricians. One the biggest changes made to the new amendment related to safety of homeowners, as London Fire Brigade reported the number of house fires related to consumer units has increased rapidly from 71 in 2011/12 to 253 in 2013/14.
With an increased worry of fire risk on the rise, they have developed this amendment, to safeguard against the risk of fire that can be produced from overhearing of connections in the consumer units. The change sees the move from plastic consumer unit enclosures to a non-combustible material, such as steel.
At least one person in the UK dies each week from an electrical accident and 1,000 are injured every day, which is why it's so important that any electrical work is carried out by a 'skilled person (electrically)', as stated by the Wiring Regulations. 54% of people don't know how to find out if their electrician is registered with a government approved scheme operator.
Your electrician could be one of the reportedly 20,000 firms in the UK who are unregistered, compared to that of 42,000 who are registered with Part P. All it takes to find out is a quick search on an online database and you'll have your answer!
If you are having work done to your electrics, make sure you aren't one of the 18 million people that find it awkward to ask an electrician if they are registered. Why risk your home, by getting your electrics repaired by someone who may not know what they are doing? Instead, follow this handy guide to understand what you need to look out for before/when hiring a qualified electrician to carry out work in your home.
(If you reside in Scotland or Northern Ireland, see bottom for details about what you can do to be more aware when hiring an electrician)
What electrical work is being done under the Building Regulations ?
Electrical work in the Regulations is divided into two categories – notifiable and minor work. Explanations of these are below or you, in order for you to decide what category your work falls under.
What is notifiable electrical work?
In the Building Regulations, the following types of work are notifiable:
The wiring of a new circuit
Full house rewire
New full electrical installation on a new build
The replacement of a consumer unit (fuse box)
Any addition or alteration to existing circuits in a special location*
* Special locations include: space surrounding a bath/shower; or an area containing swimming pool/hot tub/sauna – see the building regulations (BS 7671) for precise distances from items.
What is minor electrical work?
As with notifiable work, all work carried out within the home is within the requirements of Part P and therefore must comply with the Wiring/Building Regulations' current edition. If the work you are having carried out in your home does not fall under the notifiable specification, then it is classed as non-notifiable or minor work.
The following are some examples:
Work that is not in a special location* and consists of: adding lighting points to an existing circuit; adding socket outlets to an existing circuit.
Replacing cable for a single circuit only, where damaged
Installing outside lights or sockets from an existing circuit
Replacing accessories such as socket-outlets, control switches, etc.
* Special locations include: space surrounding a bath/shower; or an area containing swimming pool/hot tub/sauna – see the building regulations for precise distances from items.
Failure to comply with the building regulations is a criminal offence, and you could compromise your home insurance, as well face a fine for any work that does not comply with the requirements. The enforcement of Part P under the building regulations aims to improve the overall quality of electrical work, as well as drive down the risk of installation faults, injuries and deaths, while bringing up the competence and safety of electrical contractors. 30% of electrical accidents can be prevented through regulation, which is why it has been put in place – to protect you and your home.
Is my Electrician registered?
One in four people don't check an electrician's credential before hiring them, but checking whether they are registered couldn't be easier! For England and Wales, simply go to the Electrical Competent Persons register online to search the company name/your post code for the electricians in your area.
This register allows you to see which scheme they are registered under, where the business is based and a contact name and number. This register was brought into place by the Government in 2014 to supply the public with a quick and easy solution to finding and checking a competent, registered electrician.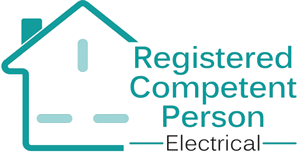 The scheme operators that you will see on the register include: BSI (British Standards Institution), NICEIC, ELECSA, NAPIT, STROMA, Benchmark, BESCA, and OFTEC. These schemes work to the current UK national safety standard and will give you a certificate to confirm that their work has been designed, inspected and tested to that standard.
Electricians who register with a competent person self-certification scheme have to meet strict qualification requirements, in order to carry out work on domestic electrical installations, and comply with Part P of building regulations, whilst having the bonus of being able to self-certify their work upon completion. Their work is subject to regular inspections by the Competent Person Scheme Operator to ensure an ongoing high standard of work.
Some of the requirements they must meet include:
They work to the British Standard for electrical safety (BS 7671)
They meet strict entry requirements, which take account of qualifications, skills, knowledge, experience and insurance policies.
They will give you a BS7671 certificate to confirm that their work has been designed, inspected and tested in line with the BS7671 electrical safety standard.
They are permitted to self-certify their work against the Building Regulations, saving you any hassle.
More details about the online register and electrician's requirements can be found at their website: www.electricalcompetentperson.co.uk Always ask to see registration documents before any work is carried out. Do not accept an electrician who refuses to show you documents and proof of their certification.
What electrical installation certificate should I get from my Electrician?
After work has been carried out, inspections and testing are required, as well as the issuing of either a Minor Electrical Installation Works certificate or for notifiable work, an Electrical Installation Certificate.  If you are DIY savvy individual and are undertaking the task or carrying out non-notifiable work in your home, then you must get your work checked by a competent third party, and then receive a certificate from them.
If minor work, you should receive:
Minor Electrical Installation Works Certificate
If notifiable work, you should receive:
Electrical Installation Certificate
Schedule of Inspection Results
Schedule of Test Results
Within 30 days of completion, a Building Regulations Compliance Certificate should be issued to you from Building Control.
Building Standards in Scotland and Northern Ireland
For those who live in Scotland, any electrical work being carried out in your home will still need to conform to building regulations. You can check the building regulations here and see how they apply to the electrical work you require. The Scottish Government has a Building Standards Division Certification register here: http://www.certificationregister.co.uk, in order for you to find competent, qualified electricians near you, allowing you to search by work types, location and scheme. Alternatively, visit www.Select.org.uk to find a contractor through Scotland's trade association for the electrical industry.
For Northern Ireland residents, there are currently no requirements for domestic electrical work. There are organisations that register and assess electricians in the area (such as NICEIC) and we therefore advise you search for a competent registered electrician through these operators to carry out any electrical work you need done in the home.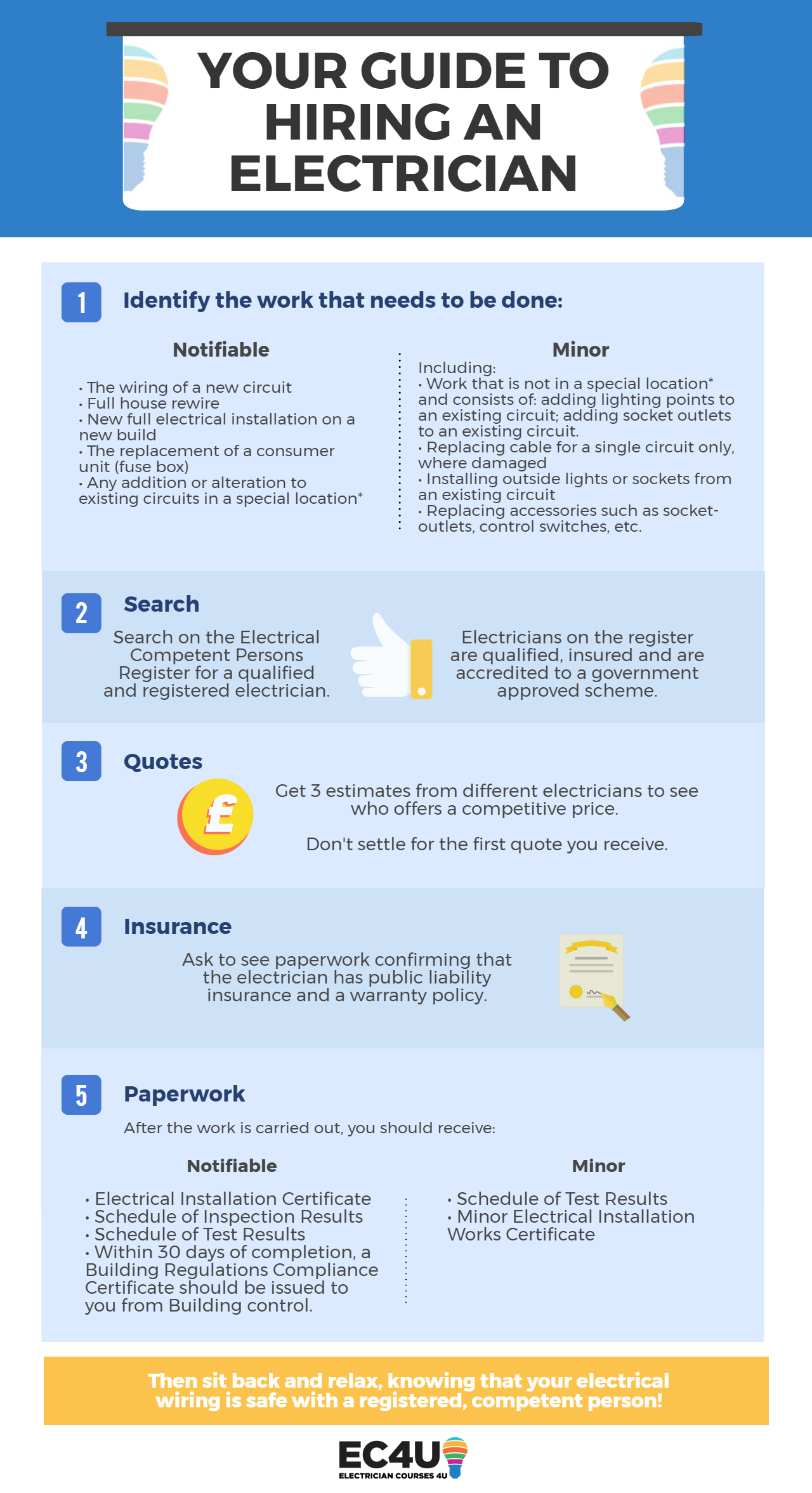 Please feel free to share our 'Hiring an Electrician' infographic on your website, by simply copying and pasting the embed code below: