21+ Online Learning Days
£895 inc. VAT
EAL
Who is this course for?
If you have previously trained with EC4U or other training providers and are looking for the most comprehensive and straightforward way to becoming a Qualified Supervisor, then this is the course for you. It will combine your previous training, qualifications and experience with home learning modules and various assessment components. Once completed you will be able to apply to join a Part P scheme provider and sign off all your own electrical work.
We have developed a unique solution which allows you to 'top up' your previous training, knowledge and experience into a full Qualified Supervisor qualification, saving you both time and money.
When booking our Domestic Electrician Top Up Course, you will have the option of paying for the course in full (£895 inc. VAT) or reserving your space by paying a deposit (£400 inc. VAT).
Book this course
This course is not available to book online, please call 01444 872 145 to book this course
Course Overview
EAL 7695 Qualified Supervisor Domestic Electrician Course
The full course title is: EAL Level 3 certification in installing, testing and ensuring compliance of electrical installations in dwellings 600/7695/1EO.

This Top Up course is the most affordable route to become a qualified supervisor for anyone who has already completed their training with EC4U or another training provider.

EAL are an awarding body, equivalent to City & Guilds. Find out more about EAL here.
Course Structure
The course will build on from the knowledge and skills gained during your previous training and will be a combination of home/online study, online exams and the development of your own personal evidence portfolio.

The time taken to complete the home study element of the course can vary depending on your time and commitment, however, it can typically take between 3-7 weeks. Once you have completed the online learning you will need to sit 8 online exams. You can choose to sit these one at a time after completing a module, or you can sit multiple exams in one day.

Another component of the course is the development of a performance evidence portfolio. You will need to build this portfolio with examples of work carried out whilst you are gaining experience. Scheme providers require you to have a minimum of 24 months experience so you are able to build up your evidence whilst working and gaining experience.

After completing your online learning, evidence portfolios and building up 24 months experience, you will be ready to finish your qualification by completing a professional discussion with one of our assessors.
Course Content – Home and self-study
Module 1: Health and Safety

Module 2: Environmental Legislation and Technologies

Module 3: Organisation and Management of the Work Environment

Module 4: Planning, Preparation and Selection of Wiring Systems

Module 5: Wiring Systems, Inspection and Testing, and Fault Finding
Additional Components
Evidence Portfolio
To be collated whilst you are working and building your experience. You will need to build an performance evidence portfolio (photos/videos/witness statements).

Professional Discussion
Once you have gained 24 months experience, completed your online exams and finished your evidence portfolio, you will finish the qualification by taking part in a professional discussion. You will have an opportunity to discuss your evidence portfolios with an assessor as well as answering a series of questions to demonstrate your experience and knowledge.
Our Domestic Electrician Top Up Course includes the following:
Home and Self Study Modules
Portfolio Management
Professional Discussion
Course Duration
This course duration will vary on how much experience you have already gained since completing your Domestic Electrician Package, as well as how quickly you complete the online modules and exams. Please take a look at our course FAQ'S for further course information.
The exams
Overall there are:
8 Online Exams
1 Written Assignment
1 Evidence Portfolio
1 Professional Discussion
For more information on the assessment structure, click here.
Course literature
The following publications are to be purchased by all customers wishing to take part on the Domestic Electrician Top Up Course. These books are ONLY for sale to customers who have booked a course with us. Books will not be posted out and will be available on the first day of your course.
£70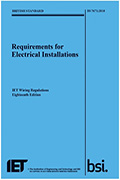 Add to cart
£20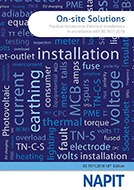 Add to cart
£165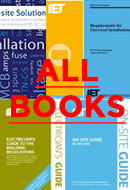 Add to cart
Entry Requirements
You need to have completed the Domestic Electrician Course, Domestic Electrician Package or Domestic Electrician Course + (or equivalent) to enrol onto this course.
If you would like any further information about our Qualified Supervisor Top Up course please call us on 01444 872145 and we will be delighted to help you.
FAQs