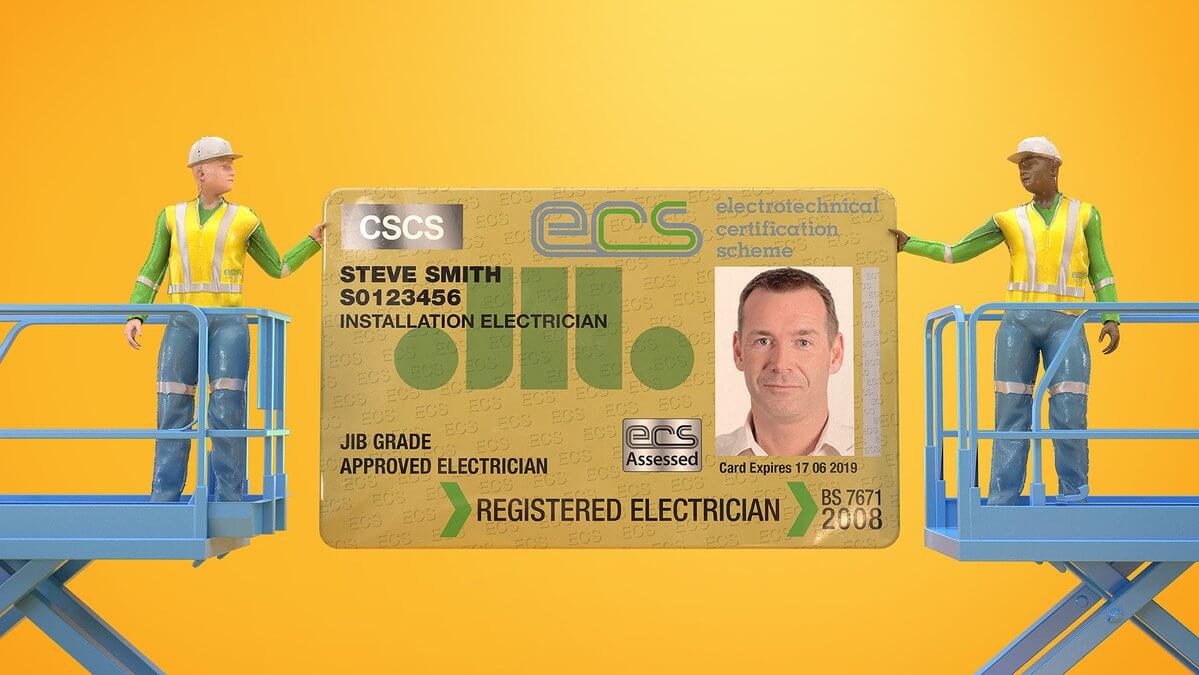 The JIB/ECS have launched a new 'registered electrician' status for their gold card members, in a move which they claim aims to help raise standards in the industry and also recognise those "electricians working at the top of their game."
It is part of a new initiative where ECS are keeping a closer eye on those with the new 'registered electrician' status, by checking their BS 7671 qualification is current when their card comes up for its renewal and also that they are adhering to a strict Code of Professional Practice.
Status criteria
Only those who hold a gold card, either an ECS Installation Electrician or a Maintenance Electrician card and the current BS 7671 Wiring Regulations qualification, are eligible to apply to get the new status printed on their card.
To obtain either gold card is no easy feat, as you must have a UK electrotechnical Level 3 NVQ in either electrical installation or electrical maintenance, as well as a current BS 7671 Wiring Regulations qualification and an up to date Health and Safety certificate.
The cost to get 'registered electrician' on your gold card is free if you want a digital copy, and if you want it printed on your current physical card, it will cost £10 (+VAT).
The status is completely voluntary and open to any existing gold card members who wish to upgrade to a 'registered electrician' status. If you opt to not add the status to your card, you will simply stay on the same card structure you are on currently.
ECS Check
ECS have also launched 'ECS Check', an online register where employers and customers to check that their contractors qualifications and card status.
This service has been created to verify the skills, qualifications and card level of tradespeople on site. The online portal holds the details of thousands of contractors and aims to give employers and customers peace of mind that their contactor is skilled and who they say they are.
Anyone can access the ECS Check online portal; simply get the details of the contractor you wish to check, including their card number, and search.
Part P Registered Electrician
One issue we can see with the card is the conflict of status name and the confusion that is expected amongst the public, as Government approved Part P Scheme Providers have fought long and hard to increase public awareness on the importance of hiring a registered electrician.
Part P registered electricians are assessed on site every year, have up to date qualifications (including BS 7671) and are fully insured to work competently in your home, as well as being able to sign off their own electrical work. You can find a registered electrician in your area easily by taking a look at the Electrical Competent Persons Register.
ECS state that this new status is "complementary to existing Approved Contractor and Competent Persons Schemes", however, it could mean confusing and misleading customers and employers, who may think they are hiring a 'registered electrician' who can sign their own work off, when really they cannot.
The new status could also see an increase in fraudulent digital cards used by rogue traders to trick homeowners into believing they are a registered electrician, and then conning them out of money and producing unsafe and substandard work.
Alternative solutions
The JIB already have a relationship with the NICEIC and give existing Part P Scheme members an opportunity to gain a gold card after 3 consecutive, successful assessments on the Approved Contractor scheme. A move to promote this partnership more openly with a 'registered electrician' status would have been more appropriate and accurate.
Alternatively, the criteria could be changed so that those who are already a registered electrician with any of the Part P Scheme Providers and hold a gold card, can get 'registered electrician' printed on their card. This would be a bigger professional endorsement, one that really does make electricians stand out amongst their peers.
It's important to note that you only need an ECS card is you are working on a new build or a construction site. It you are working in domestic premises, you do not need an ECS card to work, it is not necessary.
If you want to find out about more about the JIB and ECS cards available, then read on!
Back to blog