Gold Card Electrician vs Registered Domestic Electrician
Not sure if you need to get a Gold Card? Confused about the difference between having a Gold Card and being a Registered Domestic Electrician?
With so many different schemes available to electricians, it is no wonder that people get confused over which qualifications they need to complete and schemes they need to join. Take a read through our guide which explains the difference between Gold Card Electricians and Registered Domestic Electricians.
Find out if you really need a Gold Card or whether you should become registered with a Competent Persons Scheme instead.
What does it mean to have a Gold Card?
The Gold Card is one of a variety of ECS cards issued by the JIB. The JIB are the Joint Industry Board and are responsible for improving the electrical contracting industry by setting regulations. They issue a variety of ECS (Electrotechnical Certification Scheme) cards which you can read more about here.
The Gold Card is designed for those who have a variety of qualifications, including an NVQ Level 3, and a wealth of experience. It will prove your identification, qualifications and occupation. If you are looking to work unsupervised on construction sites, then you will need a Gold Card in order to do this. However, if you are looking to work in domestic properties then you do not need a Gold Card.
Recent changes will also require Gold Card applicants to apply for 'ECS Registered Electrician' status. This will require applicants to hold the latest edition wiring regulations qualification as well as meeting all the other Gold Card entry requirements. However, do not confuse the 'ECS Registered Electrician' with a registered domestic electrician. By becoming an 'ECS Registered Electrician' you are simply allowing the ECS to monitor your qualifications and ensure you are up to date with the most recent wiring regulations.
What is a Registered Domestic Electrician?
To become a registered domestic electrician you need to belong to a Competent Persons Scheme (CPS), such as the NICEIC. In order to join one of these schemes you will need a minimum of 24 months' experience within the industry, the latest edition of the wiring regulations qualification (18th Edition), a Level 3 Inspection and Testing qualification and finally, an Electrotechnical Level 3 NVQ.
The main reason electricians become registered with a CPS is so that they can sign off their own notifiable work. This includes work such as house rewires, consumer unit changes and electrical work carried out in bathrooms. Before becoming registered with a scheme, you have to go through your local area building control to get the work signed off, which comes at a cost. By joining a scheme, you will then be able to sign off your own work and would simply need to renew your membership every year.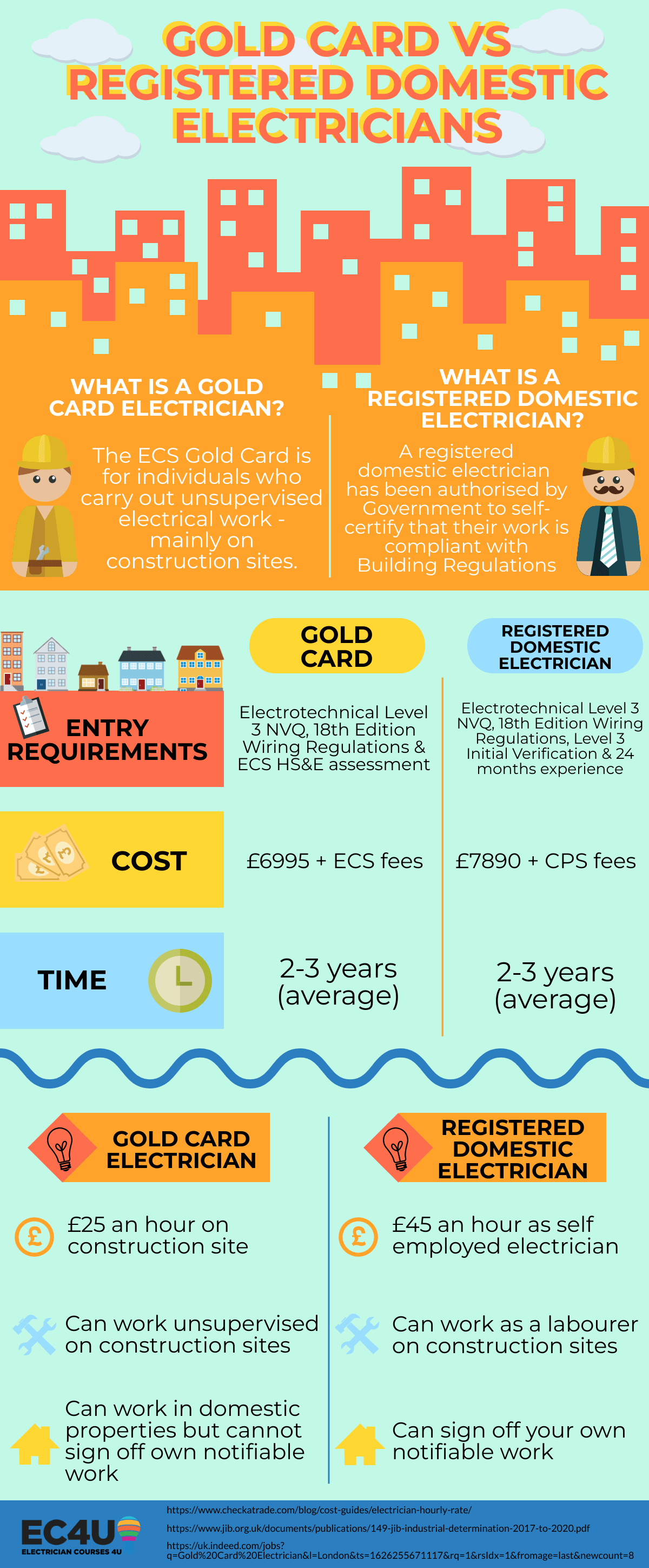 To share our 'Gold Card vs Registered Domestic Electricians' infographic on your website, simply copy and paste the embed code below:
What are the main differences?
One of the main differences between a Gold Card electrician and a registered domestic electrician is that with a Gold Card you cannot sign off your own notifiable work. So if you are looking to work in domestic properties and want to be able to sign off your own work, you do not need a Gold Card but you do need to be registered with a CPS.
If you are looking for work specifically on construction sites, then you may want to consider a Gold Card. However, you can still work on construction sites without a Gold Card as a labourer. So if you do not have a Level 3 NVQ you can still apply for an ECS Labourer Card.
Another difference is earning potential. On average an electrician with a Gold Card will earn on average £25 an hour on a construction site. However, a self-employed electrician can earn up to £45 an hour when working in domestic properties.
Which route is right for me?
This very much depends on the sort of work you are looking to get into once qualified and have built up experience. If you definitely know that construction work is your end goal, then you will need to complete your Level 3 NVQ before applying for your Gold Card.
However, if you are more interested in domestic work and eventually being able to sign off your own notifiable work then the registered domestic electrician route is definitely for you. This route allows you to start earning money, build your experience and develop your customer portfolio as soon as your initial training is complete, and then the rest of your training can be completed whilst you are out working. As soon as you start taking control of your own customer portfolio, you will be in charge of your own work – you are not reliant on contractors providing you with work.
Whichever career path you choose, here at Electrician Courses 4U we have developed a unique route that will give you everything you need to earn your Level 3 NVQ, read more about it here.