Evolution of the Trades: The skilled jobs on the rise and decline
Over the past decade many trades have been unable to meet the increasing demand for business as their ageing workforces fail to be replaced. While several Governments' have launched various schemes to try and address this issue, in many trades time is running out to recruit new talent to carry out this extra work. 
On the other hand, due to advancements in technology and societal changes other trades have seen demand for work decrease resulting in their workforce having to upskill or change job roles completely. 
To fully understand how skilled trades across the UK are evolving, we took a deep dive into 15 years worth of data from the Office for National Statistics to discover which trades are thriving and which are diminishing. Here's what we found:
Thriving trades: the skilled jobs on the rise
Looking at agricultural and skilled trades as a whole we have discovered that since 2006 more than 500,000 workers have left these occupations – representing a decline of 16%. Taking a look at the overall picture doesn't begin to tell half the story though. While some trades are clearly on the decline others have seen significant growth and are clearly thriving. 
Out of all of the specific job roles the number of aircraft maintenance workers have increased the most. Since 2006, the number of people working in this job has increased almost three times – from 24,000 to 88,300. That's an increase of 267.92%! 
One of the major factors contributing to this increase is the rise in popularity of holidays abroad and more specifically package holidays. This has driven growth of the aircraft maintenance market as planes need to be maintained, repaired and fixed.  
Similarly, the number of rail and rolling stock builders and repairers has more than doubled over the past 15 years from 4,900 workers to 10,500. This is due to the ever expanding demand for freight and passenger transportation as well as new high speed railways being built like HS2.
Another industry which has boomed over the past decade is the hospitality industry. Despite facing a challenging 15 months during the pandemic, many of the job roles within the industry have seen a sharp rise in employees over the past 15 years. 
Since 2006 there has been a whopping increase of 60,200 chefs which represents a total rise of 44.59%. Although the number of people working in the food preparation and hospitality trades has increased at a slightly slower rate of 10.83%, the increase of workers has still been significant.
A dwindling workforce: The trades on the decline
As we look at the other end of the spectrum we can see those working as printers have been most significantly affected by technological advancements. There has been a staggering 84.71% decline in the number of people working as printers since 2006. 
Not only do people have far better access to printing facilities these days, many people – especially businesses – are looking to cut down on how much paper they use as they make the transition to a more digital way of operating. 
Another skilled trade that has seen its workforce decrease due to advances in technology is welders. Our analysis has discovered the workforce has more than halved in the last 15 years with just 31,900 welders remaining. Over the years, large parts of the job have become automated as high tech welding machines replace skilled workers.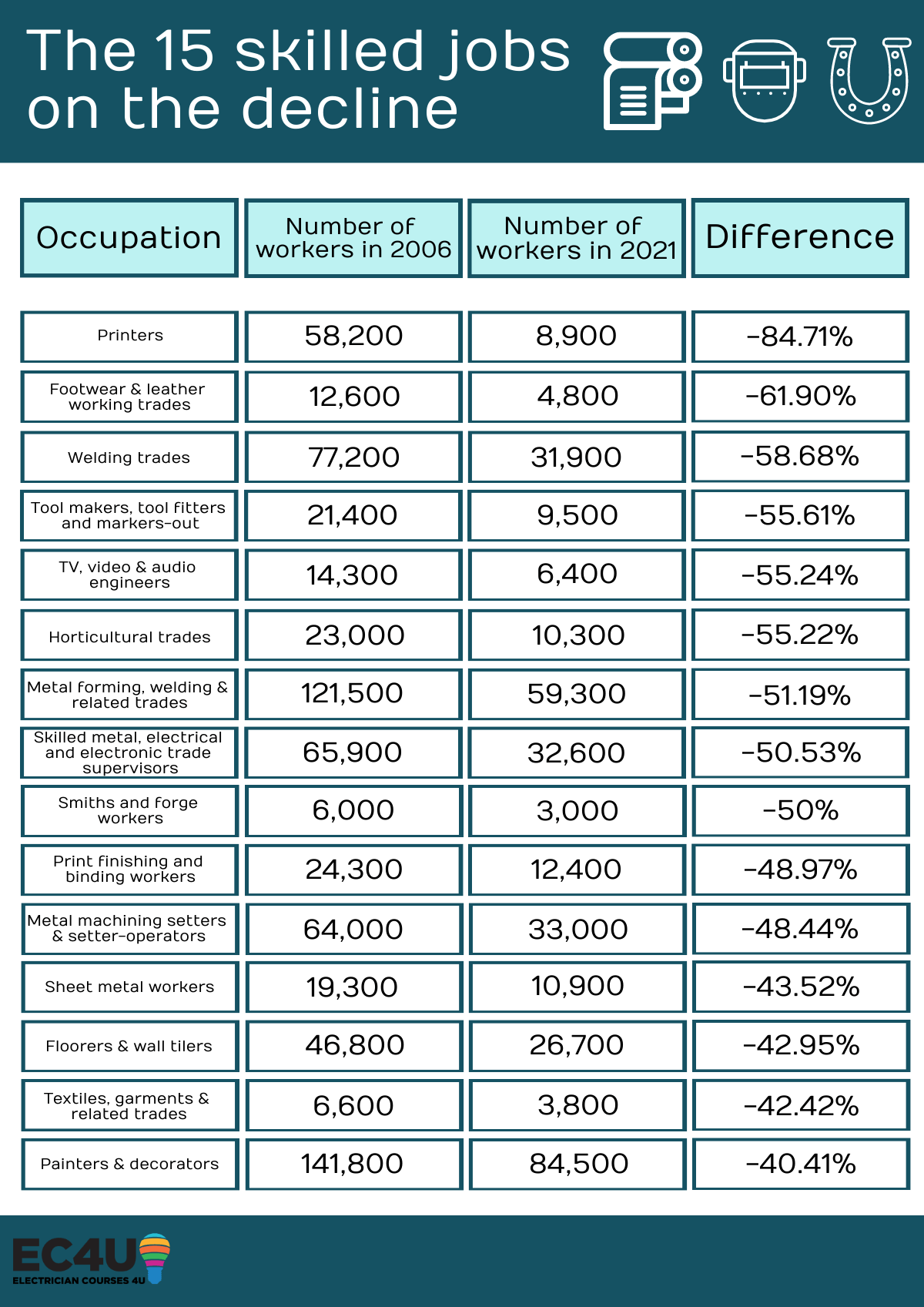 The footwear and leather working trades have also shrunk considerably since 2006. As fashion has changed, trainers rather than smart shoes have become more popular. The vast majority of people now prefer to buy a new pair than fix their old ones – reducing the demand for job roles within these trades. There are now less than 5,000 people currently working in the footwear and leather working trades in comparison to the 12,600 strong workforce in 2006.
A focus on the electrical trade
Being an electrical training provider we also wanted to look specifically at how our trades have fared over the last 15 years. With the shortage of electricians being well documented, it was unsurprising to discover the number of electricians and electrical fitters has declined. In 2006 there were just less than 235,000 people working as electricians and electrical fitters whereas this number has now declined by 5.36% to 222,300.
Although the decline in workers has been a lot more gradual than in many other industries, the demand for electricians and those with electrical qualifications is only increasing which makes a drop of any kind extremely alarming. 
These concerns are not restricted to the electrical industry though. Our research has found the construction industry faces a similar challenge on a much larger scale. The number of people working in the construction and building trades has dropped by a staggering 184,000 since 2006. As with the electrical industry the demand for builders, engineers and surveyors has never been greater but businesses are facing an uphill battle to replace an increasingly ageing workforce.
Commenting on the research's findings, Nigel Best, director of Electrician Courses 4U, said: "By taking an in-depth look at the evolution of the skilled trades over the past 15 years we've been able to unearth a number of fascinating findings. Our analysis highlights how a number of industries have been directly impacted by digital advancements which have reduced the need for specific job roles such as welders or printers. In contrast, other sectors are booming as they benefit from behavioural changes such as an increase in travel – whether that be at home or abroad. Despite being an issue the electrical industry has been aware of for some time, seeing a drop in the number of workers within the industry is deeply concerning. With the continued electrification of the UK the demand for electricians is only going to increase. Without an influx of electrically skilled individuals coming through, our industry will find itself in a position not being able to meet demand." 
Gender diversity in the trades: Which job roles are successfully recruiting women?
Another challenge the skilled trades have experienced for some time now surrounds the lack of gender diversity. For many years outdated stereotypes have blocked the pathway for women to enter the skilled trades – reducing the ability to grow a workforce. 
Thankfully in more recent times these old fashioned views have been replaced but there is still plenty of work to do. In order to explore this issue further we analysed data over the same timeframe to discover which trades are succeeding in creating a more balanced workforce and which ones must do more in order to improve their gender diversity. 
With the proportion of workers who are women almost doubling since 2006, the baking industry has made the most progress in attracting females into their field. In 2006 there were 7,900 women working as bakers or flour confectioners whereas this number has jumped to 19,700. That means the majority (56.29%) of the workforce is now female. That's a 27.46% increase from 2006 when just 28.83% of bakers and flour confectioners were women.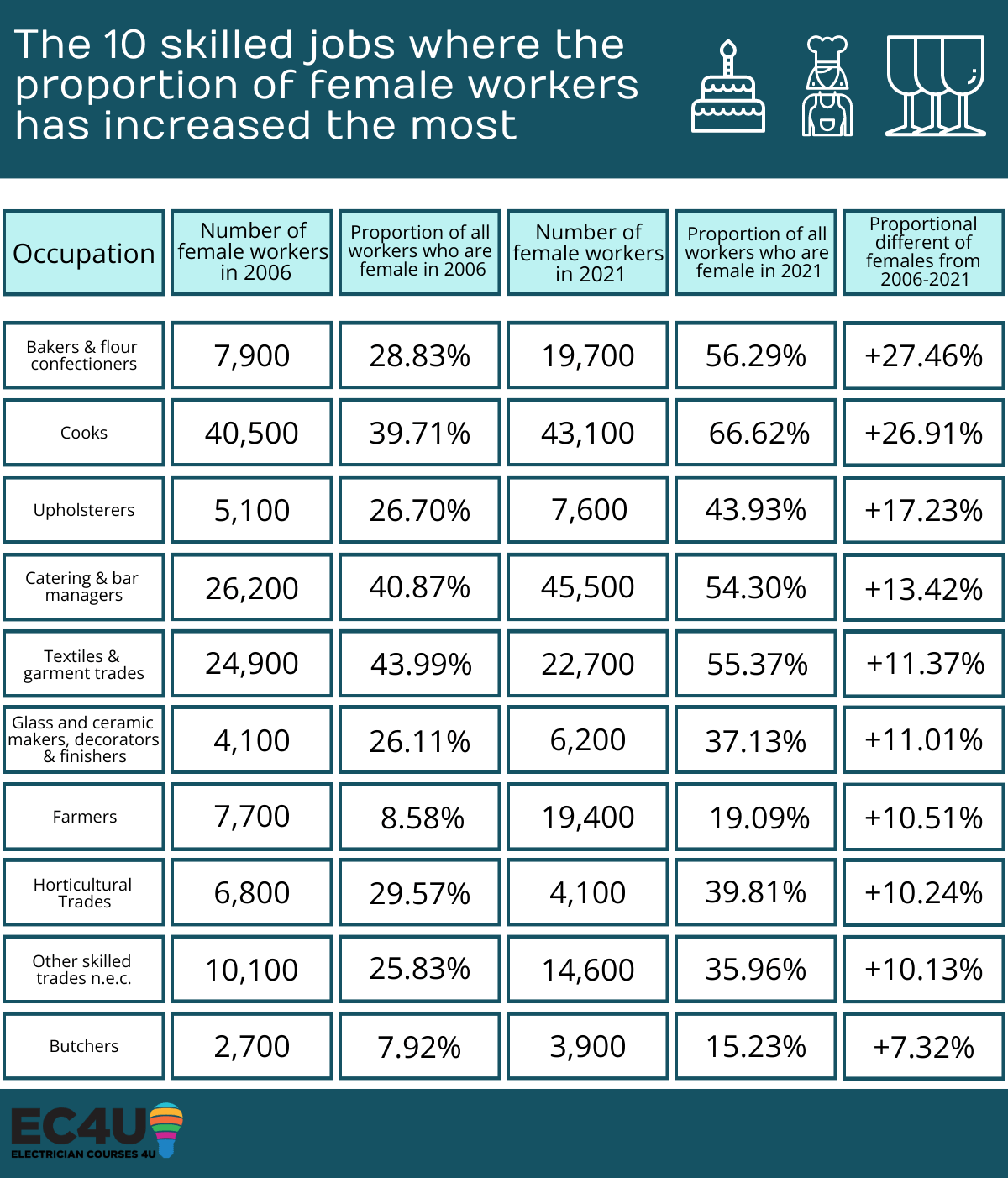 Similarly, the number of women cooks has increased dramatically over the past 15 years. In 2006 just two fifths (39.71%) of the workforce was female. As of 2021, 66.62% of cooks are now female, emphasising the success the trade has had in recruiting more than 2,500 women. 
Likewise, upholsterers have also seen a significant increase in women working in the trade. 15 years ago there were 5,100 female upholsters which accounted for 26.70% of the workforce. The most recent data shows there are an additional 2,500 female upholsterers meaning women almost represent half of the total workforce. 
Gender diversity in the trades: A downward trend for some job roles
Although certain trades have made impressive progress when it comes to addressing the workplace gender gap others have been less successful, including the electrical trade. 
While the ONS doesn't provide data on the gender split for electricians specifically, our analysis found the proportion of women working in electrical and electronic trades has increased by just over 1% since 2006. As a result, less than 4% of women make up the total workforce in the electrical trade. For a trade that should represent the future as we set our sights on reducing our reliance on finite resources such as fossil fuels this is extremely concerning and must be addressed. 
It's not just the electrical trade that is struggling to address a lack of gender diversity though. Those working in the construction industry face an uphill battle also. Despite the number of women working in the construction and building trades increasing by 1,200 over the past 15 years, females account for less than 2% of the almost 700,000 strong workforce.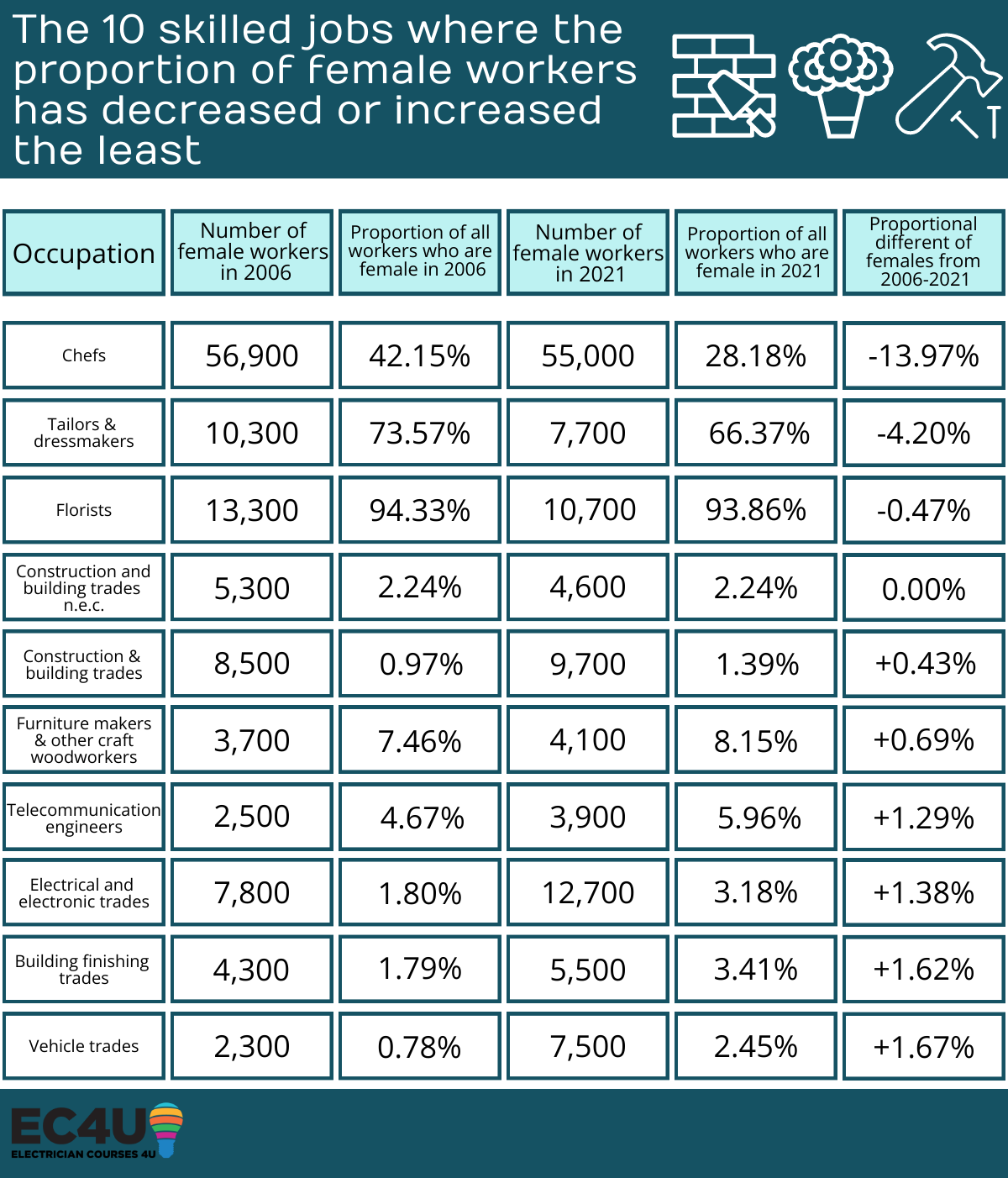 Looking elsewhere, the number of women chefs has decreased by almost 2,000 people. Although this may not seem like much, the overall number of chefs has increased greatly since 2006 making the decline of women in this role rather alarming. In fact, no job has seen a bigger drop-off in the proportion of women working in a specific role. 
Although tailors and dressmakers as well as florists have also seen a decrease in the proportion of women who work in these roles, the drop-off has occurred more steadily. Females also remain the dominant gender in these occupations representing 69.37% & 93.86% of the overall workforce respectively. 
What does the future hold for the skilled trades? 
Working in the trades is a great career option for many youngsters. It not only provides them with an opportunity to begin earning a wage as soon as they leave school but also the pathway to progress and even set-up their own business as they establish themselves within their given industry. 
A greater emphasis must therefore be placed on championing careers in the trades as many industries desperately look to replace and revamp an increasingly ageing workforce. Although we must acknowledge certain job roles will only decline in the coming years, the future within many sectors is bright and the greatest challenge will be meeting the growing demand for work.
Methodology 
We analysed ONS data from 2006-2021 which details how many people work in each occupation from the agriculture and the skilled trades.