1 Days
£165 inc. VAT
City & Guilds
Who is this course for?
The 18th Edition Update Course is only for those who have their 17th Edition Amendment 3. The 18th Edition is a requirement for anyone interested in joining a competent person part p scheme provider, such as the NICEIC, and certify that their installations meet current regulations, or if you need to update your existing qualification before your next annual on site assessment for your part p scheme provider.
This course has been replaced by the 18th Edition Course.
When booking our 18th Edition Update Course, you will have the option of paying for the course in full (£165 inc. VAT) or reserving your space by paying a deposit (£65 inc. VAT).
Book this course
This course is not available to book online, please call 01444 872 145 to book this course
Course Overview
City & Guilds 2382-18 18th Edition Update Course
This new 18th Edition update course qualification will officially be known as the Level 3 Award in the Requirements for Electrical Installations BS 7671:2018.
Please note, this course is only available to those that have completed a City & Guilds 2382-15 17th Edition Amendment 3 qualification. This course will only be covering the new updates and changes made within the 18th Edition.
The aim of the 18th Edition Update Course is to update your existing knowledge of the Wiring Regulations and inform you of the changes made from the 17th Edition Amendment 3 to the 18th Edition. This 18th Edition qualification will be essential if you want to join a Government Approved Part P Scheme Provider, such as NICEIC, or if you need to update your existing qualification before your next annual on site assessment for your part p scheme provider.
Confirmed changes to the 18th Edition Wiring Regulations include the following:
Chapter 41 – Protection against electric shock:
• Metallic pipes entering the building will not need to be connected to the protective equipotential bonding if they have an insulating section at their point of entry.
• RCDs for additional protection are now required for AC final circuits supplying luminaires (lights).
Chapter 42 – Protection against thermal effects:
• Arc fault detection devices (AFDDs) are being recommended to be installed in AC final circuits, to reduce the risk of fire.
Chapter 44 – Protection against voltage, disturbances and electromagnetic disturbances:
• The condition under which protection against transient overvoltages has changed, Instead, protection against transient overvoltages are now required when certain conditions are in place.
Chapter 52 – Selection and erection of wiring systems:
• Cables now need to be supported throughout the installation and not just in escape routes, to prevent premature collapse in the event of fire.
Appendices:
• Appendix 6: The model forms have undergone some minor changes.
• New Appendix 17: Energy Efficiency recommendations.
Why choose us for your 18th Edition Update Course?
• Experienced and friendly trainers
• High quality training
• Excellent first time pass rates
• Unique training facilities
Our 18th Edition Update Course includes the following:
Qualification introduction
A refresher on BS7671:2018 structure and how to use it
An overview of what has changed and why
A detailed examination of the changes from 17th Edition Amendment 3
Course Duration
This 18th Edition update course will be held over 1 day, with the exam in the afternoon. The core course times are 9:00 AM – 4:30 PM. Please take a look at our course FAQ'S for further course information.
The exams
The exam for the 18th Edition Wiring Regulations course will be completed online. You will have 120 minutes to answer 60 multiple choice questions. You can take your 18th Edition Wiring Regulations book into the exam with you for reference.
Course literature
The following publications are to be purchased by all customers wishing to take part on the 18th Edition Update Course. These books are ONLY for sale to customers who have booked a course with us. Books will not be posted out and will be available on the first day of your course.
£75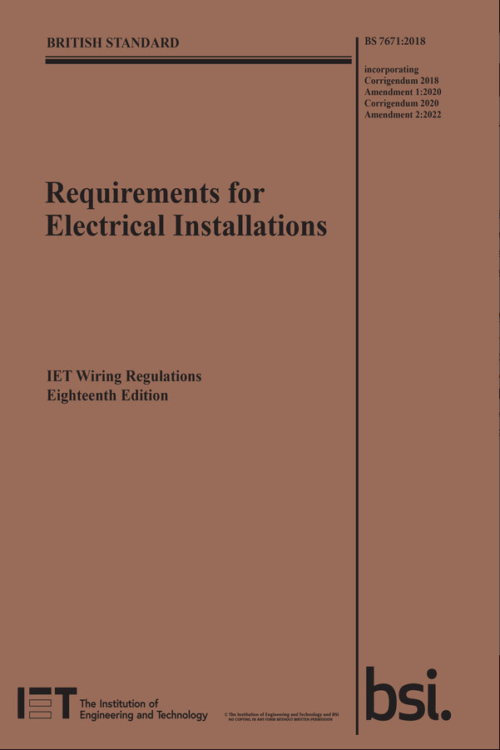 Add to cart
Entry Requirements
You must have your 17th Edition Amendment 3 and be confident in navigating yourself through the current edition of the Wiring Regulations.
If you would like any further information about the 18th Edition training courses or any of our electrician courses, please call us on 01444 872 145 and we will be delighted to help you.
FAQs