EC4U Rating: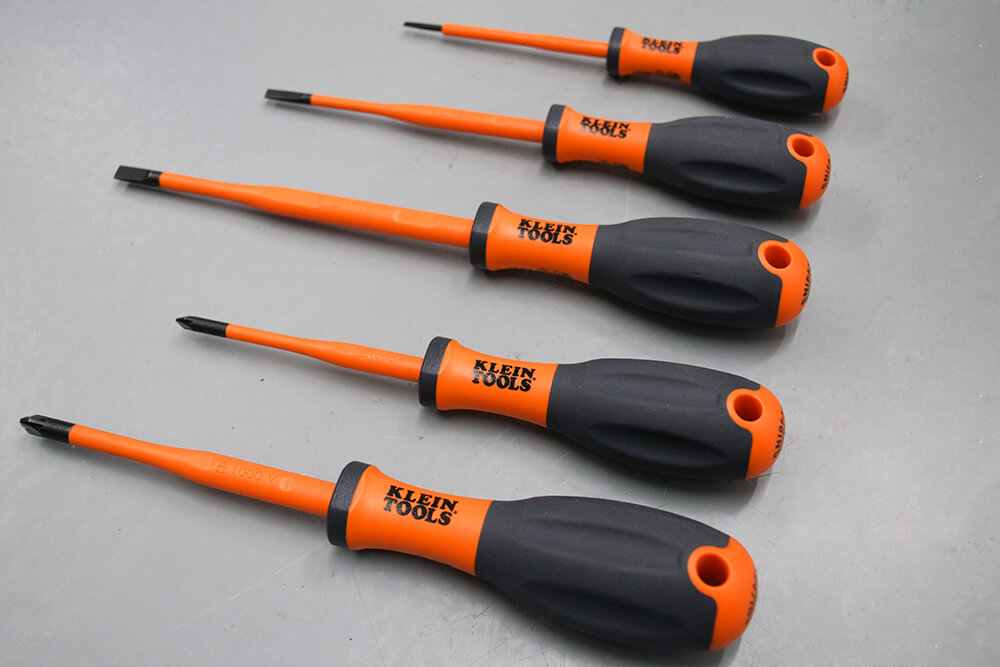 Features:
VDE rated up to 1000V and meets the current regulations.
Lifetime guarantee and includes 5 screwdrivers (3 slotted and 2 Pozidrive).
Anti-roll, comfortable handle and lightweight design.
Klein has been designing tools since 1857 and their mission remains the same: to produce quality tools that meets or excels the needs of everyone, including tradespeople. The family owned company thrive to be the leaders in "design, development, production and marketing".
We recently put their 5 piece set of VDE insulated screwdrivers to the test in our practical electrical training centre, to find out how they matched up against competitors.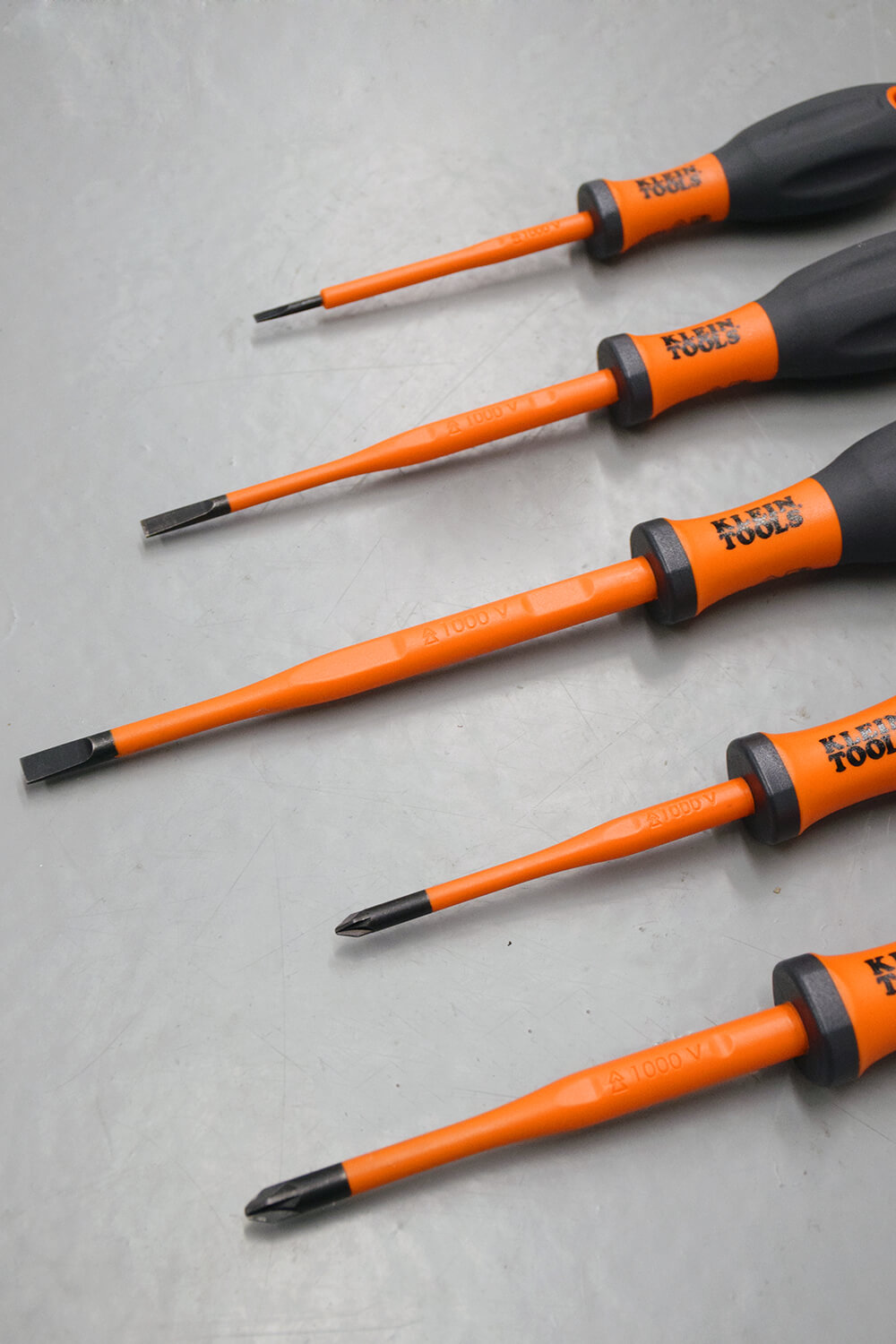 The 5 piece screwdriver set comes in a handy carry case and is VDE rated, with moulded insulation that meets the VDE set standards. The handles are anti-roll, with an ergonomic design which allows you to get a good grip and a greater torque, while still being comfortable for long term use.
Our expert electrical trainer loved the tapered VDE coating, explaining "it's a great feature for doing RCBO's and others where the terminations are recessed slightly into the protective device".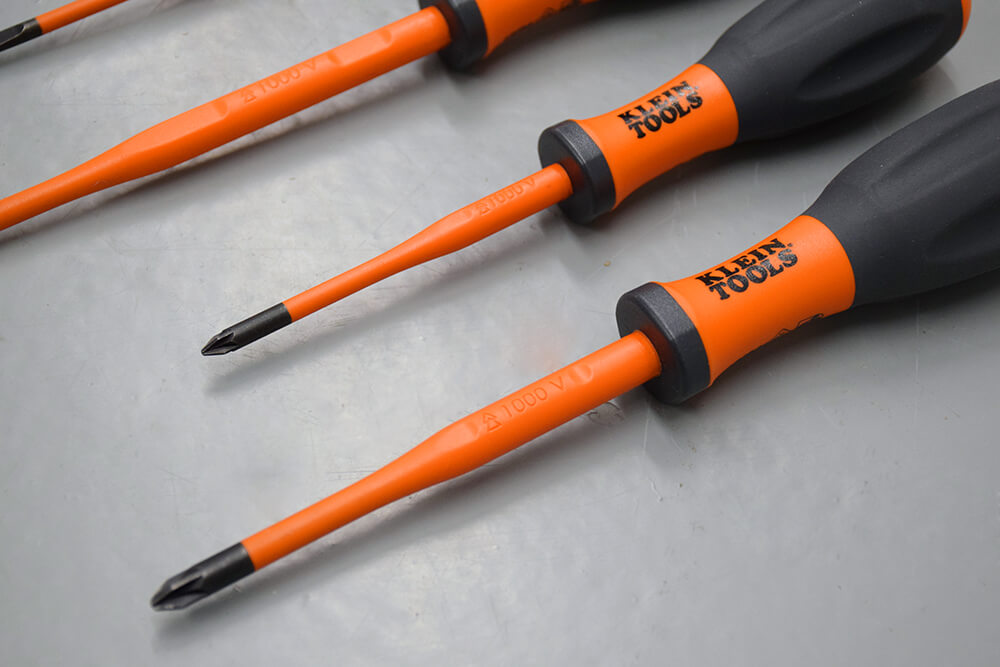 Klein's set includes 2.5mm, 4.0mm, 5.5mm slotted screwdrivers and PZ1 and PZ2 Pozidrive screwdrivers. However, out of the five included, our electrical trainer explained how he would only use four.
"The 2.5mm screwdriver would only be useful for punching holes in plasterboard, as the blade wouldn't really hold up for anything else" he explained. "The PZ1 I found to be just a bit too short and would have liked the shaft to be longer, matching the length of the PZ2. Short screwdrivers are great when it's a tight slot but sometimes you need the reach of a longer screwdriver."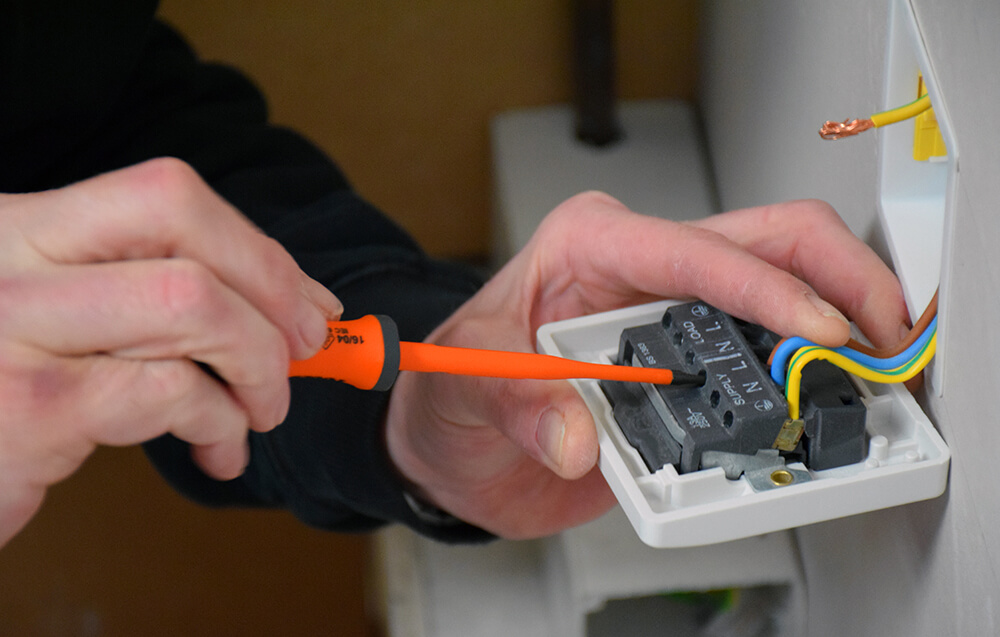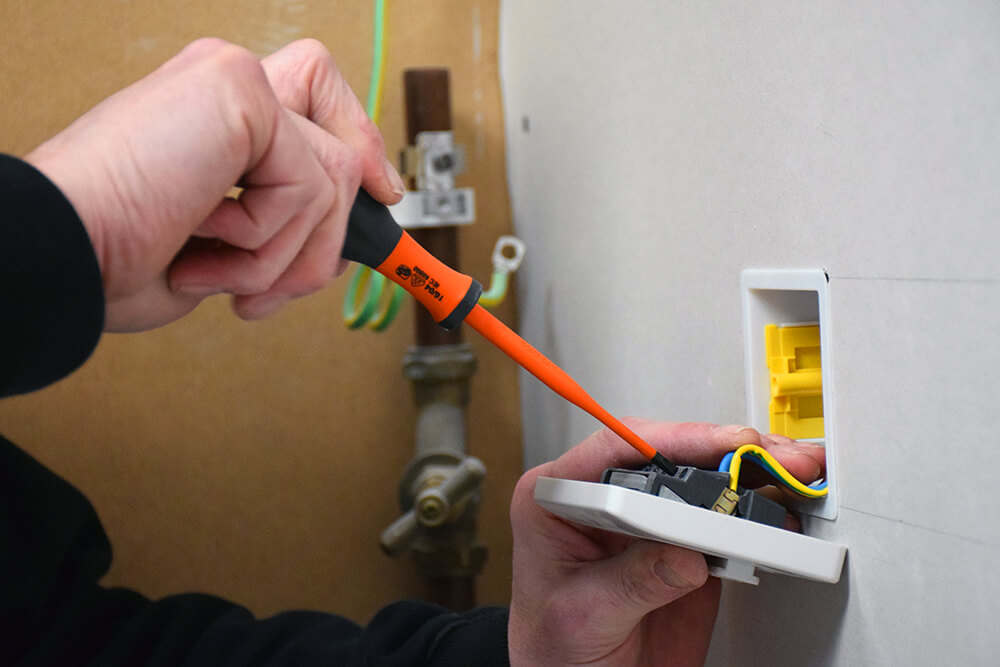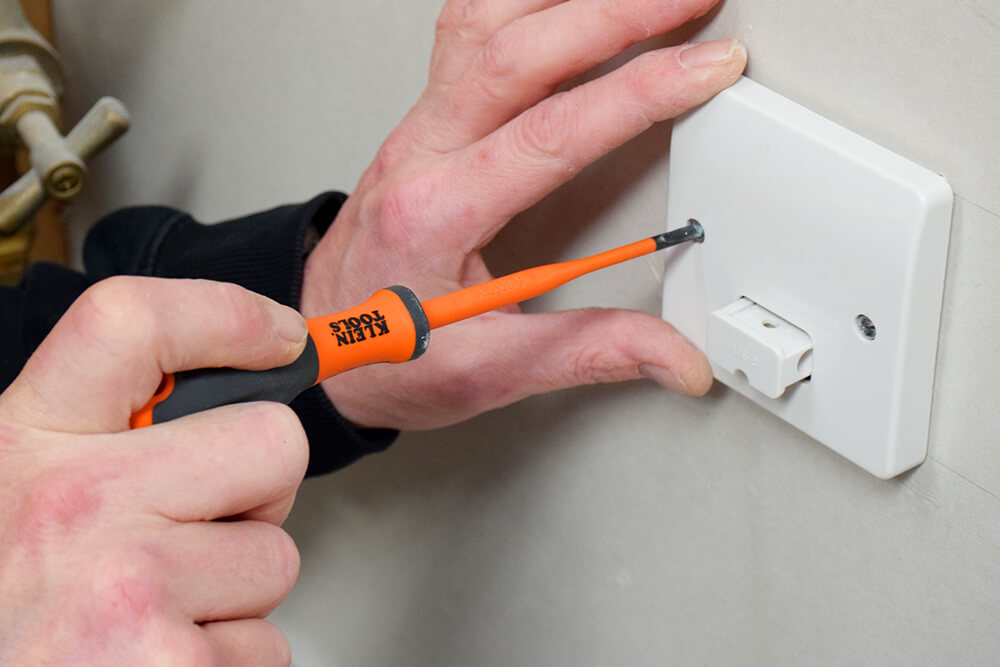 We found the 4.0mm to be great for providing good termination of sockets. But we believe the set could be improved by replacing the 2.5mm screwdriver with a modulo for circuit breakers, then making it the perfect piece of kit.
Our electrical trainer said "for the price, it's a good, solid piece of kit that I could really give the screwdrivers some torque and they would take it."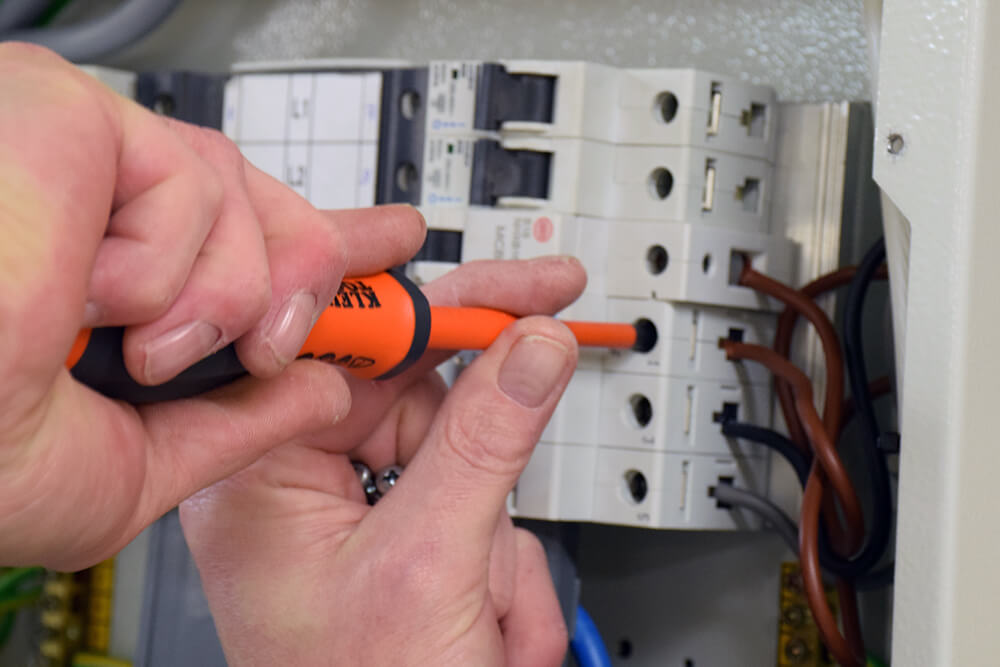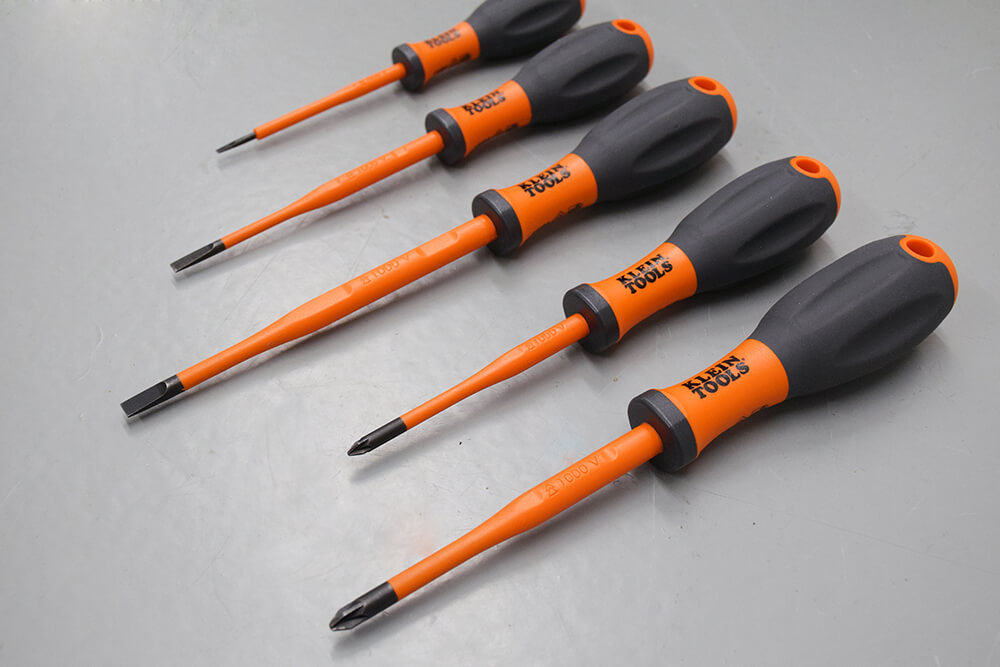 Pros:
Good price for a solid performing piece of kit.
Durable, tapered VDE coating, perfect for where terminations are recessed.
Anti-roll, ergonomic handle, designed with comfort in mind.
Comes in a handy carry case.
Cons:
The length of some of the screwdrivers could be improved.
The 2.5mm screwdriver is effectively useless for on site work, and could be replaced for a more useful modulo.
You can purchase your own Klein Tools 5 piece screwdriver set from CEF for £30 +VAT.
If you're still looking for the perfect screwdriver set, take a look at our review of the Armeg Adjustable Torque Screwdriver Set!
Back to Electrician Tools