EC4U Rating: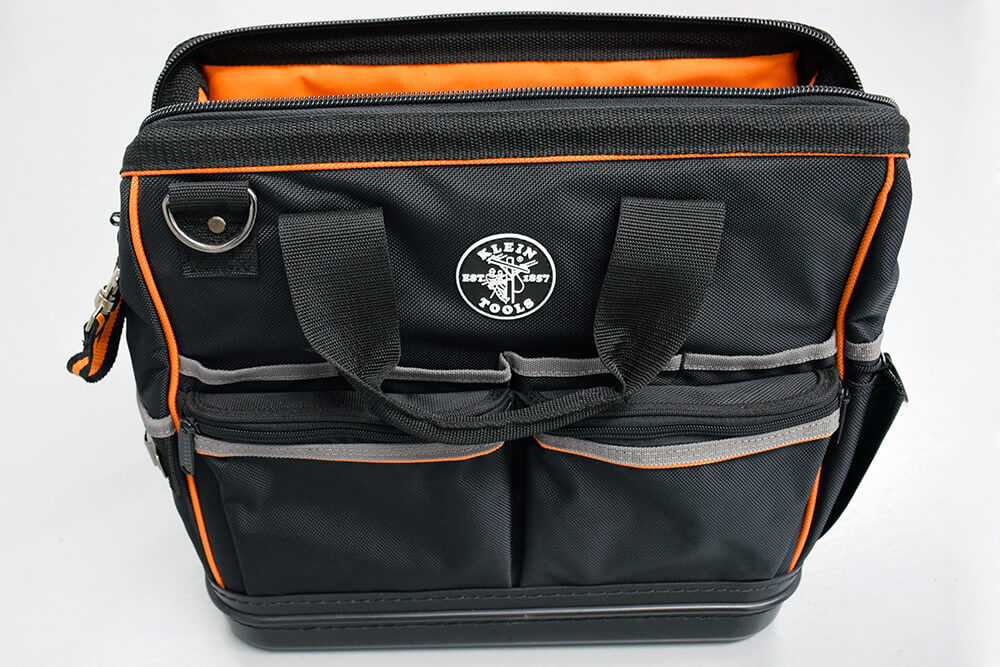 Features:
Secure, large tool bag with a variety of 31 storage pouches for tools and documents.
Hard, waterproof base to keep tools dry.
Heavily padded strap and padlock facility on zip.
Versatile removable LED light with magnet to stick to consumer unit or turned around to illuminate inside of the bag.
With long days on site and a different job every day, tradespeople need an organised tool bag that is large enough to carry all of their essential tools. Klein has designed just that, with a few little extra features to make this a practical one site tool bag.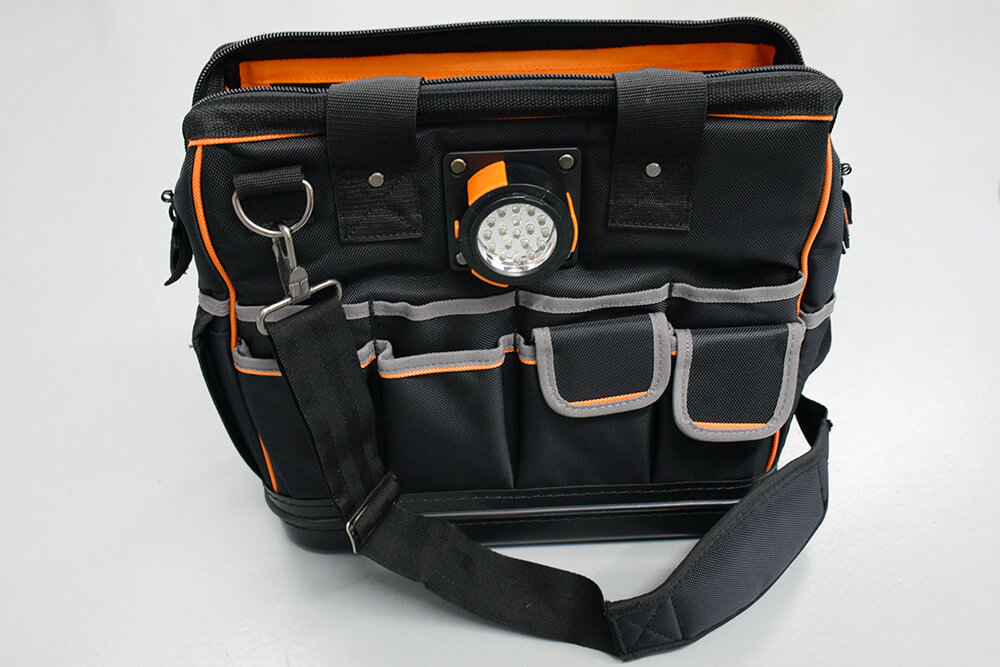 Within the bag, there is plenty of space to store not only your tools, but a large pouch specifically for documents and certificates, to keep them flat.
There are a variety of pouches inside the bag and outside, with side pouches ideal for smaller items like wago connectors, tapes, or other accessories.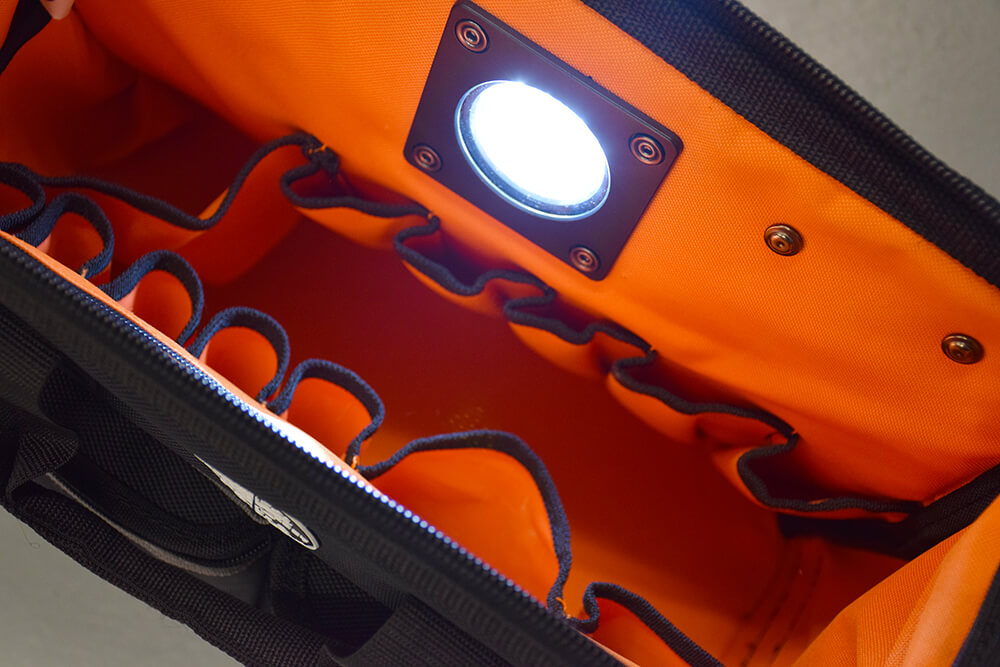 There is also a clip on the side for a tape measure and a clip for putting your sleeving and insulation tapes. "There's a lot of small, handy features on the bag!" our trainer says, "but my favourite is the torch which twists off the bag; it's got a hanger, a magnetic side to stick to consumer units, and also can turn around to light up the inside of the bag, so you can see stuff when you're working in the dark, which is quite clever."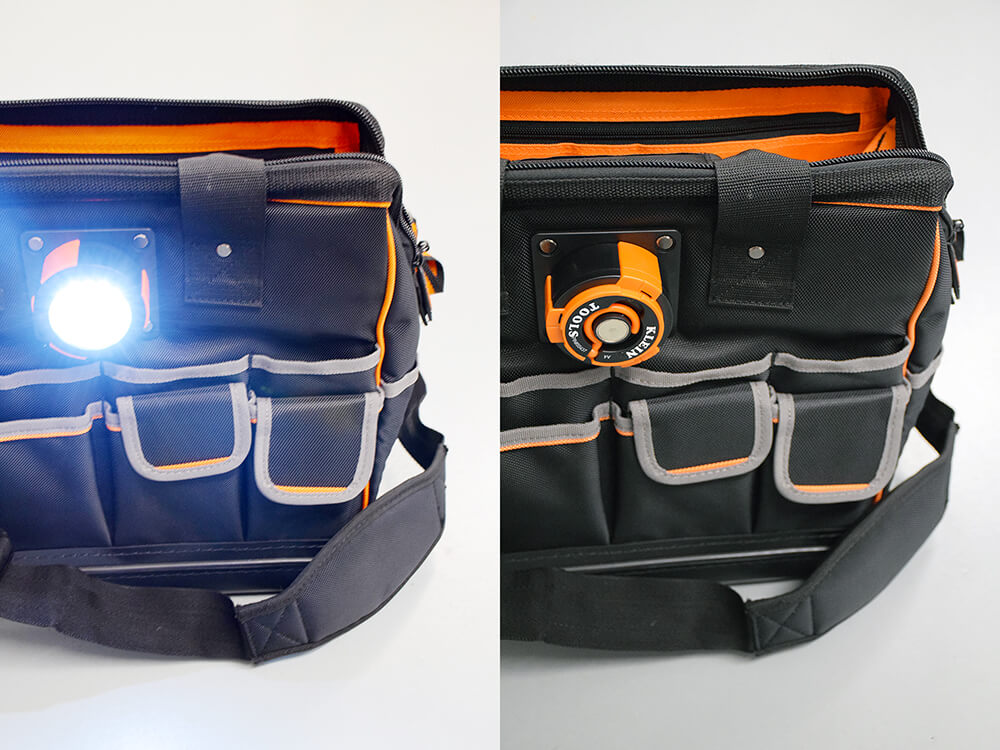 The bag has good, strong rivets on the handles, so it's unlikely to pull out. The strap is also very sturdy, with thick padding to protect your shoulder, "it's some of the best padding I've seen on a bag, especially great if you've got some power tools in there and it starts to get a bit heavy."
The handles come with a fully adjustable Velcro strap to keep everything together, with the bag also featuring good double zips and a padlock facility.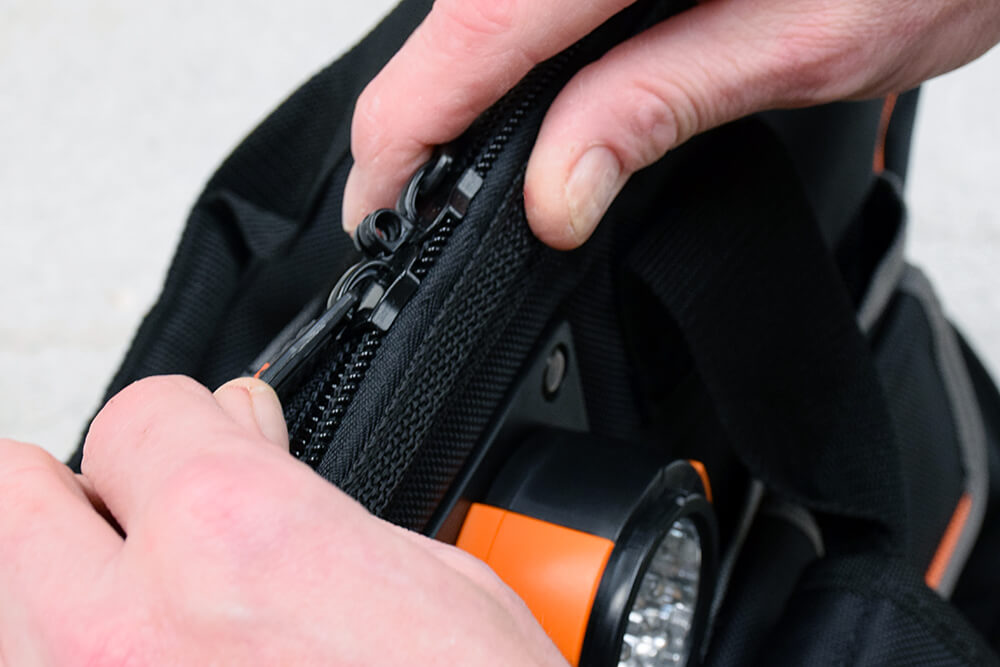 The only drawback with the tool bag is that many of the exterior pouches are small. An improvement could be to have more of the larger pouches, or smaller pouches on one side and larger on the other side. The bag also has a hard, waterproof base, which is a great addition and a bonus for tools as it will keep them dry.
Overall at £80 (+VAT), it's comparable to any other technicians bag on the market today. "I would use this bag on site as the torch and document pouch are great additions, and the strap is lovely and comfortable."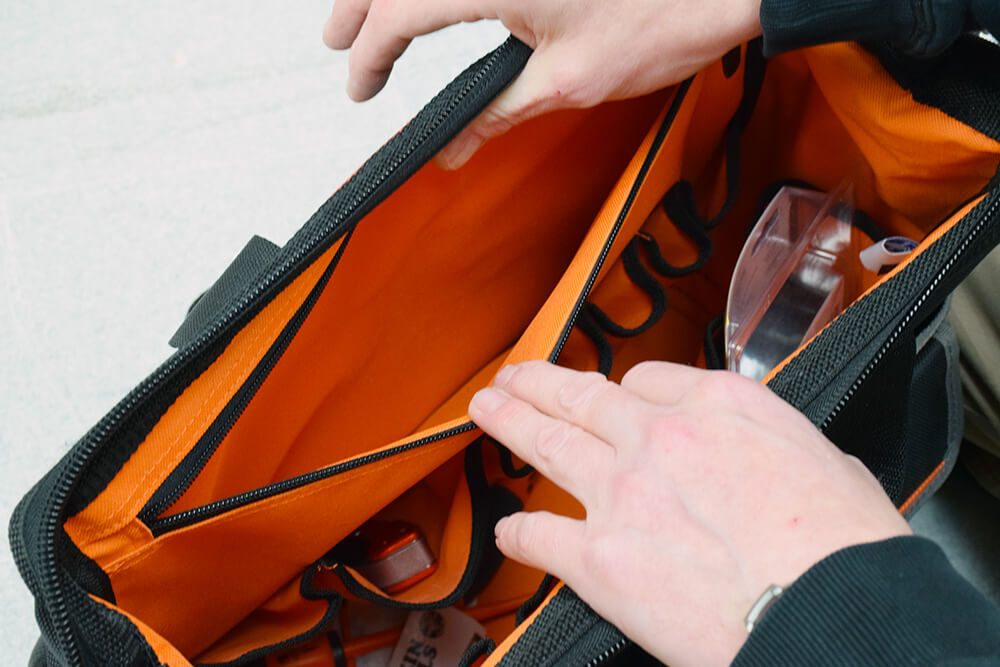 "You are definitely not short of tool storage with this bag!" our expert trainer says, "With pouches both inside and outside and additional protective features, this bag will hold all of your tools with care."
Pros:
Great value for money and holds a multitude of purposes.
Sturdy, comfortable shoulder strap. Heavy padding to make it perfect for carrying heavy objects around.
Magnetic, reversible torch is a great addition to this bag that can be used 4 ways: facing outwards on bag, facing inwards to light up bag, hung while on site and used as a magnet.
The large internal flat pocket for certificates and documents, to help keep them flat, is a great feature!
Cons:
Lack of big pouches and too many small pouches outside.
Klein Tools'  Tradesman Pro Organiser Tool Bag is available to buy from CEF for £80 +VAT. 
Looking for some Klein tools to fit in your new tool bag? Take a look at our Klein Tools VDE Insulated Screwdriver Set review!
Back to Electrician Tools