EC4U Rating:
Features:
High quality auto loading blades, for a safer and quicker blade change.
Internal blade storage, which will hold up to 3 blades at a time.
Heavy duty performance, that is still comfortable to hold and use for longer tasks.
Auto locks, cannot close the knife when the blade it out.
Klein strive for the quality and performance of their products to meet their customers standards, or exceed them. They have definitely exceeded our expectations with their latest auto loading retractable utility knife.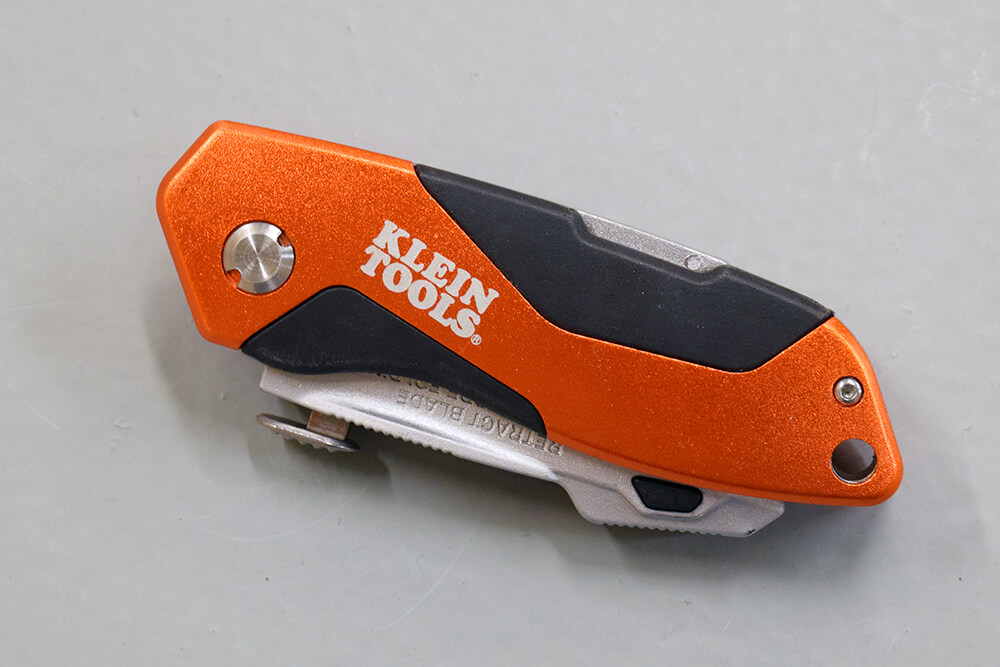 On first impressions, the knife looks like any other tool you would use on site, but hidden inside it is an auto loading blade storage that holds up to 3 blades.
Simply lock the knife into a locked position, then slide the blade up and there's a push button on the side to remove it. You then retract the blade back into its housing, even though it's not there, push it back out and it self loads another blade. It is a handy feature, which warrants the increased price, compared to other brands.
To load new blades in the internal storage, make sure you have the blade out before opening the storage area on the side up. Then load the blades before locking it back into position. Our electrical trainer also spotted an important safety feature, "you can't close the blade up when the blade is out, you have to retract it before it allows you to close it. It's a very clever safety feature that most utility knives don't have."
Other features the blade offers are a soft grip, rubberised handle which makes for comfortable use over long periods of time and a belt clip for easy storage inside your tool bag or to clip onto yourself while on site.
Our electrical trainer explained that the only downside of the utility knife is the price. "For £17, it is a little bit pricey for a utility knife. The average price for a utility knife is around £12, but the fact that it's got the self loading and comes with 3 blades makes it worth the money."
For anyone that's using utility knives quite a bit it would be quite useful and last the test of time.
Pros:
Auto loading and internal storage means everything you need is in this utility knife.
Locks when blade is out, cannot close making it a great safety feature.
Comfortable rubber grip handle.
Cons:
The price is slightly more expensive than your standard utility knife. But you are paying that bit extra for the auto loading feature.
Klein's Auto Loading Retractable Utility Knife is available to buy from CEF and online retailers.
Having lighting trouble on the job? It's time you read our review and got yourself a Lighthouse COB LED Torch!
Back to Electrician Tools