If you're thinking about taking the plunge with a career change, it can often be difficult to fit in training around your schedule. For many it can be incredibly daunting time, leaving your steady job in the past while you step into a new career path.
Alex recently completed his Domestic Electrician Package with us, taking one step closer to his new career. "I'm a self employed driving instructor, which is good; it's just very sporadic working with people who can cancel a lot." Alex says, "you'll think you've got a full week of work, then you've got half, so [becoming an electrician] it's more stability of work."
When it came to choosing his training provider, the ability to split his courses up was a priority for Alex, as well as cost. "I went around a few different providers, looked at the apprenticeship route, other courses and providers, but it was quite simply laid out on your website." Alex said, "a lot of providers were saying to cram it in, but you gave me the opportunity to split up my training, because I can't take 4 weeks off work; I'd go back to work and I'd have no students."
Alex explained, "the best thing I could've done was do a week [of training], then go back for a few weeks of work, then come back again, and that's exactly what I've done."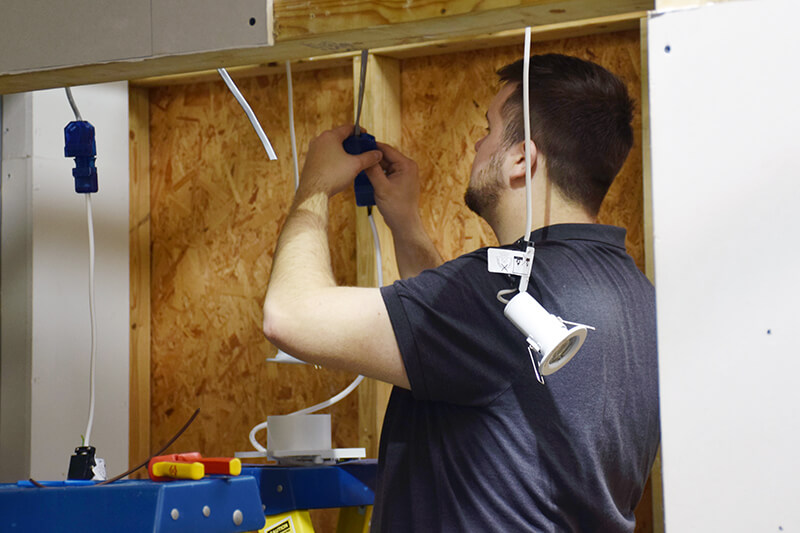 We offer you the flexibility to choose how you would like to do your training, including a pay as you train option, which helps to split up the payments along the way. Alex split up all of his training into week blocks, except for the final two weeks; Level 2 Inspection and Testing and the Experience Course, which he did as a two week block.
"I walked away from the 18th Edition and my mind was gone, so I actually think having a bit of time allowed me to process it. Even between the testing course, because I made a mistake on my testing [exam] last week and I've got to re-do it. But I think having had that weekend just to process it has helped and I understand it a bit more."
"I felt that every time I walked away, even though that third week I was a bit disappointed, I understood why I was doing things and my knowledge has increased"
During his Experience Course (4th week), Alex had the chance to retake his testing exam and successfully passed. "I think this week has helped, we've done some more testing and physically running the cables. As a driving instructor you don't really do much as you're in a car, it's very different, sort of sedentary, whereas with this, you're up and moving around, which is good."
Alex wants to focus on getting some experience working alongside another electrician, before stepping into his new career full time.
EC4U would like to wish Alex all the best in his new career.
Back to blog