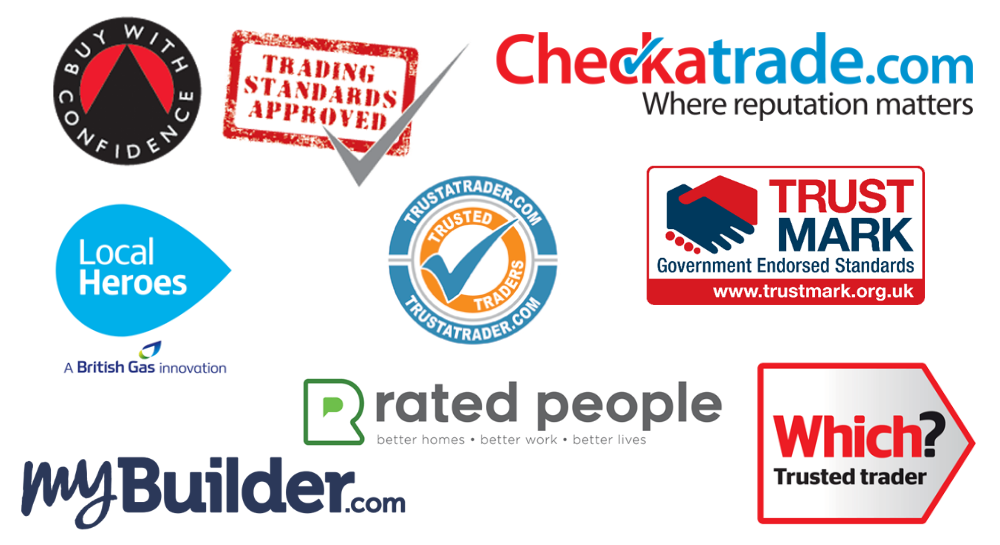 Last month, we published our guide to tradespeople directories, for tradespeople. It was an unbiased look at the costings, vetting procedure and requirements for joining a tradesperson database.
However, this time, we are looking at some of those directories from the public's perspective and asking, just how trustworthy and safe are these trades databases? What checks go missed? Which online website lets in rogue traders?
Current trusted trade websites available
With the days of the yellow pages behind us, more and more homeowners turn to online directories to find "trusted" tradespeople.
Checkatrade, RatedPeople, Trustatrader and MyBuilder are among a few of the names which are highly marketed across the UK for consumers to find tradespeople and tradespeople to find business.
They do what they say, in that they connect homeowners to tradespeople, but to what extent are they trusted? A BBC report recently highlighted the joining process of a few trade directory websites, and the results showed a serious lack of checks in place to ensure that homeowners are actually getting a "trusted tradesperson".

When trade work goes wrong
87% of homeowners fear hiring a tradesperson, and rightfully so, with several recent reports of misuse of trade and scheme logos on vans and also of supposedly trusted tradespeople posing on trade directories for work, and then conning customers out of money for substandard work.
It's been said that one in ten jobs goes wrong, with an average bill of £3,200 to correct the work. This is something that a woman in Scotland recently experienced when she paid £28,000 for an extension and hired someone from Rated People, but was left with a bill of £9,000 to repair the work that the previous Rated People company have botched. The company was removed from Rated People, but how had they managed to join in the first place?

How trustworthy are trade directory websites?
Trade directories cash in on customer trust. Customers assume that because tradespeople have joined a directory, that they have passed through the strict requirements for joining and that their qualifications and skills have been verified by the company itself.


Checkatrade are arguably the most well known trade directory, with thousands of companies listed on the site, vying for your business. They have a strict vetting procedure which includes checking references, checking insurance documents, carrying out a personal phone call and also a face to face consultation.
However, to contrast these checks, Checkatrade clearly state in their terms and conditions that the information you see on their website should not be relied upon. They state that "although Checkatrade makes reasonable efforts to update the information on the Website, please note that the content contained on the Website may be out of date at any given time and Checkatrade are under no obligation to update it."
For example, if an electrician signs up in January with Checkatrade and their Competent Person Scheme Membership ends in July and they don't renew their membership, this membership could still be showing on their Checkatrade company page until their next annual check, if there is one.
We have tried to get hold of Checkatrade to comment on their terms and conditions, but haven't heard back from them.


Rated People advertises that tradespeople are verified, yet when they were recently featured in the BBC Inside Out investigation, their vetting procedure presented some warning signs. There was no face to face consultation required; instead, Rated People screen any prospective tradespeople joining by a credit and fraud prevention agency.
Rated People then encourage homeowners to do their own checks and read through reviews, when considering a tradesperson to hire.
On Rated People, customers can also post prospective jobs and tradespeople can bid on them. In the interest of electrical jobs, EC4U carried out our own research and found that for a tradesperson to buy an electrical job lead through Rated People, they only needed to present their Part P of the Building Regulations qualification as proof of their skills.
However, a Part P qualifications does not mean that you are qualified to carry out electrical jobs, it simply shows that you have knowledge of Part P of the Building Regulations and is not enough to prove electrical competency.
In comparison, if you want to buy a lead for a gas job, such as boiler repair, you will have to show Rated People proof of your Gas Safe certificate. To buy an electrical lead, you should have to show proof of your Competent Person Scheme membership, which would ensure that electricians who are buying leads are registered to a scheme, and annually checked.


Local Heroes are operated by British Gas, and qualified tradespeople can apply to join for free for access to jobs. Although they do state that they check and verify qualifications, and require electricians to be part of a Competent Person Scheme and gas engineers to be Gas Safe registered, their terms and conditions reveal a more alarming point.
They "specifically" claim that they do not "credit check the company or individuals, check bankruptcy history… and cannot prove all documentation supplied by the Local Heroes to ensure they are not fraudulent", which worryingly includes documents such as, qualification certificates and insurance documents.
Local Heroes say that they act as the introducer between the customer and the tradesperson and "make the best efforts to supply a trusted Local Hero" but ultimately, it is the customers responsibility to ensure that the Hero is "equipped" to do the work.  If a customer has an issue with a Local Hero or doubts their skills/qualifications, you can cancel the job and only then will Local Heroes step in to investigate the individual and ultimate remove them.


MyBuilder was another website that was pulled on the BBC Inside Out investigation, as the application process could allow a cowboy builder to fall through gaps and land on the website.
When applying as a handyman, MyBuilder requested proof of ID and you to fill out a property maintenance questionnaire, which BBC passed with the help of the internet, showing that anyone could do the same. BBC invented some qualifications for their "company profile", added a fake public liability insurance that they didn't have, and it was all listed on their company profile and they were able to start buying jobs, without any further checks.
It was also shown just how easy it was for the company to post its own reviews as well, with just a few fake email addresses. MyBuilder have said that they do turn down 40% of applicants and that their trade categories are subject to individual evaluation, but it would be more ideal if it was done on a case by case evaluation instead, to ensure only those with the skills are joining and gaining work.

During BBC's investigation and EC4U's own look into trade websites, Which? Trusted Trader's came out as the best choice for customers as they require every tradesperson to have a face to face meeting with a trading standards professional, check that references are real by selecting from their paperwork from the previous year and carry out annual reassessment checks on traders.
During an annual reassessment check, Which? Trusted Traders will check and verify the traders qualifications, scheme accreditations and also insurance documents, to ensure the most up to date information is presented to customers.

How to find a trusted tradesperson
You should always remember to double check the credentials of any tradesperson, prior to hiring them to work on your home. It's been said that a massive six in ten of us will fail to check a tradesperson's credentials before hiring them.
Recommendations remain to be one of the best ways to find a trusted tradesperson, as you will have a firsthand recommendation from someone who has already experienced their standard of work and can vouch for it. Instead of going by a review on a trade directory website, that could have been written by the tradesperson themselves.
For being sure you are hiring a reputable and qualified electrician, we would always suggest searching via a Registered Competent Person Scheme, as this is updated directly through the Competent Person Schemes, such as NICEIC. So if a registered electrician doesn't renew their scheme membership, they will be removed off of the Registered Competent Person Scheme straight away.
Looking for an electrician? Take a look at our guide to find a registered electrician in your area!
Back to blog