The Complete Guide to LED Christmas Lights
Christmas has arrived again, with lights being wrapped around homes all over the country, Christmas trees being chopped and families and friends making plans to celebrate together. To make sure your festive season is safe and that nothing comes between you & the turkey, we recommend following simple checks.
Before you put your Christmas lights up this festive season, there's a few essential things you need to remember. With so many lights on the market at this time of year, it's important to compare your options and find out which type of lighting works best for you. Whether it's incandescent lighting or LEDs, we compare them both and find out how LEDs can save you money.
Installing your Christmas lights won't be a scary thought anymore as we look at both inside and outside lighting ideas, and the best way to install them. Have you ever wondered how many lights you need to get that extra sparkle on your Christmas tree or where's best to buy LED lights? Then follow our complete guide to Christmas lights to find out more!
Buying Christmas lights
If you have older, traditional incandescent filament lighting and have kept them over the years, maybe for sentimental reasons, it's best to make sure that your traditional filament bulbs meet the most recent and highest safety standards. Make sure that your lights carry the British Safety Kitemark or CE Safety Standard mark.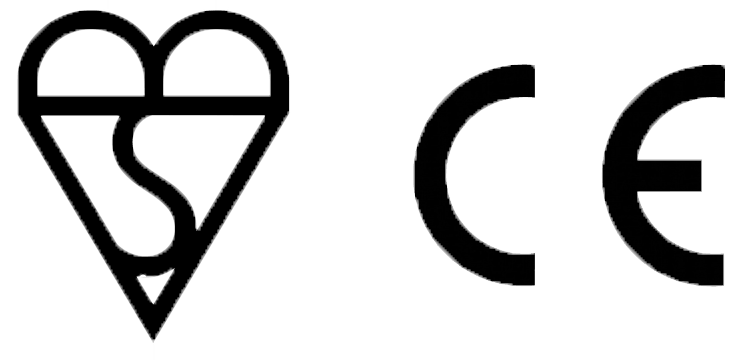 If your lights do not carry either of these safety marks, it could be that your lights have not undergone the rigorous UK testing and are not safe to use. Poor safety standards mean they carry a greater risk of fire and have been made with cheap electrical components.
47% of the public say that they do not understand the British Safety Kitemark, so make sure you understand what to look for when buying your new Christmas lights this year and checking your current lighting.
With the high fire risk of filament bulbs, LEDs have become the popular choice for Christmas lighting. They don't get as hot, have less chance of catching fire and they work at a lower voltage than traditional bulbs. As LEDs are diodes instead of incandescent bulbs, they are less likely to break, which means they're more likely to withstand a variety of cold and damp British weather.
LED lighting is the energy efficient choice this Christmas. With an average lifespan of up to 50,000 hours, it trumps any traditional bulb which stands at 9,000 hours. Spending that bit extra on LED lights is worth the extra safety for your family and home!
Take a look at our Christmas Lights Checklist below!
To share our 'Christmas Lighting Checklist' infographic on your website, simply copy and paste the embed code below:
Cost of Christmas lights
You can save up to 90% of your Christmas lighting costs by switching to LED energy saving bulbs! They last for up to 50,000 hours, use less energy, produce very little heat and have no breakable glass or filaments.
The cost of running simple Christmas LED lights outside your home is actually cheaper than you might think. Depending on how long you want to run your lights for, the prices varying from 8p to £2.32. The prices are for a simple light display outside your home and use on average 590 bulbs and run for 6 hours each night:
Whole month of December is £2.32
Two weeks of Christmas = £1.05
Just Christmas Day = 8p
These prices are according to Festive Lights experiment. The wattage was 96.2w, with the average cost of electricity being 13p per KW.
Installation of Christmas lights
Outdoor lights aren't as scary to install as some may think either. It's important to remember that you only use outdoor lights and to never use indoor lights as a substitute. Trees are probably the easiest and most popular of light installations. You can either drape them around the tree, or wrap the light around the trunk and branches, or you can buy net lights to drape over the tree.
Dropping lights from the roof and gutters creates an icicle look, and can be done simply by using hook attachments on the gutters or screw in hooks into the roof wall for lights to fall from.You could also light up the path to your house, using LED sticks, strings of lights or even LED rope lighting.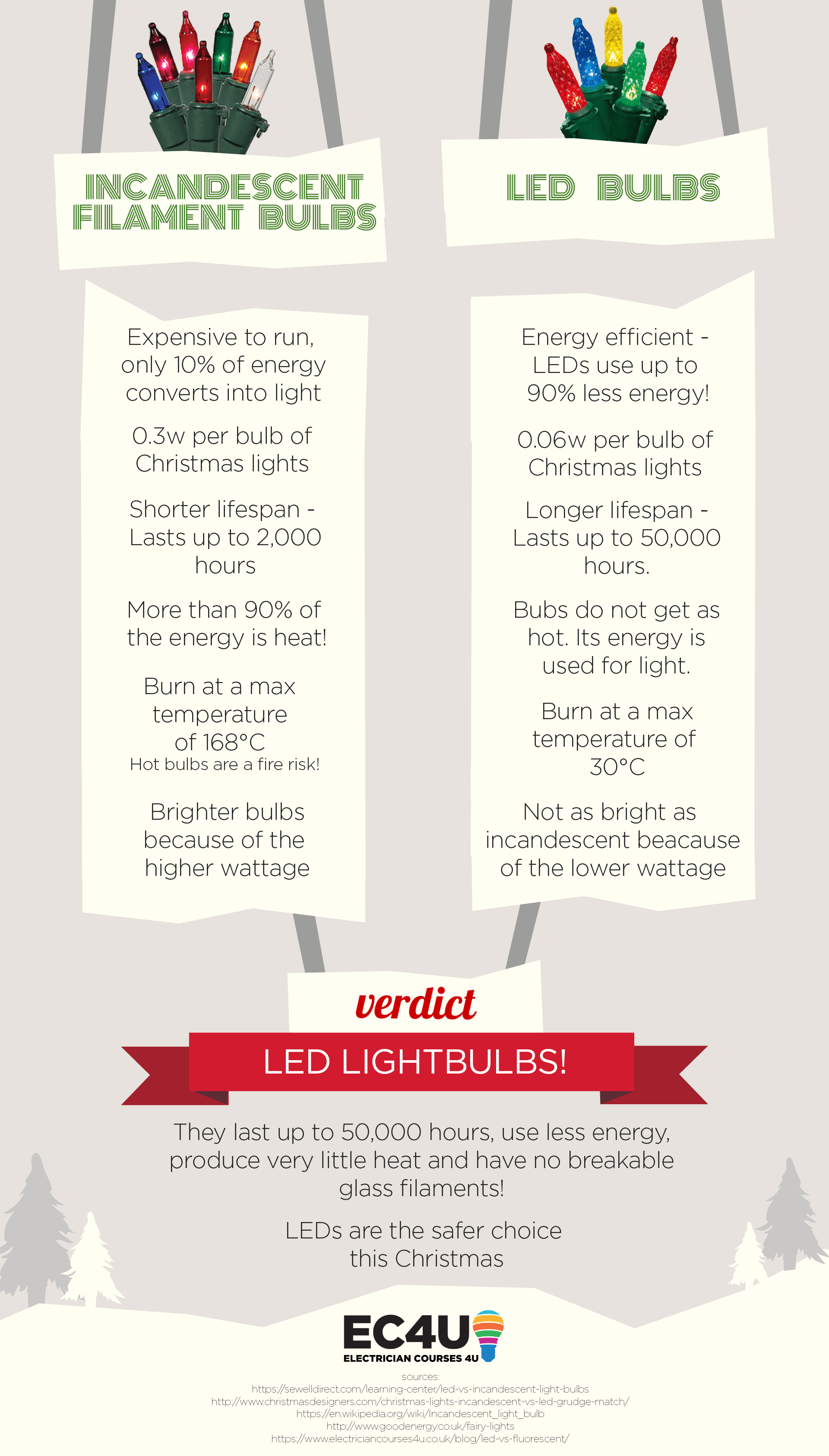 To share our 'LED Lights vs Incandescent Filament Bulbs' infographic on your website, simply copy and paste the embed code below:
Inside Christmas Lights
We all have different ways of lighting up our homes this Christmas, some traditional and modern and some out of the ordinary. Draw inspirations for light decorations using safe LEDs to brighten up your home. Highlight features in your home, like fireplaces and staircases by wrapping LED lights around them and decorating with garlands, light up wreaths around your home by threading battery operated LED lights through them.
If you're after a modern lighting decoration, try adding LED battery operated lights to jars or lanterns to brighten up a corner of the room, or you could make a christmas tree out of lights for your wall.
Make sure your Christmas tree is the centrepiece in your home, by illuminating it with enough lights to add a little extra sparkle. Not sure how many lights your tree needs this year? Use this guide to find your perfect sparkle:
5ft trees require 150 lights for a minimum coverage and 200 for extra sparkle
6ft trees require 250 lights for minimum coverage and 350-400 for extra sparkle
7ft trees require 400 lights for minimum coverage and 500 for extra sparkle
Outside Christmas Lights
Christmas has been responsible for lighting up neighbourhoods and towns for decades, with themed decorations, light shows, nativity scenes and extravagant displays sweeping the nation. Create a magical scene this year in your garden by choosing a lighting set up that suits you and your budget.
Sometimes simplicity says it all, by wrapping lights around trees and illuminating them and your outside space. Garden decorations are a popular choice because of the ease of setting them up. You can buy feature displays like reindeer and santas from most garden centres and supermarkets or create a DIY garden ornament using LED lights.

Whether you want to go all out and light up your home or choose traditional simple lighting, make sure they are connected to a 30mA RCD protected socket for optimum protection. RCDs will protect your home if there is a fault by switching off the power immediately before any damage puts a damper on the festive display.
Christmas Light Safety
With 42% of us paying more attention to how our decorations look, rather than safety, it is no wonder that winter sees a significant rise in accidents and deaths. The NHS reports that people break their routine, leave schools and offices behind as they head out for Christmas. All of this creates more dangers outside on the roads and also in the home.
Every year, more than 1,000 people are injured by their Christmas tree and around 350 people are hurt by their Christmas tree lights. Causes of injuries vary from putting up lights, burns and electric shocks from faulty lights to children swallowing lightbulbs.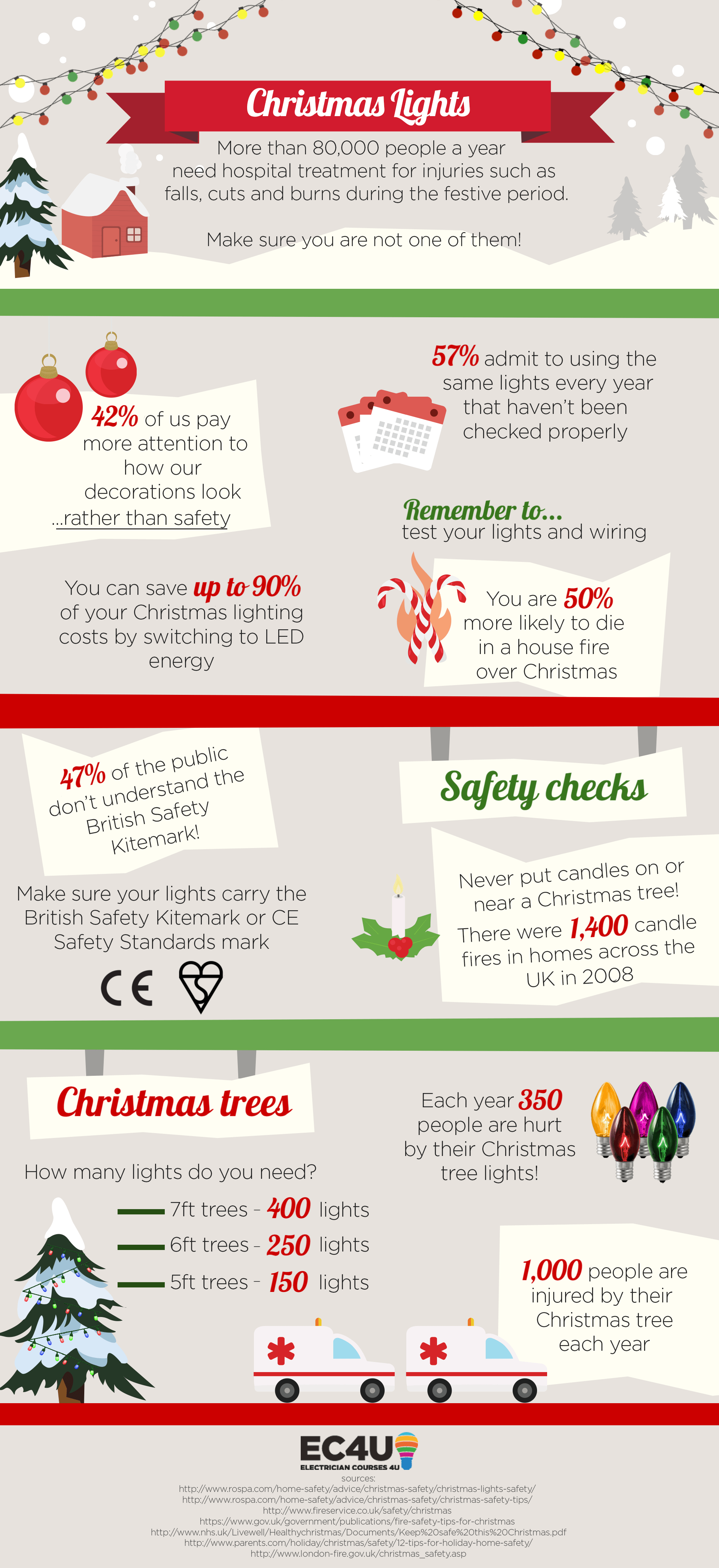 To share our 'Christmas Lighting Facts' infographic on your website, simply copy and paste the embed code below:
It's important to remember where the product is being used and to buy lights for that specific use. Always use indoor lights indoors and outside lights outside. They both have very different designs, as inside lights aren't made to be weatherproof and last strong outdoor conditions, like the cold.
You will notice all lights have an IP rating, this is an Ingress Protection to show how well the protected the fitting is. It is marked by two numbers, the first marks the level of protection against solid objects like dust and dirt, and the second is a rating of waterproof protection. The higher the rating, the more protected the light fitting is. Different lights have different ratings based on their purpose and level of protection.

A Christmas tree is not complete without lights, but are you using them safely? This year make sure not to overload your sockets by exceeding the 13 amp maximum load. Ensure you only have one plug/extension lead per socket. Overloaded sockets are one of the most common causes of electrical house fires and with the mass amount of lights used at Christmas, the risk is even greater.
Christmas safety reminders
Remember to check your smoke alarms and test them every month! If your alarms do not work, or you don't have at least one fitted on each floor, it could be the best Christmas present you've ever bought as it will save your life in a fire. Never remove the batteries of a smoke alarm to power presents.
When testing your lights, make sure to replace any bulbs that blow and don't let incandescent lightbulbs touch anything that is flammable, like paper or fabric tree decorations. Remember to test your lights and wiring before you put your decorations up as they can deteriorate over time. Check for any broken lights, fraying wires and scorched plugs, all of these are potential fire risks and signs you need to change your lights.
Remember to always turn off lights when they are not in use and when you leave the house or go to bed. It's important you eliminate any fire risks, by keeping your fresh tree watered regularly and that your lights are safe.