Health and Safety Policies: PUWER
In the third part of our Health and Safety Policy series, we're going to take a look at PUWER and how it can affect you as a business.
What is PUWER?
PUWER stands for the Provision and Use of Work Equipment Regulations 1998. It places duties on people and companies who use equipment for work purposes whether they own or hire it.
PUWER has five key requirements. They are:
The equipment is suitable for the intended use
The equipment is safe for use, maintained in a safe condition and inspected to ensure it is correctly installed and does not subsequently deteriorate
Used only by people who have received adequate information and training
Accompanied by suitable health and safety measures, such as protective devices and controls. These will normally include emergency stops, adequate means of isolation from sources of energy, clearly visible markings and warning devices
Used in accordance with specific requirements, for mobile work equipment and power presses
Work equipment is defined as 'any machinery, appliance, apparatus, tool or installation for use at work'. This is a very broad definition and the majority of your tools and equipment will fall under it. Some equipment that you may need to use will have more specific requirements. You may notice that there is some overlap between PUWER and GS 38 Electrical test equipment for use on low voltage electrical systems.
The main difference is that GS 38 is a very specific document giving specific guidance on the sort of test equipment that you will use in your daily work and is driven by the regulations laid down in the Electricity at Work Regulations 1989. This guidance should be adhered to and by doing so you will still be meeting the requirements of PUWER.
Other equipment may also come under its own legislation, lifting equipment will be covered by LOLER (Lifting Operations and Lifting Equipment Regulations 1998) and PPE by the PPE Regulations (Personal Protective Equipment Regulations)
–
Meeting the Requirements for PUWER
Some of the requirements of PUWER may not be relevant to you working as a domestic electrician, the info graphic below looks in a little more detail at the requirements that may affect you and how you can comply with them.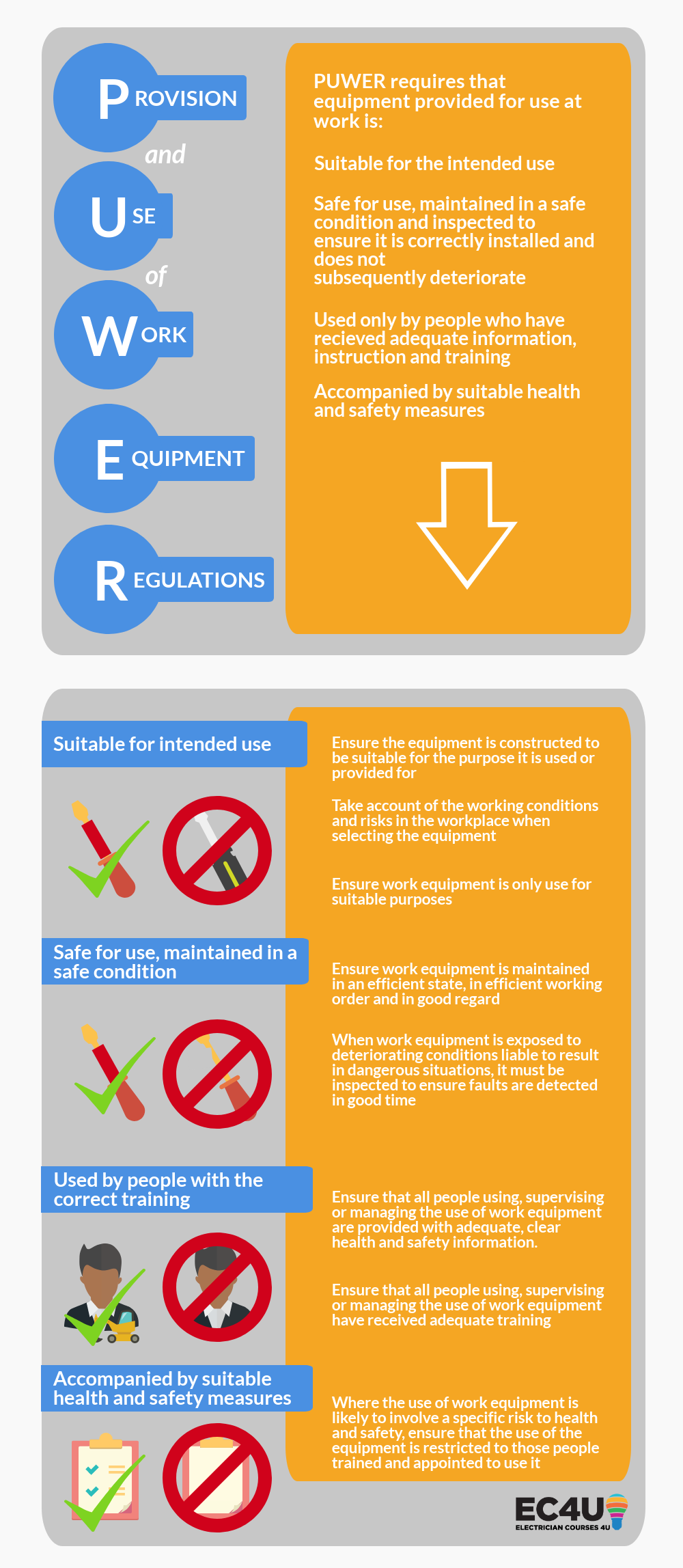 Selecting Equipment
When purchasing or choosing new work equipment it is relatively easy to ensure the equipment is suitable for its intended purpose. It should have the following;
A CE mark
A Declaration of Conformity also known as a DOC for short
It should be provided with instructions in English if purchased or intended for use in the United Kingdom
It should be free from obvious defects
The equipment should remain free from obvious defects for the entirety of its working life. If for example it starts to show signs of damage or degradation that will either affect the safety aspect of the equipment or the functionality of the equipment it should be replaced at once.
PUWER Training
If you are working by yourself and have no employees and will be the sole user of your equipment a common sense approach should be taken. If you buy or hire a new piece of equipment, ensure that you familiarise yourself with all of its functions, what are the suitable environments for its use and what is not suitable, and only use it within its specified parameters.
If you have someone working for you as an employee it is your responsibility to ensure that they understand and are capable of operating the equipment correctly, as well as ensuring that the equipment is suitable for the task.
Summary
In the United Kingdom it is relatively easy to comply with the requirements of PUWER. The majority of tools and equipment that are available for sale or hire from reputable retailers meet the requirements listed above. If in doubt about either the suitability for use, the condition of the equipment or how to use the equipment safely, err on the side of safety and don't use it.
Want to find out more about Health and Safety Policies?
This useful resource focuses on PUWER and is just one in a series of Health and Safety Policy resources for you to utilise for your business. Read on below to find out about other policies you should include: