Gadget Electrical Safety
Did you know that every year over half of all accidental domestic fires are caused by an electrical fault? As the number of gadgets and devices in our houses continue to rise, so does the number of dangerous counterfeit devices, batteries and chargers. This is why more than ever we need to be ensuring we follow the necessary safety advice when it comes to our devices.
Our guide to these potentially dangerous devices will show you what to look out for when purchasing new gadgets, how to use them correctly at home and how you can keep your family safe when using these gadgets.
Electrical Dangers of Modern Technology
As a society we are becoming more and more reliant on electrical devices and our houses are becoming full of gadgets. Whether it is mobile phone chargers, e-cigarettes, smart speakers or e-scooters, never before have we been so reliant on devices as part of our everyday lives. In 2020 there were an average of 9 connected devices per household, and that doesn't include those gadgets not connected to the internet. However, these devices can pose a great risk if not used properly or bought from reputable companies.
The sale of counterfeit electrical devices, batteries and chargers has become more prevalent than ever due to the growing popularity of online market places such as Amazon, E-Bay and Facebook. 1 in 3 people have admitted they would buy fake electrical goods for a saving of 30% on the price of the product, however, when buying fake electrical devices, you are putting yourself and your family at risk. Counterfeit electrical products do not undergo the same checks or meet the same regulations as genuine products. This means that the chances of them starting a fire or giving the user an electrical shock are far higher. 98% of fake chargers have the potential to start a fire or cause a lethal electric shock, and that is just the chargers, batteries and devices themselves also pose a risk.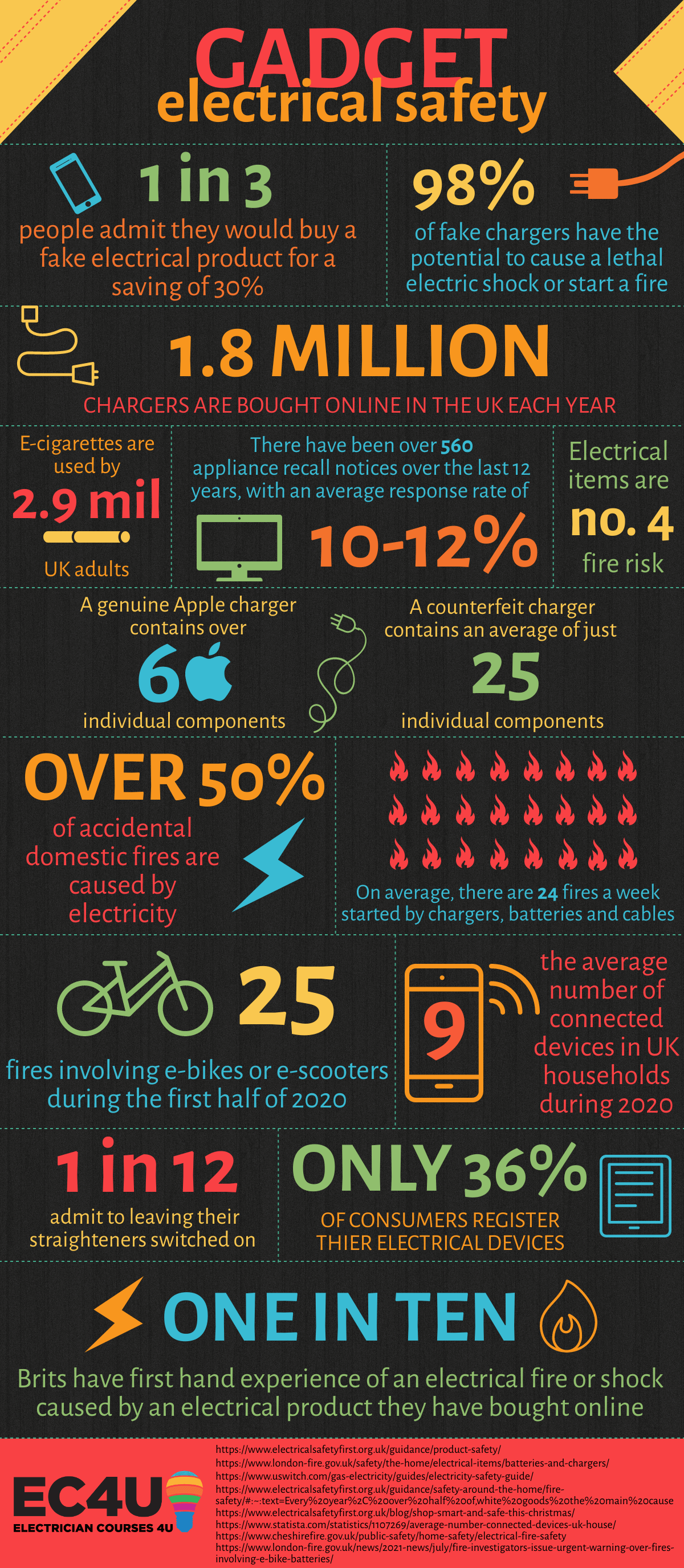 To share our 'Gadget Electrical Safety' infographic on your website, simply copy and paste the embed code below:

Mobile Device Chargers
How many gadgets or devices have you used so far today? How many of those devices were charged using a genuine charger designed for that gadget? Every day we use a range of devices from mobile phones to laptops to tablets, but how many of them do we charge using fake, dangerous chargers?
Each year, 1.8 million chargers are bought online in the UK and the number of counterfeit chargers being sold through online market places is growing rapidly. This is mainly due to the fact they are much cheaper than the genuine articles. However, buying cheap, copycat chargers comes at a much greater risk. Electrical Safety First recently tested a selection of fake chargers and found that 98% of them had the potential to cause an electric shock or start a fire. They also looked into the design of the chargers, finding the on average each counterfeit charger had 25 components, compared to a genuine Apple charger which contains over 60.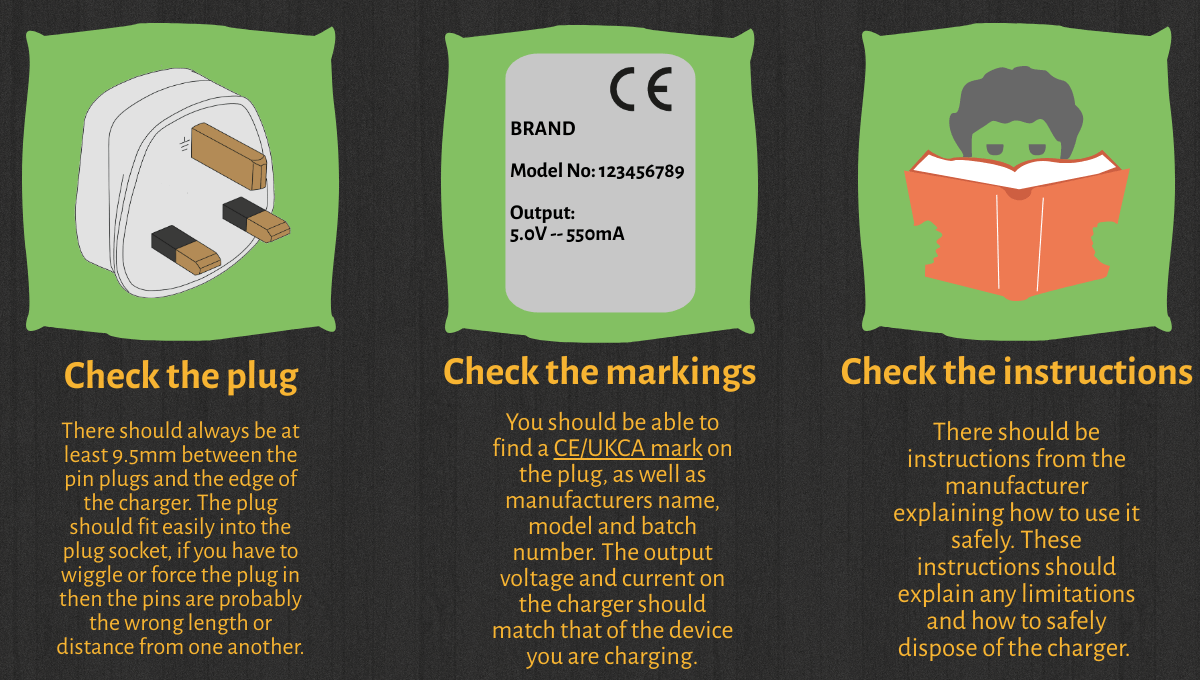 So how do you now if your charger is the real deal? There should always be at least 9.5mm between the pin plugs and the edge of the charger, any less than this and you are risking electric shock. The plug should also fit easily into the plug socket, if you have to wiggle or force the plug into the socket then the pins are probably the wrong length or distance from one another. You should also be able to find a CE/UKCA mark on the plug, as well as manufacturers name, model and batch number. One final check you can do is ensuring the output voltage and current on the charger match that of the device you are charging. Finally, if you have any chargers at home that do not conform to these standards then they are most probably counterfeit and you are running the risk of electric shock or fire every time you use them. Check your chargers!

E-Transport: Batteries and Chargers
The number of e-bikes and e-scooters has been steadily rising over the past few years and they are now a common mode of transport across the UK. However, as well as the number of e-transport devices increasing so has the number of unreliable batteries and bike conversion kits. London Fire Brigade have already attended 25 fires in the first half of 2021 involving electric scooters and bikes, some of which have led to serious injuries as well as causing substantial damage to people's flats and houses. Lithium-ion batteries are susceptible to failure if the incorrect charger is used and this is one of the problems the Fire Service suspects is causing the fires, along with unsafe batteries being purchased online.
The Fire Service have strongly advised that you should only use the correct charger for the product you are charging, and always make sure that they are purchased from a reputable trader. Also, make sure that the battery is charged on a flat, hard surface and is allowed to cool down after use and before charging. Always ensure you unplug the battery after charging and do not leave unattended or go to sleep whilst you are charging. Ensure that you have working fire alarms installed and that you do not store your bikes and scooters in hallways which could potentially block your exit if a fire was to break out.

Online Shopping: Shop Safe
Online shopping has been steadily growing in popularity in recent times and even more so during the recent COVID-19 pandemic with the UKs top 100 retailers reporting an increase of 52% of online traffic. This change in our shopping behaviour has given some sellers the opportunity to advertise and sell various counterfeit goods on various marketplace sites, taking advantage of the customer not being able to see the item in real life before purchasing. A third of people who have bought fake electrical goods purchased them from an online marketplace.
When you are shopping online do not always trust the image shown is a true reflection of what you are purchasing, always look for the seller's details and be wary if there are not any, do not trust reviews – these are very easy to fake and if the price seems too good to be true then it most probably is! Electrical Safety First have developed a Chrome browser extension called 'Check it Out', this extension can be used whilst shopping online on websites such as Amazon and EBay. It will help you when you are shopping and alert you when you are not buying from a seller you know and trust.

Simple Safety Checks and Tips to Keep You and Your Family Safe
– Never leave your charging devices on your bed, and definitely not under your pillow – they should always be charged on a flat, hard surface. If you are charging a battery, allow it to cool down before putting it back into your device and using it.
– Register for the Electrical Safety First Add On – Check product recalls plus more just by asking your smart speaker if any of your products have been recalled.
– Download the Electrical Safety First App – Find a registered electrician, ask experts about anything electrical, view and save product recalls or register your product.
– Electrical Safety First Check It Out – Add this extension to your browser to help you spot fake items when shopping online.
– Check your cables and chargers before use – if you spot any sign of damage do not attempt to use them
– Always check your products for the correct safety marks
– Ensure hair straighteners and other electrical beauty products are switched off and unplugged after use. Always place them onto a heat proof mat when switched on.
– Never keep e-cigarette or vape batteries loose in your pocket, especially next to keys or coins – they are more likely to cause fire.
If you would like to find out more about electrical safety, then why not read our resources on Electrical Safety for the Elderly and Children's Electrical Safety.