Electrical Safety for the Elderly
The elderly are statistically more vulnerable when it comes to electrical safety, and ultimately fires. With many aged 65 years and over living in homes with substandard electrical safety and often misusing electrical appliances, it puts them at a much greater risk for accidents to happen. Through our research, we have found loneliness to be a major contributing factor.
In our guide to electrical safety for the elderly we are covering the key dangers, the importance of fire safety checks and tips for both elderly homeowners and family/neighbours.

Electrical hazards in the home
Those aged 60 and over are ten times more likely to die in a fire, than compared to someone younger aged 17-24. This risk is due to a number of varying factors, including: sub-standard living conditions (which over one million people aged 75 and over currently live in), lack of knowledge about electrical safety and fire alarms, faulty or incorrect use of electrical appliances, and electrics which are not checked regularly, especially in older homes, combined with a number of health concerns which many elderly are living with, such as dementia and mobility issues.
Faulty electrics alone count for 20,000 house fires every year and a common reason for this is because the electrics in older homes are checked less frequently and are usually owned by those 65 and older, putting them at a greater risk. Using an electrical appliance in a home that hasn't had its electrics checked recently means the main supply might not be safe to use, or there may not be sufficient protection (for example a Residual Current Device – RCD – in their consumer unit/fuse box) for the homeowner to protect them from a shock or worse, a fire.
Despite these risks, 80% of the UK has said they are not concerned with the safety of electrical appliances in the homes of their elderly family and a shocking 75% have never helped their elderly family to get their electrics checked over by an electrician.
The reason for this could be family not living within close proximity to elderly relatives, meaning they could go a while without seeing anyone who could help carry out safety checks or inform them of electrical safety in the home. In a survey by Electrical Safety First, half of elderly respondents said they didn't know any warning signs from electrical appliances, showing just how susceptible they are to dangers in the home.

Please feel free to share our infographic on your website, by simply copying and pasting the embed code below:
Loneliness crisis in the UK
There are 66 million people in the UK, 18.2% of which are 65 years or older and 2.4% are over 85 years old. It is projected that by 2027, 20.2% of us in the UK will be over 65. Our population in the UK is getting older as people are living longer, some together in couples and families, but most live alone.
As of 2017, there were 7.7 million UK residents aged 16 and over living alone; 3.9 million are aged 16-64 and 3.8 million are aged 65 years and over, with the majority being female.
Those who live alone account for the most fires attended to since 2016, with those living alone under pensionable age accounting for 17% of all fires, as well as those living alone over pensionable age accounting for 17% of all fires.
Figures show that those living alone have an increased fire risk, than in comparison to if you were living with a partner, friends or family. The elderly are at a significantly greater risk, with an average, 12 accidental electrical fires taking place every day in the homes of the elderly who live alone. These risks do not go unnoticed by those over 65 and living alone, as one in four say they would feel like they would be at less of a risk if they lived with another person.
Two high risk electrical items associated with the elderly are electric blankets and electric heaters, especially on colder evenings. They pose incredible risks if not used correctly or are faulty, and they have already been the cause of many electrical fires over the years.

The dangers of electric heaters
There are four main types of portable electric heaters available for your home, they are: fan heaters, oil heaters, halogen heater and convector heaters. These types of electric heaters are normally only used to heat up one room, rather than a whole house.
All electric heaters should be used with care and you should always remember to only use them when you are in the room to monitor them – never leave your electric heater on overnight or unattended.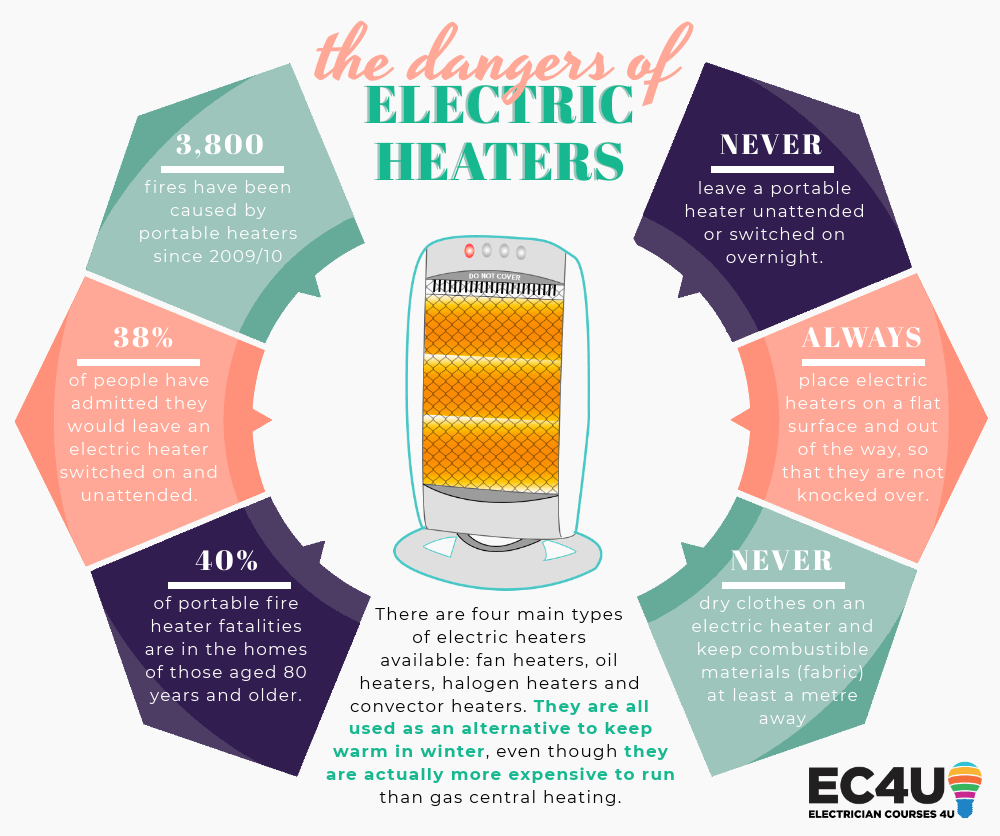 Please feel free to share our infographic on your website, by simply copying and pasting the embed code below:
Some people may think using electric heaters is a cost effective way to heat their home, but actually it can be quite expensive as a long term form of heating. Electric heaters use a lot of electricity to run, which will ultimately lead to expensive bills over cold, winter months. We advise to weigh up the costs between using a portable electric heater and using your gas central heating, in order to find the most cost effective way to heat your home.
However, if electric heaters are not used correctly or they are used when faulty, they can leave devastating effects. London Fire Brigade reported that over the past five years, there have been 819 fires caused by electrical heaters and a third of electrical fires which have ended in death have involved electric heaters.
Newer electric heaters can be quite intelligent, as most will be anti-tip, meaning that if you accidentally push it over or you pick it up to move it somewhere else, it will detect movement and turn off automatically. Another new feature some heaters may have is that when they reach the set target temperature, they will turn off.
Clothing or furniture being too close to an electric heater is responsible for more than two thirds of fatal fires. Fires can typically happen when clothing or an item of fabric is placed too close to the electric heater or in some cases when clothing is placed over an electric heater in attempt to dry them, so make sure you keep soft furnishing items a distance away from heaters
When using electric heaters, you should always remember to:
Never dry clothes over an electric heater.
Never leave an electric heater unattended or turned on overnight.
Always place the heater on a flat, smooth surface.
Position out of the way so that no one trips over it.
Never buy a second hand heater as these aren't always reliable.
Keep an eye out for any burn marks on the heaters or signs of damage, as this could be the first warning sign before a fire.
Sit at least 1 metre away from a heater.
Never repair a heater, just replace the heater.

The dangers of electric blankets
It's been estimated that there are 10 million electric blankets being used around the UK, but what most people don't realise is that the older your electric blanket is, the more risks it will present. As with any electrical appliance or gadget, they will age and deteriorate over time, and ultimately become a fire risk if they are continually used when damaged.
Damaged electric blankets can cause more than 5,000 house fires every year and the most at risk people are those over 65 years old, who experience six times the national average of fatal injuries because of electric blankets.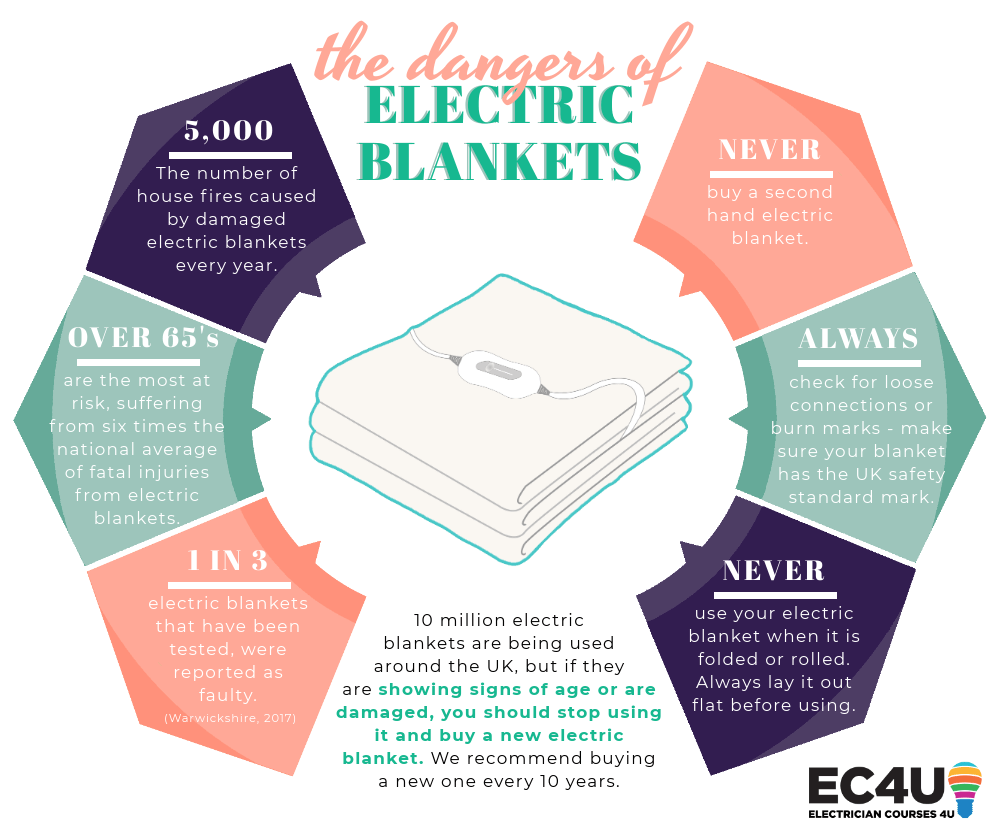 Please feel free to share our infographic on your website, by simply copying and pasting the embed code below:
Electric blankets are a common choice by the elderly to keep warm in winter, but they need to be aware of faulty blankets and any signs of damage.
Many older people utilise services offered by the Fire Brigades and their council, where they will test your electric blankets for you to ensure their safety. In 2017, Warwickshire Council reported that one in every three electric blankets that they had tested had been faulty, so we would recommend if you are worried about the condition of your electric blanket, that you have it tested.
When using electric blankets, you should always remember to:
Look out for any burn marks on the blankets and any damage to the cable/plug.
Replace your electric blanket if it is older than 10 years.
Store your electric blanket flat, rolled or folded loosely – be careful not to damage the electric elements inside.
Never buy second hand electric blankets.
Check your blanket for UK safety standard mark (the kitemark) to ensure it meets current regulations.
Check for any loose connections.

Smoke Alarms
Every home should have a smoke alarm fitted on at least each level in the communal spaces, such as hallways. You should also consider fitting a smoke alarm in bedrooms, although not a legal requirement, it is highly recommended to give you the earliest warning a fire has broken out.
In 2017/18, 17% of all fires started in a house with a lone person over pensionable age, which is why it's very important to check that your elderly family or neighbours have smoke alarms fitted and that they are working. You should test your smoke alarms every month.
If you're elderly and don't have any family or someone to call on to help you with smoke alarms, then the Fire and Rescue Services offer free house visits to ensure that your home is safe in case of an emergency.
For more information about what the regulations state about smoke alarm placement and the minimum protection for your home, then take a look at our comprehensive Guide to Fire Alarms.

Fire Safety Checks
For many years Fire and Rescue Services have carried out fire safety checks in your home to help offer fire safety advice. In 2017/18, there were 576,040 home fire safety checks carried out by the Fire and Rescue Services and partners across England, of those, 311,588 were for elderly homeowners, aged 65+.
These checks have a great impact on improving the safety of peoples home, especially the elderly. During a visit, a fire official will help to identify any potential fire hazards in the home, help you plan your escape in case of a fire, offer advice for smoke alarm placement, and also help fit any alarms if needed.

Simple electrical checks and tips
We want to encourage everyone who has a elderly relative or neighbour to pop by to check in with them and if you can, take the time to carry out a quick electrical safety check in the home.
With just a few simple, quick checks you can help improve the electrical safety standard of your own home or your friend/relatives.
When carrying out electrical safety checks for elderly homeowners or in your own home, remember to:
Check all smoke alarms are fitted and working.
Check for any burn marks on plug sockets (if you see any, call a registered electrician to investigate).
Check that sockets are not overloaded and they aren't using an extension lead off of an extension lead, as this is very dangerous.
Check the consumer unit (fuse box) to make sure that there is an RCD (Residual Current Device) fitted. This will trip if a fault is detected in any circuits or if circuits are overloaded.
Inspect any electric blankets that are in use, looking for any bun marks, breaks in the cable, and also check how old the blanket is. If it's older than 10 years, it will need to be replaced.
Turn appliances off before you go to bed to reduce fire risk and never leave appliances, like an electric heater unattended.
If you see something that you aren't sure is safe or the electrics are damaged and in need of repair, then you should contact a local registered electrician. You can find one in your area by going to the Electrical Competent Person Scheme and searching with your postcode.