Find the right trusted tradesmen scheme for you
With the digital age now upon us, less and less people will flick through the yellow pages to find a tradesperson. Online tradespeople directories are thriving with tradespeople seeking work, with their profiles full of reviews and their 10 star ratings.
But what can these trade directories offer tradespeople? We've looked into 8 of the biggest websites to see what they can offer you, how to join, the cost of being a member and find out about the job process.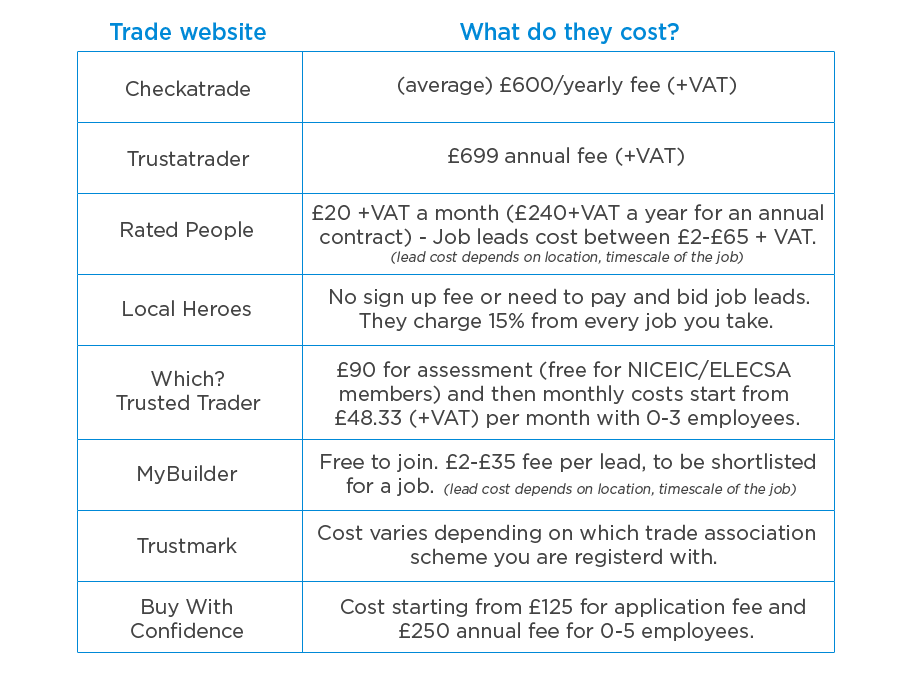 Checkatrade
Who are they?
Checkatrade are the oldest online trade directory, launching in 1998 with the aim of ridding the UK of rogue traders. They are now the most notable way to find a tradesperson in your local area and have more than 20,000 tradespeople signed up.
Every tradesperson that is joined onto Checkatrade must first be interviewed and have a background check carried out. After they become a member, customers are free to post reviews on the company Checkatrade page after work is completed.
Checkatrade is free for customers to search for tradespeople, but is charged for tradespeople that want to advertise their business and services on a unique page.
What can their website offer your business?
When you think of tradespeople directories, Checkatrade are the first company that come to mind. Their strong brand power means that customers will flock to their site first, because they are the most well known tradesperson directory online, this will in turn give you a greater chance of getting noticed.
Through your membership with Checkatrade, your trade business will receive: visibility within website and search facility, a personal company profile page, free credibility reports to print off and hand out to customers, notification alerts for new reviews, feedback cards to give to customers after work is completed, vehicle and stationary stickers to advertise your Checkatrade membership and approval, and member discounts.
Vetting/joining process
When you sign up to Checkatrade, you will be agreeing to 'The Checkatrade Standard'. They request that you uphold this standard in your work and represent their name well. It also includes things like being honest in your dealings, informing customers properly of call out fees before you arrive, uphold scheduled appointments and arrive on time, be polite and never abusive, always return phone messages and to never cold call customers.
The process of joining follows an initial interview, after which your accreditations and qualifications will be verified, proof of your public liability insurance will be requested, your identity will be checked and verified, and you will be asked to supply 5 references for previous customers. Checkatrade will then personally call each of your reference to verify your services and company.
The final stage of your vetting process will be a face to face consultation with Checkatrade.
How much does it cost to join?
The cost to join Checkatrade averages around £600 (+VAT) for an annual subscription or alternatively around £60 for a month.
If you find that it isn't working out for you and you aren't finding work, then they offer a full money back guarantee service.
What is the job process?
They are a traditional directory in the sense that after you have your company page set up, it is all down to the customer finding you and deeming you best fit for the job. After you complete a job, you can then hand out a feedback card, which you can then post back to Checkatrade for free or leave a review on the company profile page.
Reviews will tell customers more about your company, which is why it's very important to build up a good set up reviews and overall rating, as this will help you rank higher. You should aim for a rating of 9.5 for optimum visibility.
If you receive a negative comment or a rating that's lower than five, these will be handled directly with Checkatrade, who will ask your customer to fill out a review form, which will activate their complaint procedure. You are given 21 days to address the complaint, during this time you have the chance to improve on the job or publish a reply via Checkatrade directly. If you choose to do nothing, after 21 days the review will be published on your page.

Trustatrader
Who are they?
Trustatrader launched in 2005 and act as an online trade directory. They require tradespeople to have two years experience in their trade as a minimum for joining and make checks to ensure that their members are joined onto the relevant trade schemes every year.
What can their website offer your business?
When you sign up to Trustatrader, you get a company profile, online payment facility, text-a-trader which allows you to text and email for free, zero commission charge on successful leads, and also exclusive membership. Once you are a member, you will also get a photograph ID card as proof of your accreditation to Trustatrader, to show on site to your customers.
Trustatrader are strict in what traders they allow onto their website and commonly reject applicants if they fail to meet their criteria. They monitor closely just how many tradespeople they have listed in certain postcodes, to ensure that the market is not over saturated and everyone gets an equal share of enquiries.
Trustatrader also advertise through TV and radio, increasing your chance of a customer to finding you.
Vetting/joining process
To join Trustatrader, you must: have a minimum of 5 references (which they will personally phone each to check the legitimacy), have a minimum two years experience within your trade, hold all relevant qualifications that are required by law and your trade to carry out the work, provide proof address and ID, If you're a limited company they will require proof as well as your VAT number, proof of your public liability insurance, agree to Trustatrader's terms and conditions, and agree to work to their high standards.
After sending them your documents, they will then carry out their own checks on you, your business and your qualifications and accreditations. This process usually takes 2-3 weeks, after this point you will then be joined on.
Any trader that falls below this standard will risk losing their profile page on Trustatrader.
When joining, Trustatrader will take dates of when your insurance runs out and when your scheme accreditations run out. 7 days before they expire, they will send an email out to alert you and request updated documents. If you fail to send in new documents, they will suspend your account.
How much does it cost to join?
To join Trustatrader, it will £699 (plus VAT). They also offer a £50 referral scheme if you want to recommend someone to join.
What is the job process?
When a customer searches for a tradesperson in their area, Trustatrader will list trades based on distance from the post code, not based on how many reviews a tradesperson has. This ensures an equal spread of local work for tradespeople.
The customer must reach out to you after finding your profile page on Trustatrader and taking a look at your skills, accreditations and reviews. You can also add photos of previous work to give the customer an idea of the type of service you supply.
After you complete a job, you will get notified when a customer leaves a review on your page. These reviews will help improve your overall Trustatrader rating and as a result encourage other customers to enquire.
If for some reason you receive a negative review, these are not posted automatically, but rather handled internally through Trustatrader first and investigated, before being published. 99% of disputes are resolved, with customers given the option to resolve with the trader first. However, if you receive 3 bad reviews, your profile will be removed.

Local Heroes
Who are they?
Local Heroes is a separate initiative launched by British Gas, in effort to create a new route for homeowners to find quality tradespeople in their area. They cover a variety of services and trades, including: plumbing, electrics, drains, painting, plastering, tiling and handyman.
What can their website offer your business?
They promise to send you good quality work straight to your inbox, which means less time hunting for work to fill any gaps in your diary. It also gives you the chance to find new customers and make a great first impression.
Vetting/joining process?
All their local heroes are: qualified for the job they are doing, have positive recommendations, are fully insured and follow Local Heroes code of conduct.
If you want to sign up to become a local hero, you will need public liability insurance (£2m), employers liability insurance (if applicable – £5m), proof of qualifications and accreditations, high quality photos for profile page and also proof of your banking details.
If you are a heating engineer, they will require you to be Gas Safe registered and all electricians should be accredited with a Part P Scheme Provider, like NICEIC or ELECSA.
Each application is done on a case by case basis, so if you don't match the exact qualification criteria listed here, then simply give them a call to see if you fit the bill.
How much does it cost to join?
There are no joining or subscription fees to become a local hero and you don't have to bid for jobs either. However, they do charge a commission rate for each job you take (around 15%)
What is the job process?
Once your account is all set up, you can then set up the area you are happy to work in and see all the jobs available in the 'Hero Portal'. New jobs are sent via SMS and emailed to you directly, and to get the job, simply confirm you're available. You will then be sent the customer's details to get in touch with them and arrange to carry out the work.
Once the job is complete, the customer then pays online and they will then transfer you the money a week later, minus a commission fee.
The work carried out is covered by a 12 month guarantee on parts and labour (unless it is a temporary fix). If someone raises a problem with their install, they don't go through Local Heroes, but instead just give the tradesperson a call direct, and they will then have to arrange for another visit.

Rated People
Who are they?
Rated People began in 2005 and act as both an online trade directory and a job portal to buy job leads. They claim to be the UK's top marketplace that connects homeowners to quality local tradespeople.
What can their website offer your business?
When you join Rated People, you get a profile page for your company, access to job leads and also discounts on business expenses. Over 1,000,000 jobs are posted every year to Rated People, which you gain access to upon joining. They filter through jobs for you, doing the hard work, so you only see the jobs that match your listed skillset and set working area.
By buying leads, you can fill in the gaps in your diary and also get the chance to meet new potential customers and create a good impression.
On your profile page, you can also post images and display your previous work, to give the customer a better idea of the quality standard you supply.
Vetting/joining process
To sign up to Rated People, they only require your business information such as company name and address, your personal information such as your name, date of birth and address, your business attributes such as type of business and your trade, and finally, payment details which will allow you to buy leads quickly.
After signing up to Rated People, they will run an Experian credit check on you and your business. You will receive a call back from customer services who will ask for any documents and accreditations required (such as Gas Safe) and run through the benefits you will receive upon joining.
If you want to buy a lead for a gas job, such as boiler repair, you will have to show Rated People proof of your Gas Safe certificate. If you want to buy a lead for an electrical job, you will need to show proof of valid Part P qualifications.
How much does it cost to join?
The cost to join Rated People is £20 (+ VAT) a month, which is £240 (+VAT) a year. Leads are then priced at anywhere between £2 and £65 (+ VAT).
What is the job process?
Customers can find you via Rated People's Local search facility or when they post a job lead, which you can then purchase for a fee.
Leads are priced between £2-£65 (+VAT), depending on length of job and location. The job process starts when you buy a lead posted by a customer, and your profile page link is sent to the customer. Each lead is sold a maximum 3 times and you will be charged this rate for each lead you buy.
After you've paid for the lead, simply get in touch with the customer to arrange the best time to quote for the job. You are charged the lead rate whether the customer selects you for the job or not.
After the job is completed, the customer can then review your services on quality, reliability and value for money. These reviews are then reflected on your profile page for other potential customers to see.
Rated People say that tradespeople win on average 1 out of every 3 job lead they buy. The more reviews you have on your profile page, the more likely you are to win the job lead and a new customer.
Which? Trusted Traders
Who are they?
Which? have been helping consumers for over 60 years make the best decisions about appliances and products. Their Which? Trusted Traders scheme operates on a similar basis, recommending reputable traders who meet their high standards, are trustworthy, and have also passed through the assessment process.
What can their website offer your business?
After joining Which? Trusted Traders, you will gain their endorsement icon which you can proudly display on you company marketing, van, clothing, etc, you will also gain a profile on their page where customers can post reviews, a dedicated account manager, a dispute service for resolving complains, industry news alerts and also a subscription to Which? magazine.
Which? Trusted Traders also run regular advertisements on TV and online, which in turn will bring more potential customers to the site and an increased chance of them finding your business listed.
Vetting/joining process?
You can apply to join Which? Trusted Traders scheme online or give them a call to discuss joining options. They only represent high quality tradespeople and they are selective with what businesses they accept to join. On average one in four applicants do not make the cut to join Which? Trusted Traders.
To apply, you will need to answer a few initial questions, provide some personal and business details, as well as provide proof of any qualifications or scheme accreditations. You will also need proof of your public liability insurance and to have been trading for 6 months as proof of your client base and business trading.
Which? Trusted Traders will carry out a credit report on your business to ensure its financial health and they will also run a few background checks.
After this, they will then book in a face to face assessment with you, where one of their trading standards assessors will visit you on site and also select 10 customer references at random to contact. These customer references will come directly from the traders books/paperwork, to ensure that they are legitimate customers and have not been influenced in any way.
If you are a member of NICEIC or ELECSA, then there will be no assessment as this has already been carried out through your Part P Scheme Provider, but they still require 10 customer references.
After completing the assessment and you have successfully met the full criteria, then you can become a Which? Trusted Trader and display the logo with pride as proof of your professional association.
How much does it cost to join?
To join Which? Trusted Traders it will cost £75 (+VAT) for the initial assessment, but this is free for those who are already a member of NICEIC or ELECSA (give them a call if you are a member).
Monthly fees vary for businesses, depending on how many employees you have, but they start at £48.33 (+VAT) per month for 0-3 employees. If you are a member of NICEIC or ELECSA, you will get a 50% discount on your monthly fee for the first 6 months of joining.
What is the job process?
Customers can find a trader via their Which? Trusted Trader profile, taking a closer look at their contact details, services they offer and also reviews from previous customers. Work carried through under Which? Trusted Traders comes with a 12 month guarantee for customers, which is also a major reassurance point.
After you complete a job, you can give out a feedback card for the customer that they can fill out and send back to Which? for free or alternatively they can leave a review directly on your page. Businesses also have the chance to reply to reviews on their page.
Every review your business receives goes through a moderation process. As long as they are genuine reviews from customers, Which? Trusted Traders do not interfere and post every review, whether they are positive or negative.

MyBuilder
Who are they?
MyBuilder began in 2004, after a roofer and stonemason discovered a gap in the market for ensuring tradespeople would always have a steady stream of work. It works as a marketplace for job leads, where customers will post their jobs and tradespeople will bid on them to be shortlisted and win the chance to quote.
What can their website offer your business?
Currently, MyBuilder have 35,000 tradespeople on their site with an average of 60,000 jobs being posted every month. They offer a quick system that allows you to bid for job leads available and the opportunity to quote for a new customer, and go on to build a new customer base.
Vetting/joining process?
To join MyBuilder, you must complete a short evaluation, verify your ID with a passport photo or driving license and supply a recent photo for your public profile. You will also be required to add details of your insurance to your profile, to show customers that you are fully covered.
How much does it cost to join?
There is no fee to join MyBuilder, but instead you are charged a job lead fee for every job you are shortlisted for. The cost for each job lead varies from £2-£35.
What is the job process?
Once you are signed up to MyBuilder, you can set the area for which you wish to work in and then they will begin to send you leads that are relevant to your skillset.
Once you find a job you want, simply express your interest in it, then the customer can shortlist up to 5 tradespeople for the job. If the customer shortlists you, MyBuilder will send you the customer details. Get in touch with them about a quote and then go from there. After you complete the job, the customer can then post feedback on your MyBuilder, which will in turn help you gain more jobs in the future.
If you receive negative feedback or want to dispute a review, MyBuilder do not get involved and leave that you to the tradesperson to help resolve any issues with the customers. Tradespeople can reply to remove and customers can remove reviews made, should the issue be resolved.

Trustmark
Who are they?
Trustmark are the only scheme for tradespeople that is endorsed by the government. The accreditation is awarded to registered businesses who meet their high standards, and have gone through extensive vetting and onsite inspections to ensure they are working safely and competently.
What can their website offer your business?
More than 725,000 tradespeople are listed on Trustmark, covering a variety of trades and services. Once joined on, you will be included in searches, have your own company profile page on Trustmark, be sent complementary stickers for your van and also feedback forms to give to customers, you will have full payment protection and access to a dispute resolution service, should you gain some negative feedback.
On your profile page, customers will be able to leave reviews on your services, ultimately boosting your profile and making you seem even more desirable to other customers.
Vetting/joining process?
The only way to join Trustmark is through a scheme, you cannot join Trustmark directly. You pay an additional fee to join on to Trustmark, as well as your scheme provider fee.
Every firm who is registered with Trustmark are regularly vetted and monitored by their own Scheme Provider, and they are also audited by qualified inspectors, who are independent and impartial.
How much does it cost to join?
You cannot join Trustmark directly. You must be part of a trade scheme first before applying to join Trustmark.
Costs to join are dependent on your trade scheme and it is best to contact them directly for a joining cost.
What is the job process?
Trustmark operates like a trade directory, except customers gain the reassurance that every company listed on is registered and checked regularly. Customers will find you via your company profile on the Trustmark website when searching for local trades in their area.

Buy With Confidence
Who are they?
Buy with Confidence are the only national scheme run directly by Trading Standards. It was put together by the Local Authority Trading Standards Services in response to consumers concern about rogue traders, and now has the support from more than 50 local authorities. The scheme gives homeowners a comprehensive list of Trading Standards Approved businesses in their area and reassures them that they are trustworthy.
What can their website offer your business?
Once you are signed on with Buy With Confidence as a approved business, you will get a public profile on their website, with reviews visible, use of the Trading Standards Approved logo on your website, van, etc, a membership certificate, customer feedback cards, as well as help from Trading Standards with customer disputes.
Vetting/joining process?
To join Buy with Confidence, the business must first pass a background check, have complaints history checked, and complete a face to face visit from Trading Standards personnel. You will also have to supply references from previous customers, supply proof of insurance, and the business must have been in operation for more than 6 months. Finally, you must agree to Buy With Confidence's code of conduct.
Your business will also be subject to regular checks during your membership by a Trading Standards Officer.
How much does it cost to join?
Membership costs depend on how many employees you have in your company. You will have to pay an initial application fee, starting at £125, and an annual fee, starting at £250 for 0-5 employees.
What is the job process?
Buy With Confidence operate on a standard directory basis, with the customer able to search for businesses by trade and by area. Once finding your public profile, they can then see your contact information and read reviews from past customers.
The customer will then contact you for a quote for work and after completing the work, the customer will be able to review your company, either by a feedback card given to them or online at Buy With Confidence.
Should any negative reviews arise, Buy With Confidence offer a dispute support service to help resolve the situation.
Which trade directory site is the best?
After our research of the most popular trade directories, it is not so much a question of which one is the best, but rather which one is the most well respected and checked amongst them all?
We found Which? Trusted Traders to be very thorough in their checks and vetting prior to joining, but also the face to face assessment process that is also required for every company looking to join. We were also impressed at their annual checks and their review process, that mean no falsified reviews are possible, as some rogue traders have reportedly been able to post their own on other trade directories, ultimately misleading customers.
Trustatrader also proved to be carrying out more checks on their tradespeople than other online directories in comparison. As well as turning down quite a few tradespeople who don't fit the requirements, they also perform annual checks on every trader signed up with them.
Checkatrade also notably included a face to face consultation, where someone will come out to you on site and check the quality of your work. This is in attempt to cut out rogue traders from joining on as a member.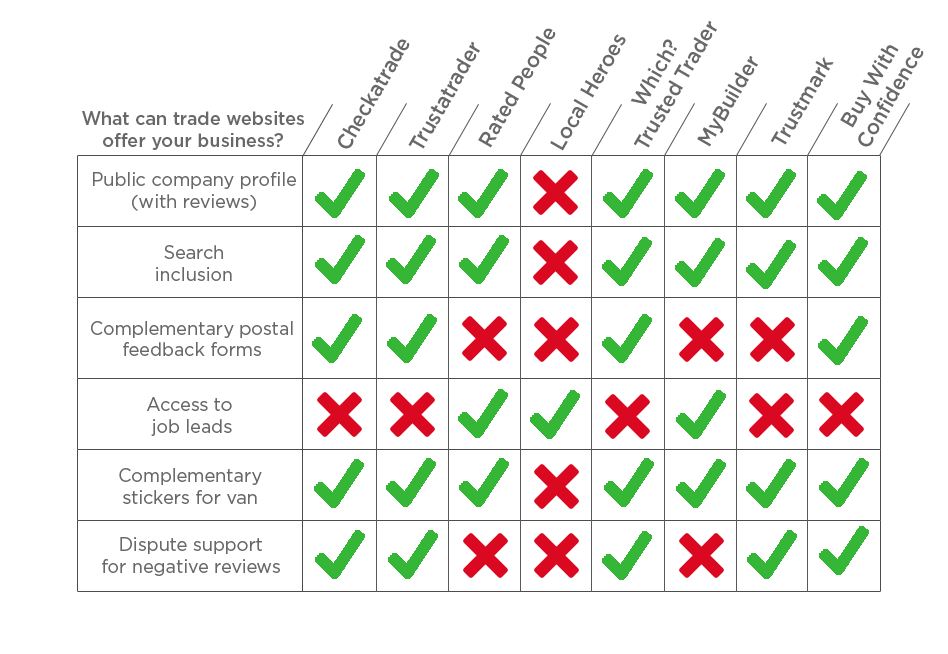 As for value for money, the directories that you only pay for leads do seem very beneficial, especially if you are a new company looking to expand your customer base and fill your schedule. You are simply just paying for work only when you want it, although you do risk paying for leads when you are shortlisted and then not getting picked to carry out the work.
It's important that if you do decide to join a trade directory, that you carefully weigh out the costs, the pros and the cons of that particular directory. We advise calling up the directory before signing up to anything, search online for reviews from other tradespeople who have been with trade directories and discuss with others in your industry to get the best idea about which is best for you.
Do you need to join a tradesperson directory?
You do not have to join a tradespeople directory; it's completely optional for your business.
Can they help you find business? Yes. Can they supply 100% of your business? No. Most tradespeople have said that tradespeople databases, like the ones mentioned, help fill the gaps in their diary and build their customer base.
However, word of mouth does remain the most powerful source for finding a local tradesperson. When asked, only 12% of customers had used trade directories to find a trusted tradesperson. Instead 70% had turned to word of mouth recommendations from friends or family.
So it's important to do as much self promotion as you can, such as getting your company website up and running, printing flyers for your local area and making great first impressions on new customers.