EC4U Rating:
In the spirit of Christmas, we have teamed up with Van Vault to give away a brand new Van Vault 3 to one lucky tradesperson! Find out at the end of this review how you can win the ultimate van security product! (competition now closed)
Features:
Van Vault 3
2mm sheet steel construction with fully phosphate anti-corrosion protection and integrated draw
2 x 70mm anti-drill stainless steel locks, with three sets of keys for each lock
4 reinforced fitting points, a lashing point for securing valuable items and
Grip handles for easy manoeuvring and heavy duty roller bearing for smooth draw action
Stacker and Stacker XL
1.5mm sheet steel construction with fully phosphate anti-corrosion protection
70mm anti-drill stainless steel locks, with three sets of keys for each lock
Multiple fitting points for easy attachment to other Van Vaults
Steel grip handles and foam in lay, to stop tools from scratching/damaging
If you're looking for a secure and robust way to store your tools in the van, then this tool review is for you. We recently discussed ways that tradespeople can secure their van to help keep them safe from thieves and listed Van Vault as one of the options available.
In this review, we are looking at the Van Vault 3, their latest release, and the Stacker and Stacker XL, two additional draws that can be bought separately or attached to others.
The main reason to invest in a Van Vault is to give yourself peace of mind, whether you are finished for the day and locking your van up, or you've popped to pick up supplies quickly, or you're on site.
"It's all about that peace of mind, that the tools you aren't using are safe in your Van Vault. It doesn't matter if part of your van gets broken into, they aren't stealing the Vault or tools because they wouldn't be able to lift it, as it would be bolted to the floor of the van, and they wouldn't be able to get into it either."
Attaching the Stackers to the main Vault is simple and fairly easy, using the multiple fitting points to screw them together. The result is a secure unit that in total, with all three items, weighs over 132kg, and when your tools are inside, the weight can easily rise to 200kg.
Once the vaults are attached you can either bolt the unit to the base of the van or use a lashing point to secure it to the van (only on Van Vault 3).
The Van Vaults can fit in the back of a transporter or combi van quite comfortably, either stacked up or side by side, but the latter allows for more storage space above.
The only issue we found with the Van Vaults was the weight of them, namely the 3 and the XL, however the weight is also a great benefit as it makes lifting impossible on your own.
"It's something to be aware of in the installation stage that they are heavy and you will require a second person to help lift into your van and install" our trainers explain. "But once it's in, it's in, and then you want the weight to help keep it in place and stop people from stealing it."
The Van Vault 3 is an upgrade from the previous design and improved too, with a handy slim draw to store your smaller, but still expensive, tools and attachments.
"I've used Van Vaults before," our experienced trainer says  "but only had the previous one [The Van Vault 2] where it was just the top section and no draw. I like the idea of having a separate, lockable draw. It's a good upgrade because it saves you from rooting around for anything, and for electricians it's great because you can put things like your testing gear, voltage detector, clamp meters in the bottom draw."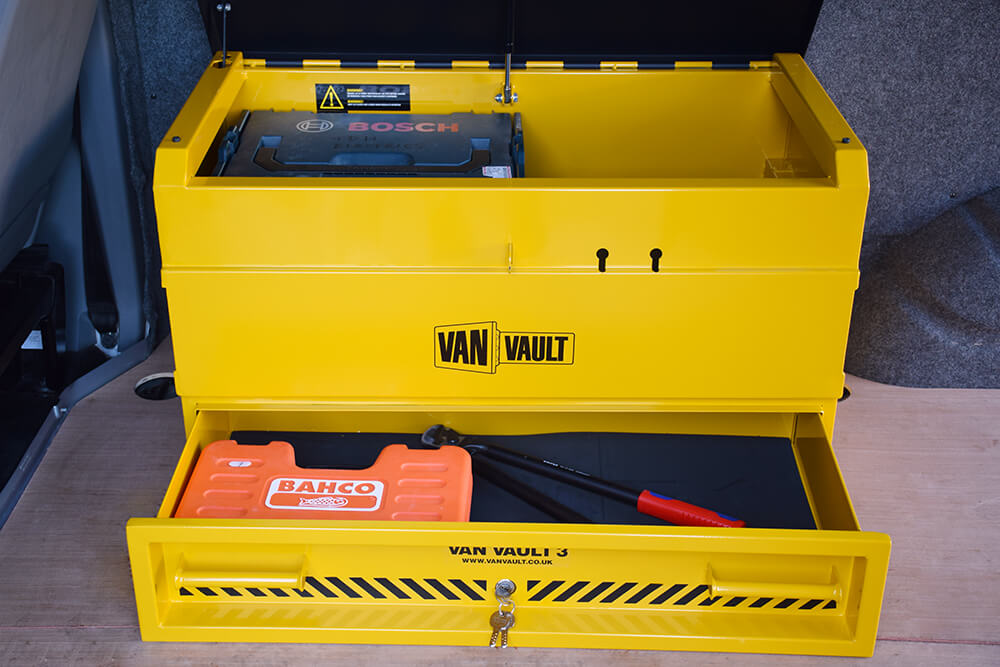 If our trainers had to pick just one Vault to invest in, it would definitely be the Van Vault 3 "because you can get your drills in it, you can get your multifunction tester in it and still have a draw for your delicate stuff."
Van security is crucial for every tradesperson and "for £300, the Van Vault 3 is worth it. For electricians, the cost of your tester is around £700 alone, then your Milwaukee drill is £300, Makita drill £160, so straight away it's worth it, even for beginners as there is nothing worse than getting your tools stolen."
If you've bought a Van Vault, remember to "check your tool insurance because if you've got a Van Vault, you need to check if that brings your insurance down in price" our electrical trainer suggests.
As for improvements for a potential Van Vault 4, our trainers suggested "to have a little removable safe within the van vault would be fantastic, because tradespeople do still get paid in cash often, so this way you can safely store your money on the go inside the safe within the Van Vault."
With this removable safe, you wouldn't have to worry about carrying cash around with you or storing it in the glove box, while you're moving from job to job, and would benefit all tradespeople too.
Pros:
Easy to attach each Van Vault together, but is heavy to lift and you will need more than one person for the Van Vault 3
Secure locks and very tough build and structure to keep your tools safe
Suitable for every trade, with unlimited potential for storage
Great slim draw in the Van Vault 3 for storage of smaller tools and accessories
Range of attachment draws to increase safe storage inside your van
You can buy a Van Vault 3, Stacker and the Stacker XL all from Van Vault directly, or you can…
WIN A VAN VAULT 3
Tradespeople know how important van security is, which is why we are giving you the chance to win a Van Vault 3 (RRP £299.95 inc VAT) of your own, just in time for Christmas.
COMPETITION IS NOW CLOSED. Congratulations to Steven Boyle for winning!
Back to Electrician Tools