EC4U Rating:
Insulated handles and VDE tested
Chrome plated, hook blade for an even cut
Suitable for cutting copper, aluminium and stranded cables up to 15mm
Knipex have more than 130 years of experience in designing and manufacturing high end tools. Each product has been designed with reliability in mind. These Cable Shears are no different, with precision chrome blades and insulated handles.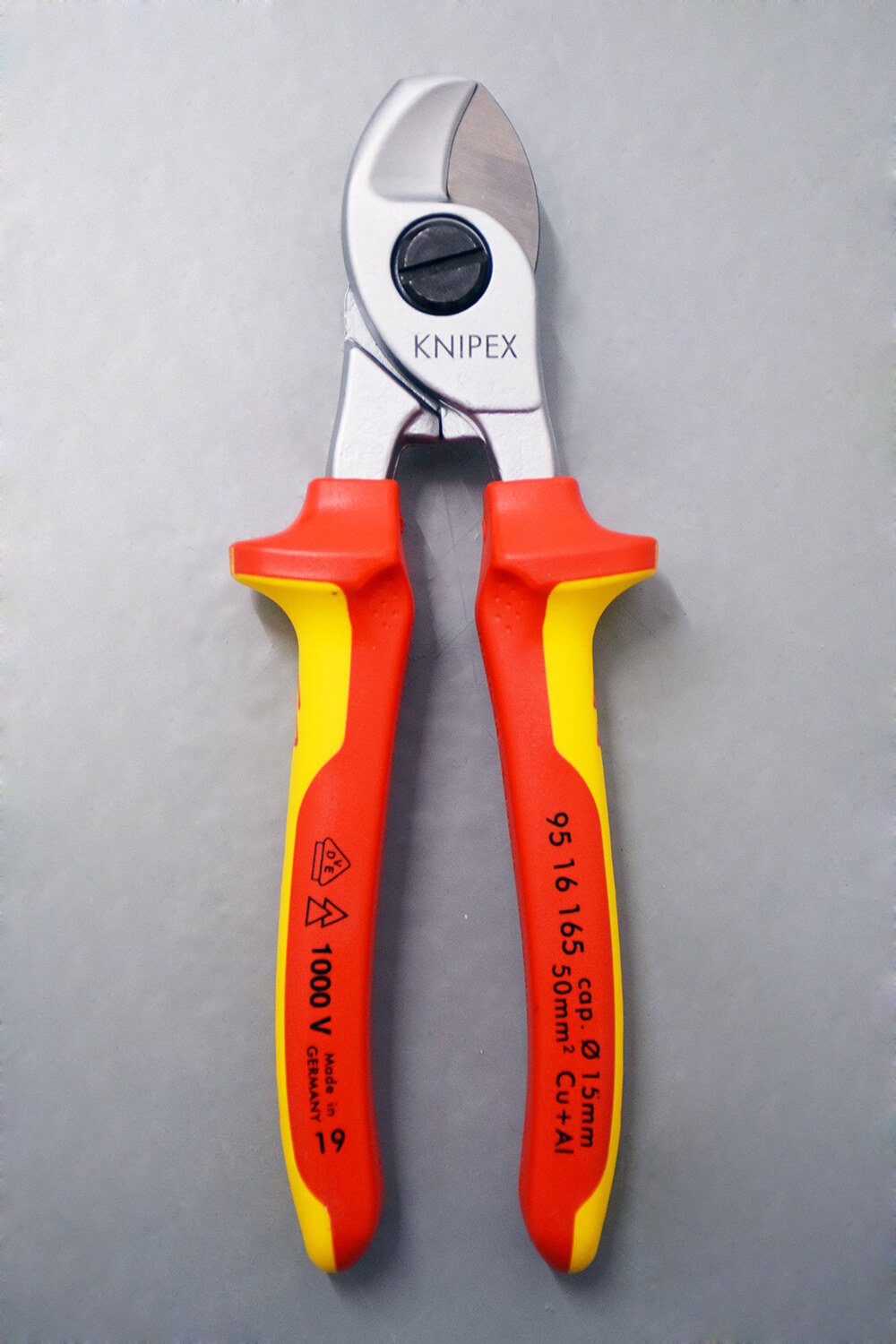 "They are typical Knipex; they're great quality and feel absolutely bulletproof" our trainer says, "they're nice and weighty and feel robust too, and they look like they'll take a lot of abuse."
When opening and closing the tool, "it's nice and smooth; there's no notchiness or sticking, like you would get with some other cutters when they struggle to open that initial bit."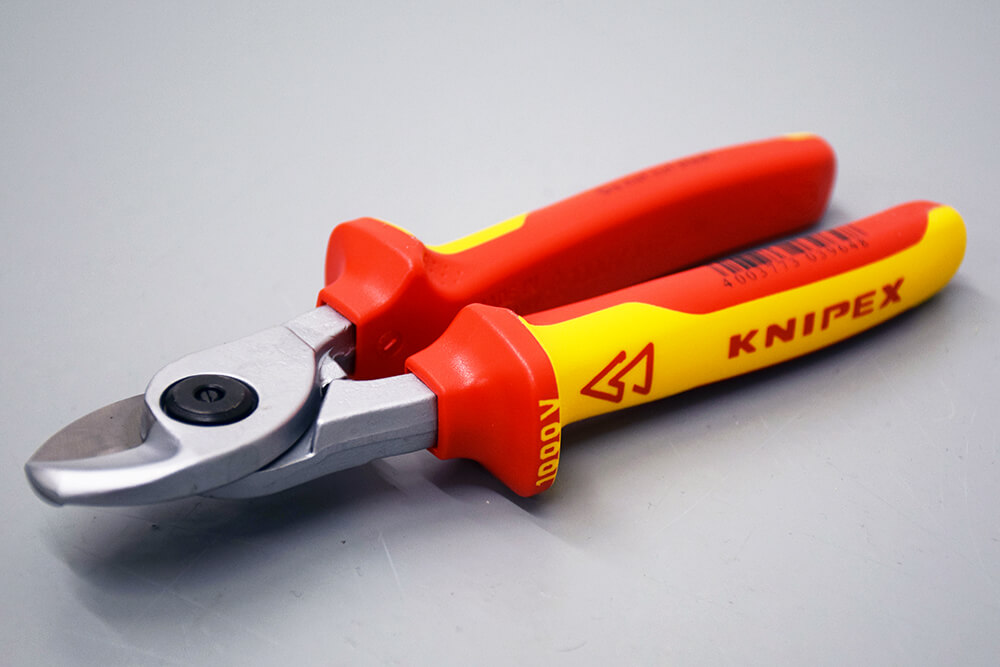 Our trainer has been testing out the cable shears for a few months now, utilising them for cutting copper and stranded cables of up to 15mm. "They are nice and sharp. They cut 15mm copper, which is what they are rated for, fairly easily." Our trainer points out though, "they didn't cut quite as easily as some other brands, such as the NWS cutters. But nothing we've tested has been as easy as the NWS ones, when it comes to the that because of the size of their blades."
These Knipex cable shears will give a nice, straight cut, with their hooked blades, which have been designed to ensure the cable is cut more efficiently from all sides.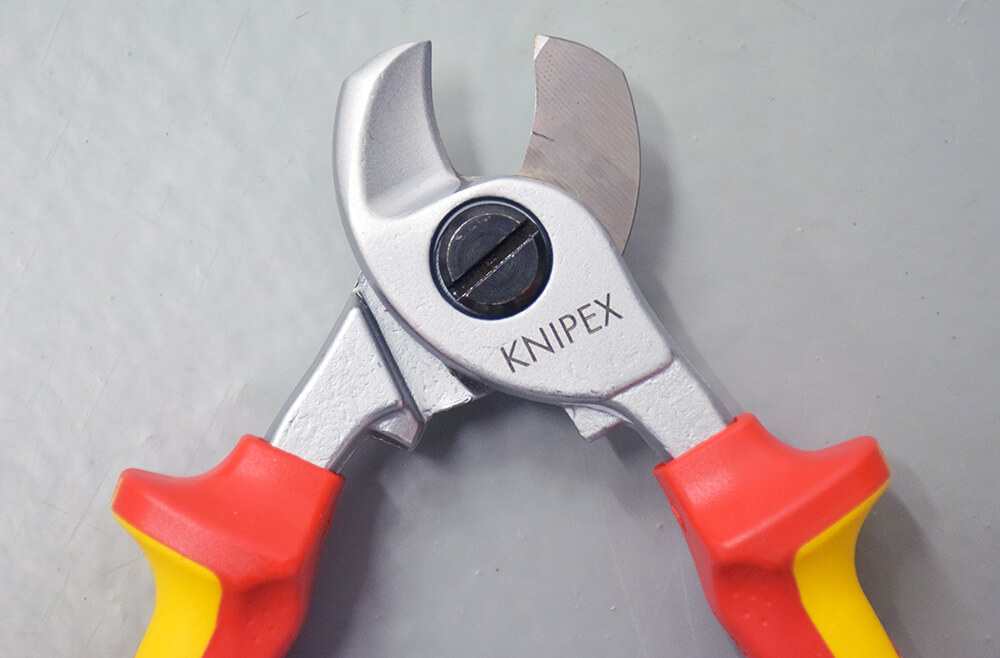 However, one issue our electrical trainer picked up on with cutting was due to these hooked blades, "you have to naturally open a bit wider to get the cable in. You also have to put a bit more effort into cutting the same size cable compared to some other cutters, as they don't cut as quite as easily and require a bit more pressure."
Our trainer advised that if you're looking for a pair of cable shears or cutters to use regularly throughout the day, these Knipex ones may not be right for you. "The plastic handles are a lot harder and a lot more square or rectangular, so there is less of a rounded profile to the handle when you put a bit of pressure there."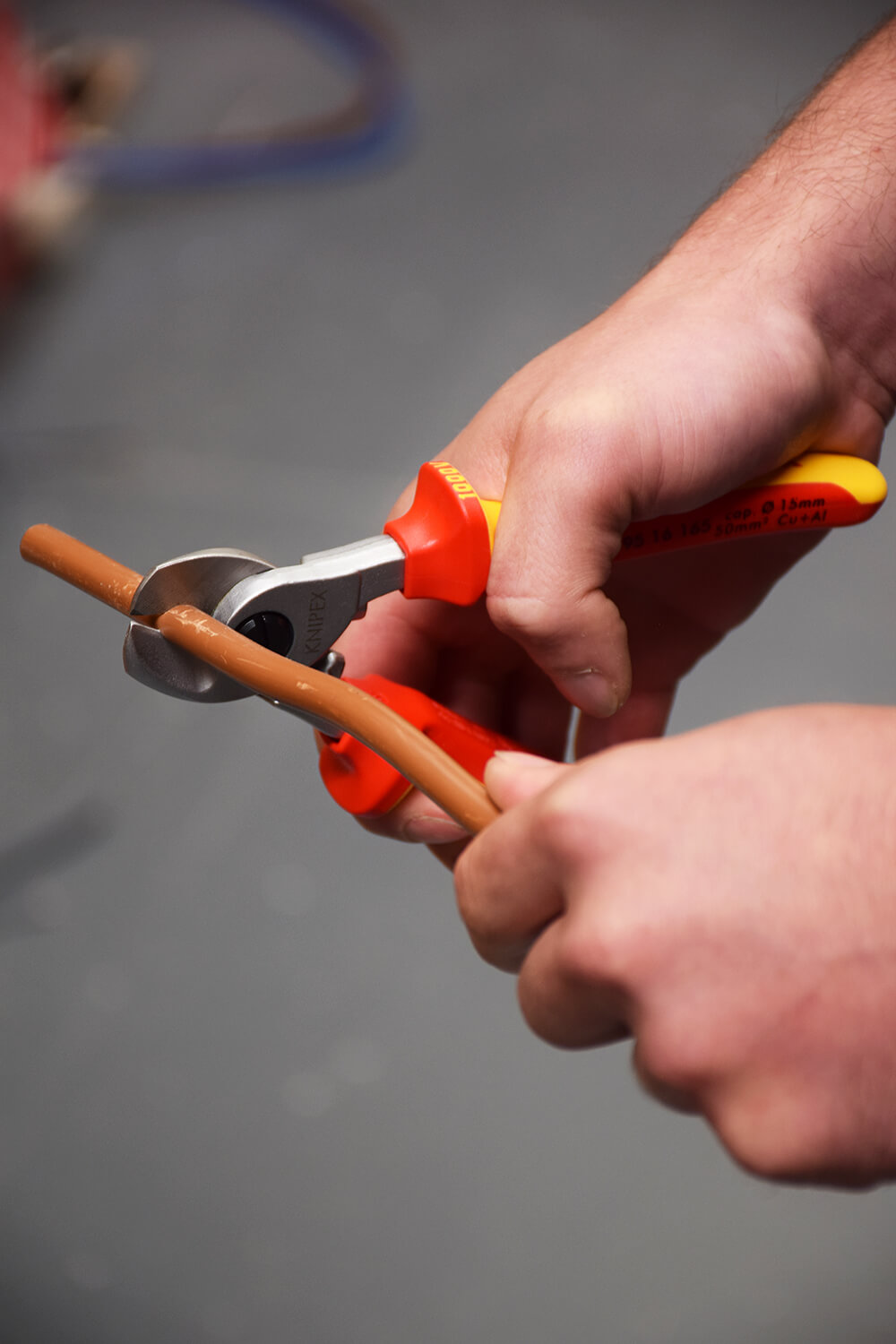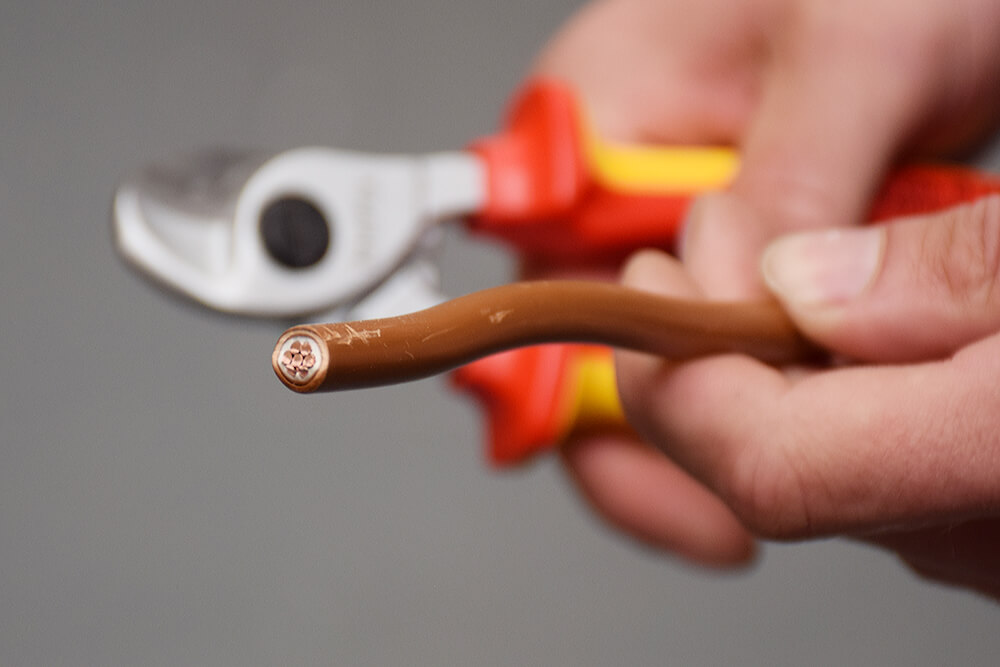 He explains that "it can dig into your hand a bit more than some other cutters do. They probably aren't something you'd use 100 times in a row, so it's not that big of an issue, but if it is something you'd be doing a lot of, I'd suggest looking at alternative cutters."
"Other cable shears and cutters, such as the NWS cutters," our trainer went on to explain, "don't feel as good quality as these Knipex shears, but they would cut through the same cable with less effort and have a more ergonomic, comfortable handle."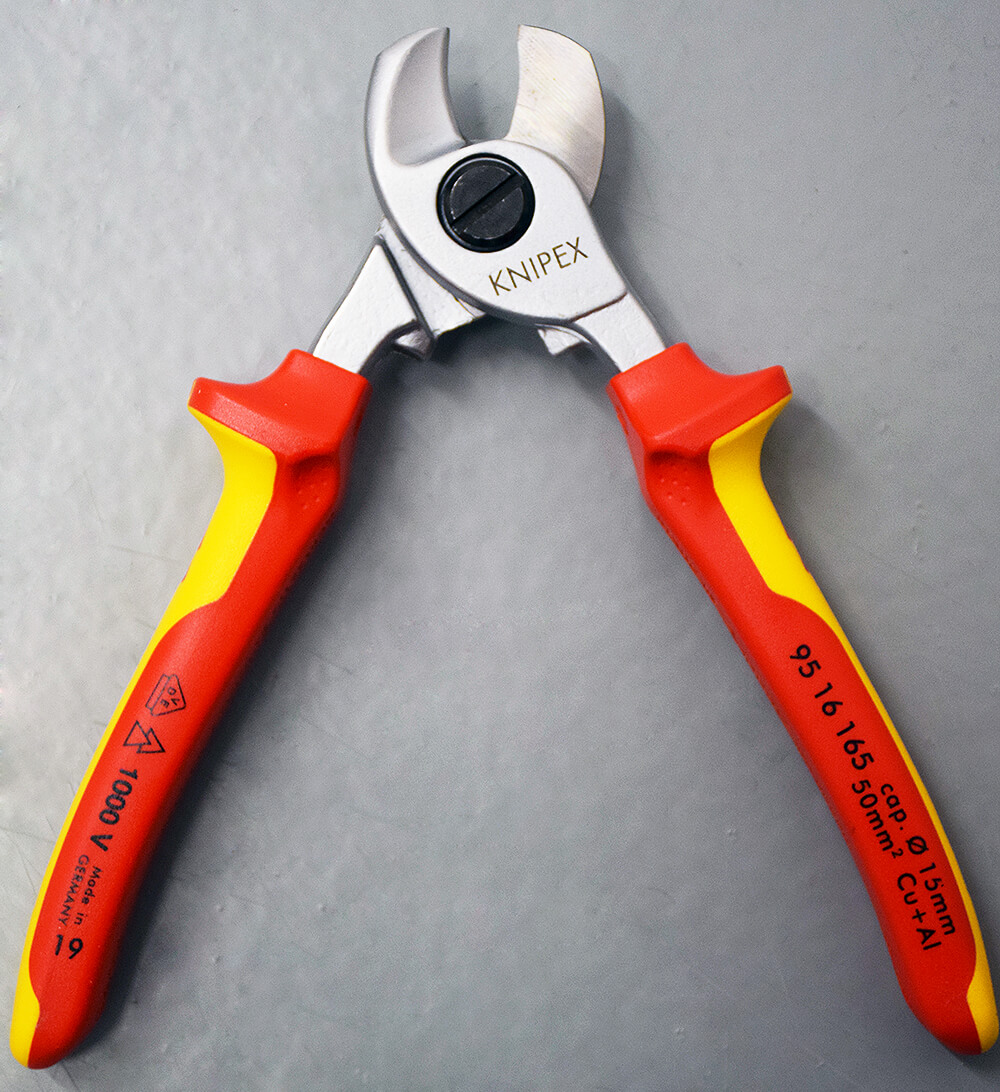 Our trainer says, "I've had Knipex tools before and I've had some of their pliers going on 20 years. They are bulletproof. You tend to buy Knipex tools once and that's it, they will last forever. These cable shears look and feel like they will do exactly the same. They are extremely well made, so if you're after a tool for longevity, they're going to get dropped and thrown in a tool bag, then I'd recommend Knipex all day long."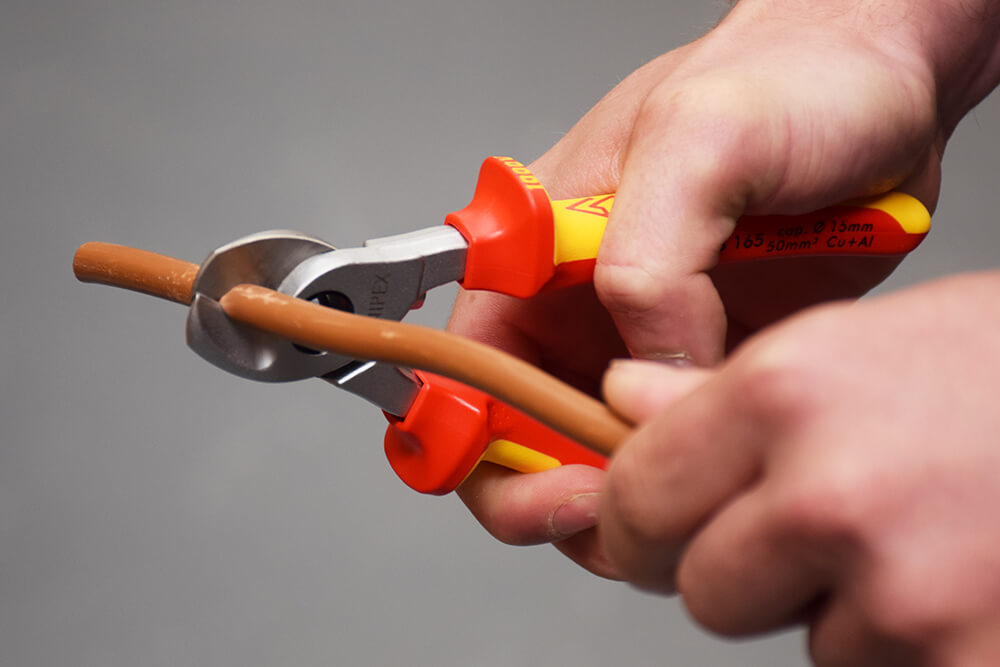 The cost of these shears ranger from £33-47, which can seem expensive, but you are paying for the quality finish and robustness that Knipex is renowned for. Despite some minor flaws with these shears, they are extremely well made and will withstand a lot of use and abuse over the years.
Pros:
They are self-locking and will not flop open, like many other shears and cutters do
They are quality and are built to last
Sharp hooked blades for an even cut
Cons:
Require more effort for regular cutting
Hooked blades will require you to open up a bit wider to fit the cable in
Thanks Knipex for sending us this tool to review! You can buy yours at local retailers or online.
Back to Electrician Tools