EC4U Rating: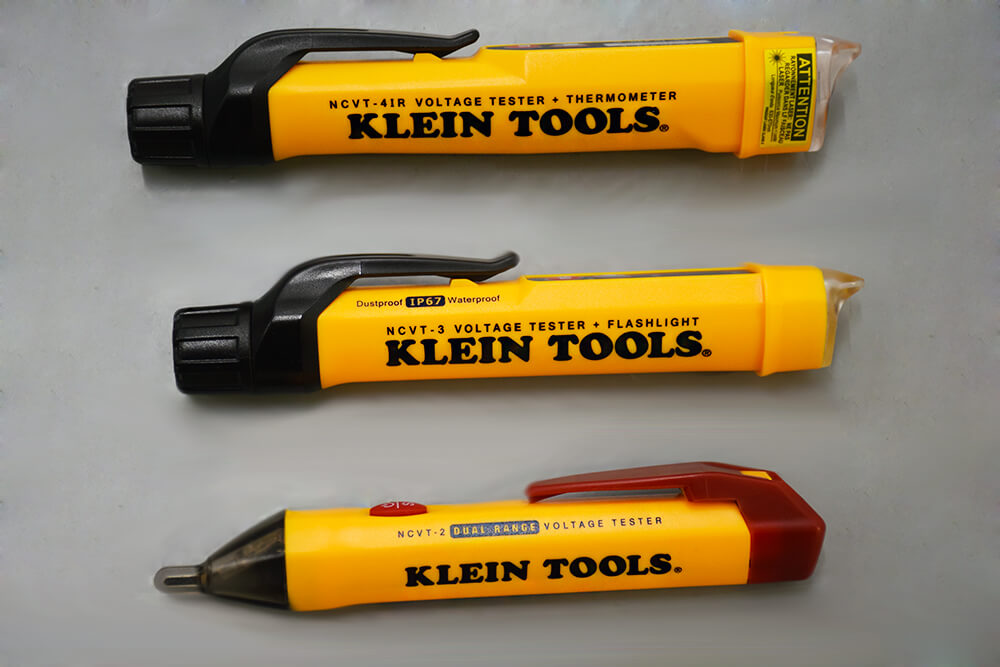 Klein Tools have produced three non-contact voltage testers that make finding cables and detecting voltage simple and accurate. Each voltage tester pen has a different function and feature, but all give both visual and sound detection.
The NCVT-4IR is the newest one in their line of non-contact voltage testers and covers two uses in one; voltage detection and IR thermometer. The NCVT-3 detects voltage and has a torch built in. The NCVT-2 just detects voltage, either at a standard or low level.
All three Klein pens are extremely accurate and sensitive to voltage, making them all reliable in detecting voltage efficiently.
We mostly use these non-contact voltage testers in our centre to find things, which is why the accuracy is so important. "When we didn't know where the cables ran, these tools came in very handy" our electrical trainer says. These testers all found the centre of a cable run quickly and easily.
Our trainers say "compared to most Kewtech or Meggers, which will just flash when near voltage, these Klein non contact testers will tell you exactly where voltage is. They make for great replacements for a stud detector if you don't have one."
The NCVT 4IR, 3 and 2 are all part of Klein's 'Tough Meter' range, which mean that they are guaranteed to deliver high performance, durability and precision with every use. These voltage testers are drop proof too, with backlit displays and a compact, toughened build.
We recently tested all three to find out which one is the best of the best.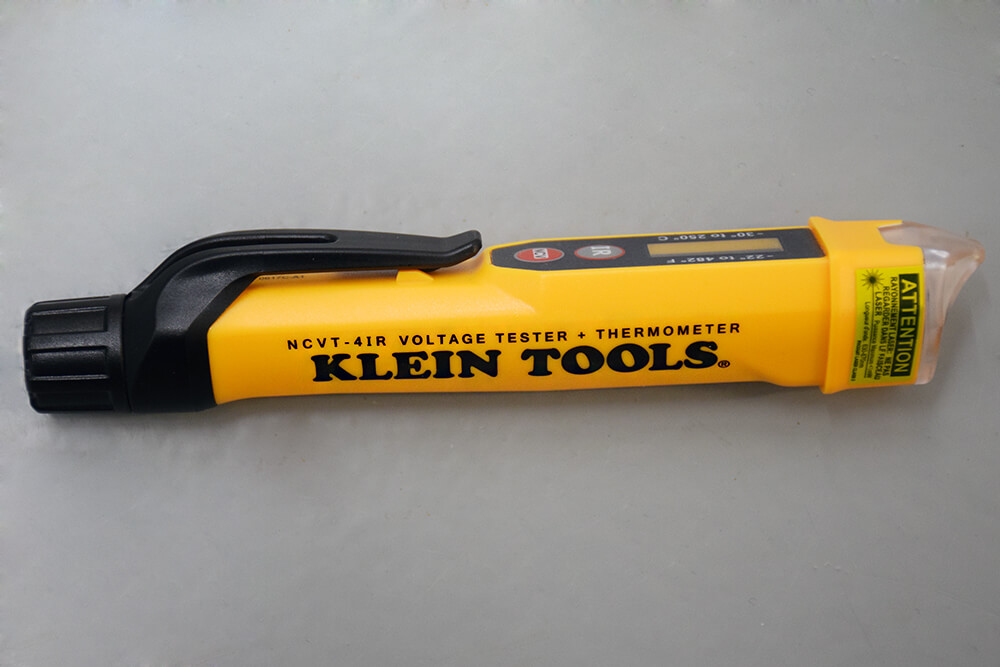 Non-Contact Voltage Tester with Infrared Thermometer – NCVT-4IR
Features:
Best suited for HVAC work, proving non contact detection on AC voltage and also acts as an IR laser thermometer (from -30 to 250°C).
Has both a visual and audible voltage indicators.
Automatically turns power off when not using, to save battery life.
Tough, lightweight, and easy to change batteries too. IP54 rated and drop proof of up to 2m.
The NCVT-4IR is a new release for Klein Tools, with this voltage tester also being able to read temperatures through an IR laser. It has been designed with HVAC professionals in mind, with the toughened exterior expected to last well on site.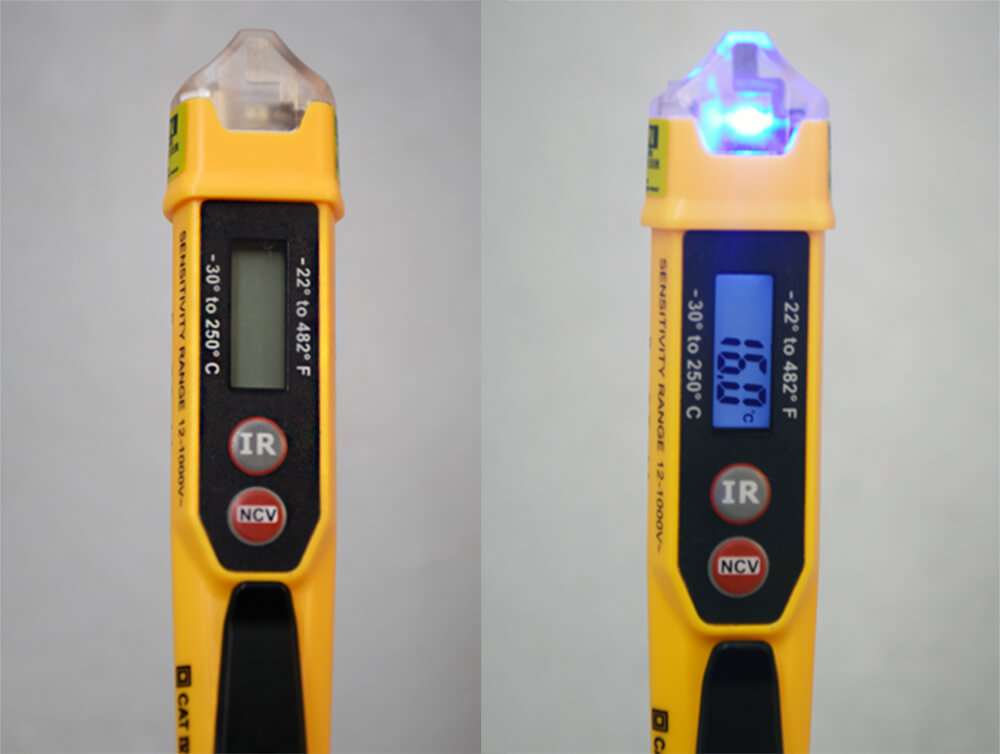 It can detect AC voltage from 12V to 1000V, through both a visual and audible beeping scale. The IR thermometer detect anything from -30 to 250°C, with the laser helping to deliver a consistent result every time.
"If you're working on heating, ventilation or AC (HVAC), you'd be using this tester a lot," our trainer says. "The voltage detector is sensitive, and will start beeping when it detects it but when you're directly over the cable or it suddenly detects voltage, the non-contact tip of it will light up red and it will consistently beep," our experience trainer explains.
When you move the voltage tester away and you are not over the voltage, then the beeps will get further apart and the light will intermittently flash.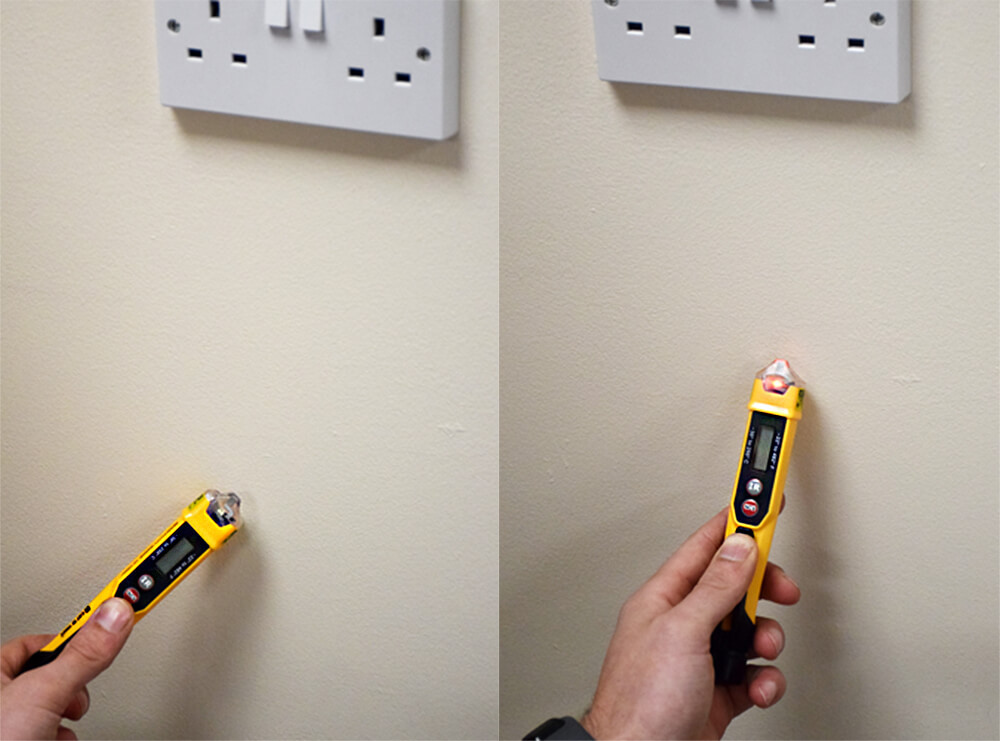 "The 4IR means that if you ever wanted to branch out into HVAC work, then you'd already have something that was suitable, instead of spending an extra £150+ on a laser thermometer."
The only thing to consider with the 4IR is that it is the most expensive one out of the three, but that comes down to its dual purpose and toughened build.
Pros:
Dual purpose – It does more than one thing.
Fits in your pocket easily, very robust and handy to have for HVAC.
Very accurate on voltage detection and IR temperature readings.
Automatically turns power off when not using, to save battery life.
Cons:
Price is considered to be high for what it is, but it is cheaper than other IR thermometers.
The Klein Tools NVCT-4IR is available to buy from CEF for £66.45 (+VAT). This item is ordered directly from the USA and will have a 6 week wait for delivery. Stock expected in the UK later.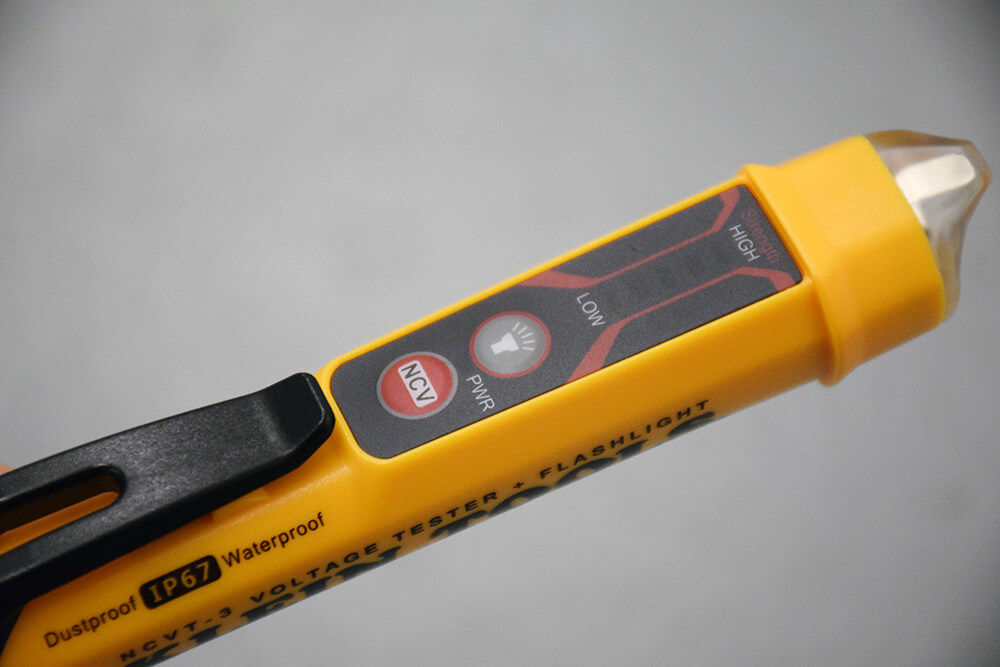 Non-Contact Voltage Tester with Torch – NCVT-3
Features:
Voltage tester detects 12V to 1000V.
Has both a visual and audible voltage indicators.
Tough, but lightweight design. 167 rated for dustproof and waterproof, and drop proof of up to 2m.
Added torch allows you to light up your working area.
The NCVT-3 design features the same accurate voltage detector functionality, with the added bonus of having a visual LED scale which shows how strong the voltage is and a torch built in.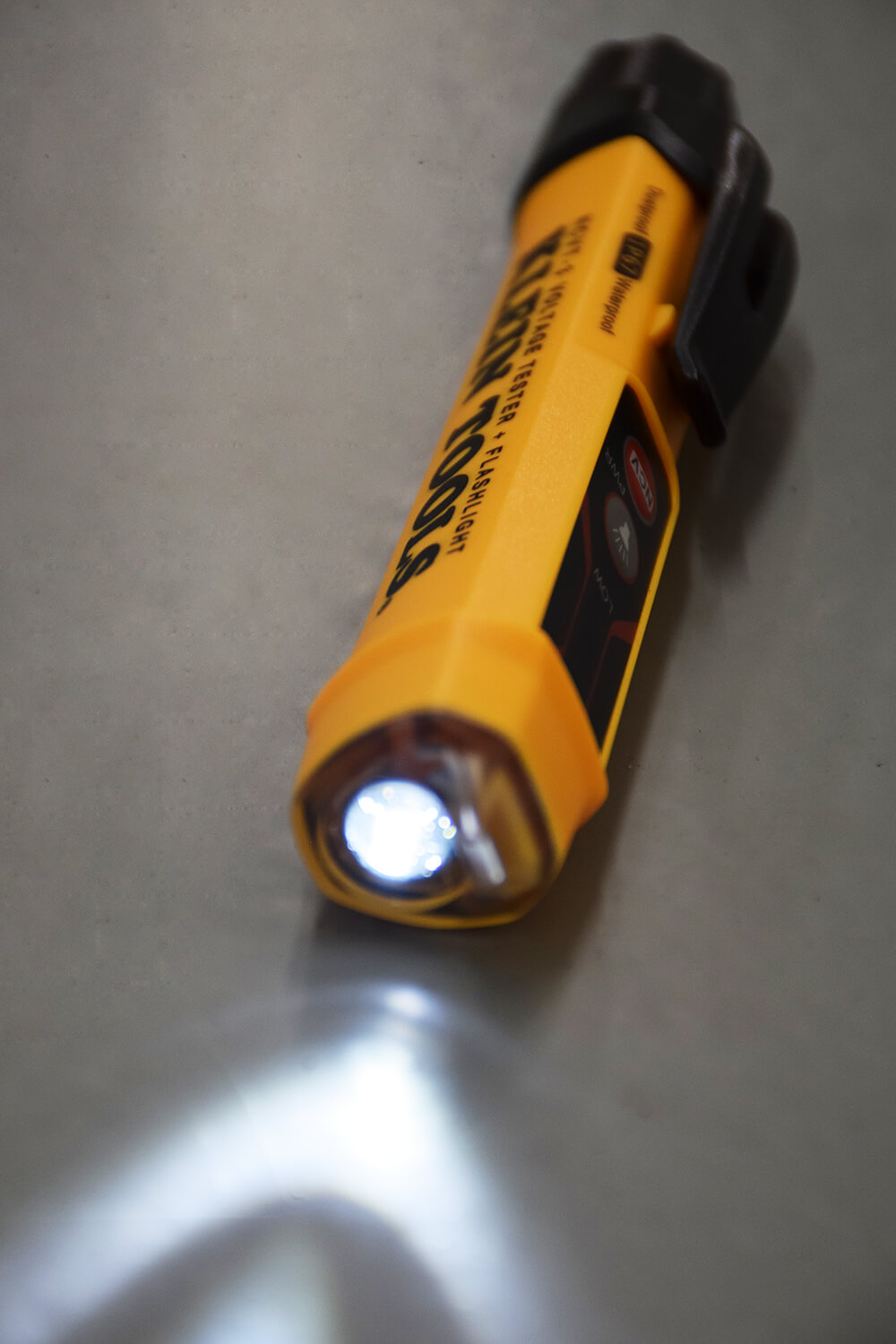 The scale gives a great indication of the voltage, so that the closer you are to voltage, the more the LEDS will light up on the scale.
"I like the scale and the voltage detection, it's very accurate" our trainer says, "but we can't really work out what use the torch would be." Our trainers pointed out that if you were working in the dark and needed a light, you would turn to using a head lamp, leaving your hands free to manage tools.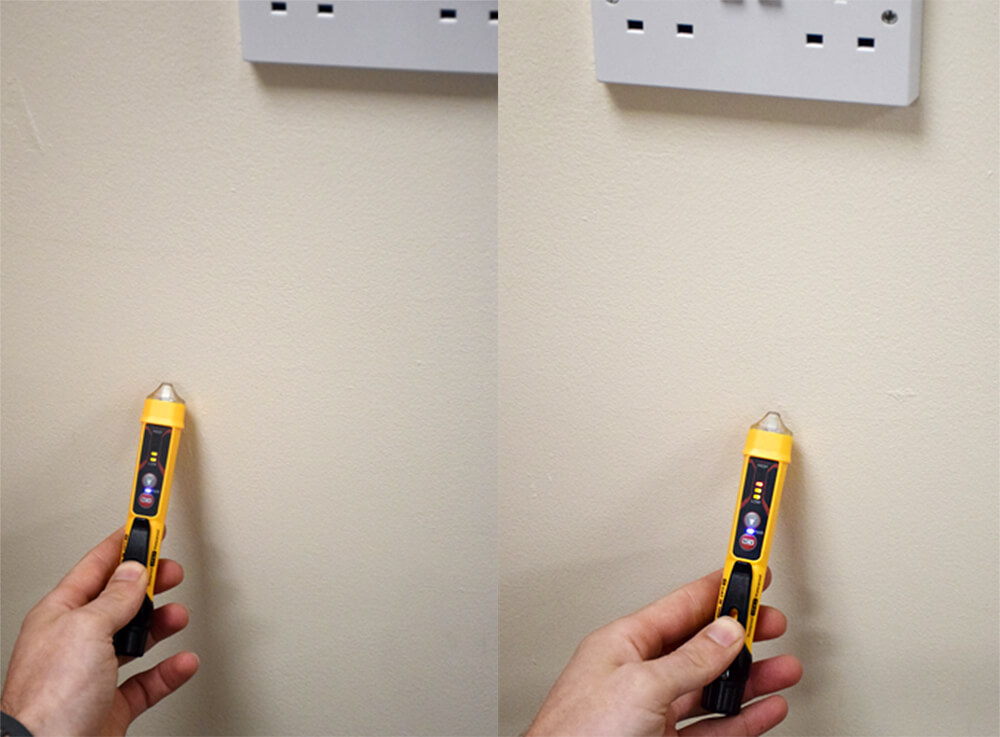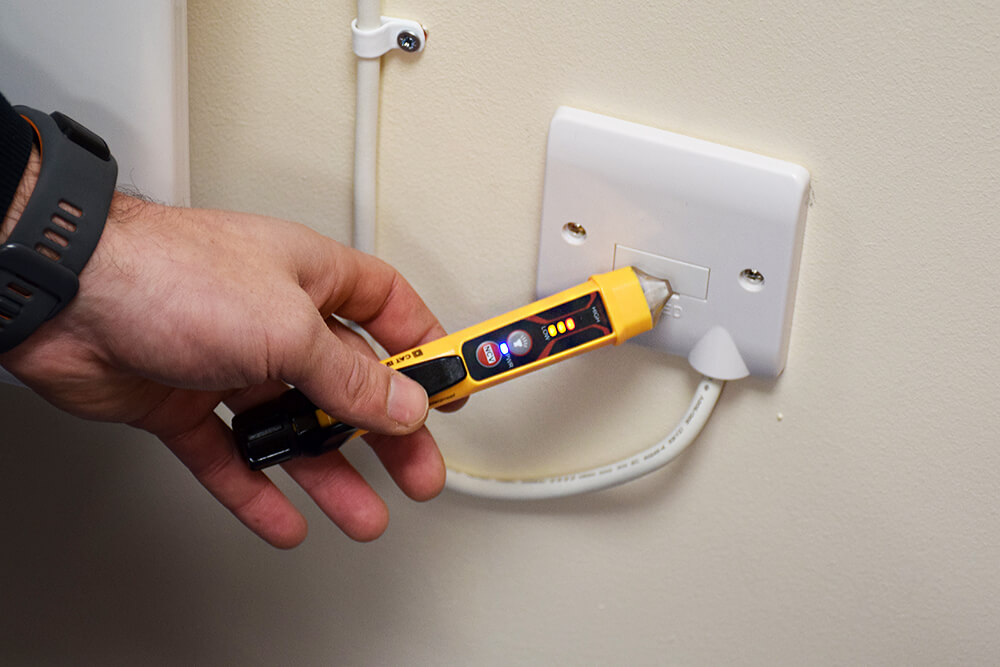 For this reason, our trainers have marked it down, as the torch didn't prove as useful to warrant the more expensive price. However, they did point out that the torch itself is bright enough to use on site and pick up small details.
Pros:
IP67 rating is a definite plus; combined with its Tested Tough status and being drop proof of up to 2m that means it's built to last on site.
Accurate light up scale that shows just how strong the voltage is.
Automatically turns power off when not using, to save battery life.
Cons:
Torch has no use being on the tester, as you would use a head lamp if working in dark conditions.
The Klein Tools NVCT-3 is available to buy from CEF for £27.02 (+VAT).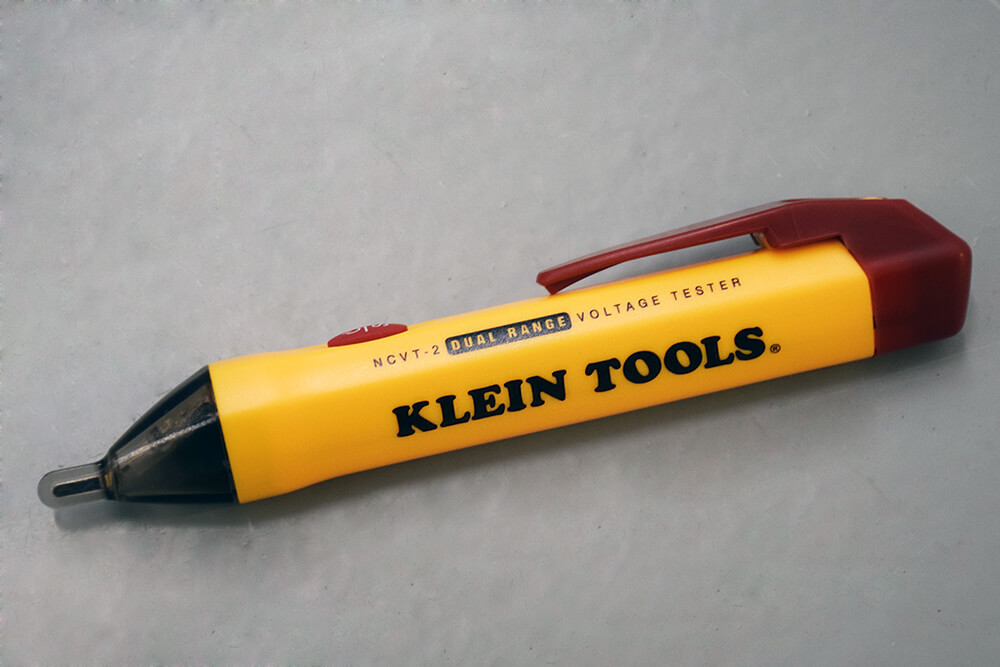 Dual Range Non-Contact Voltage Tester – NCVT-2
Features:
Dual range voltage tester that covers low voltage (12-48V) and standard voltage (48-1000V).
Has both a visual and audible voltage indicators.
Lightweight design that is drop protected up to 3m.
The NCVT-2 is one of the earlier Tough Meter models. It doesn't have a scale of a light up LED display, it simply just beeps and flashes red as it gets closer to voltage.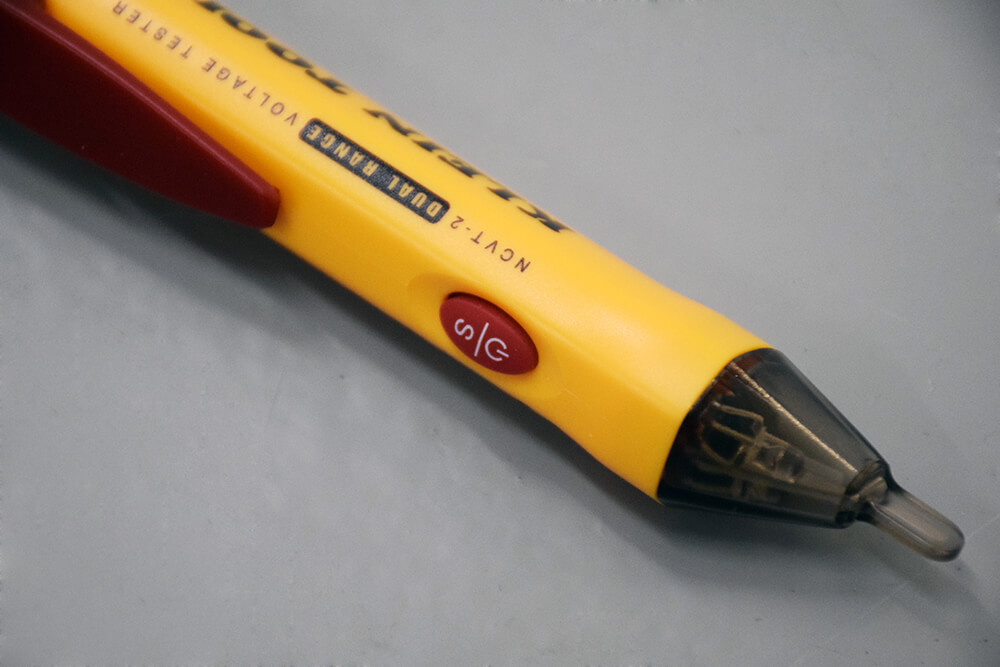 When detecting voltage, it alternates red and green to let you know how close it is to power. When you are right over the power, it will flash red continuously.
"It doesn't have as many functions as the other non-contact voltage testers but it is equally as accurate, all for a cheaper price" our trainer explains.

If you were looking for a cheaper alternative, a voltage detector that will help you find the location of cables quickly and accurately, with no frills attached, then the NCVT-2 would be ideal for this purpose.
Pros:
Automatically turns power off when not using, to save battery life.
Accurate voltage detection and simple to use.
Drop protection up to 3m is a great bonus.
Great price that makes for a desirable tool to have handy on site.
Cons:
Not dual purpose, just does voltage detection.
The Klein Tools NVCT-2 is available to buy from CEF for £18.27 (+VAT).
The result
All three of the non-contact voltage testers were proven to be extremely accurate. They all had visual and audible voltage detectors built in, compared to some other testers that only light up. The sound makes a great additional warning sign.
"If I was trying to find a cable, I would use it because it's quick, easy and accurate" our experienced electrical trainer says. "They are great for fault finding in domestic, allowing you to trace cables through an existing building."
In third place, is the NCVT-3 with 3 stars because of the downfall of the torch. Our trainers weren't as impressed with the addition of the torch, even if the LED was bright enough for detailed work. The NCVT-3 is more expensive than the 2, and on this occasion fell short of expectations.
In second place, is the NCVT-2 with 4 stars because of it's consistent accuracy and simple design, it also has the greatest drop protection of 3m. It is the cheapest priced amongst the three, which is also another great bonus.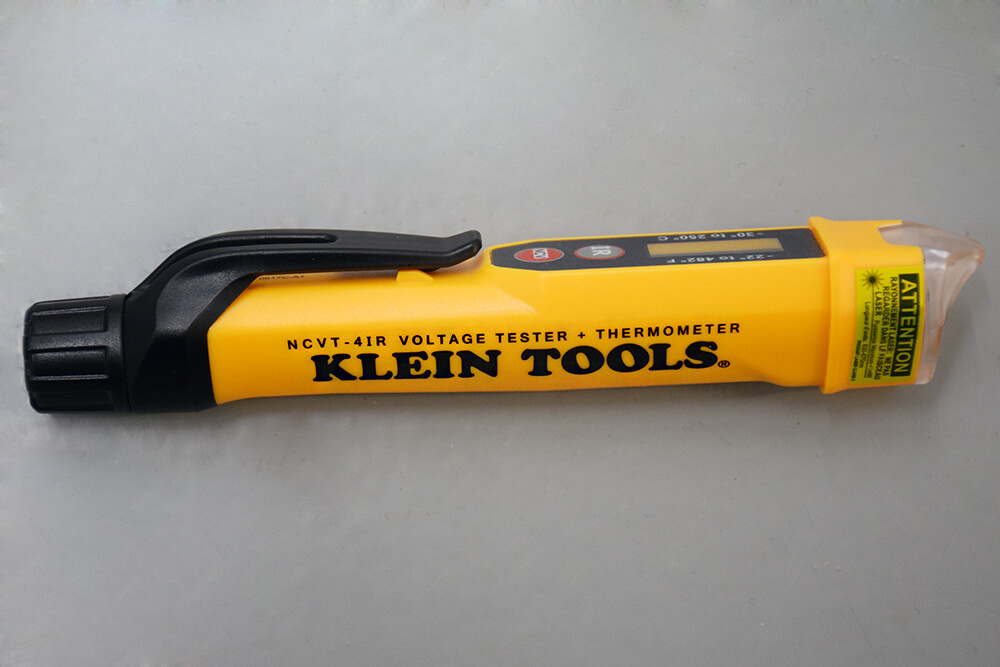 In first place, the decision was unanimous amongst our trainers; the NCVT-4IR was the preferable choice because of the display, dual purpose and price of it and was given 4.5 stars. They would purchase the 4IR over a standard infrared thermometer, because it is just as accurate and easier to carry around on site.
"I like the 4IR tester the best because it does more than one thing and it fits in your pocket easily." Our trainer adds, "it's very robust and also handy with HVAC work as you don't want to have to get a ladder out each time to get a reading when you can point the 4IR at it for a solid accurate reading."
The 4IR is also considerably cheaper than other IR thermometers, which definitely helps, especially if you aren't doing thermal readings every day on site. Although the 4IR is best suited for HVAC engineers and commercial three phase situations, it would be ideal for domestic installers too because of its dual purpose, and handy if you were to ever take on commercial work.
Back to Electrician Tools