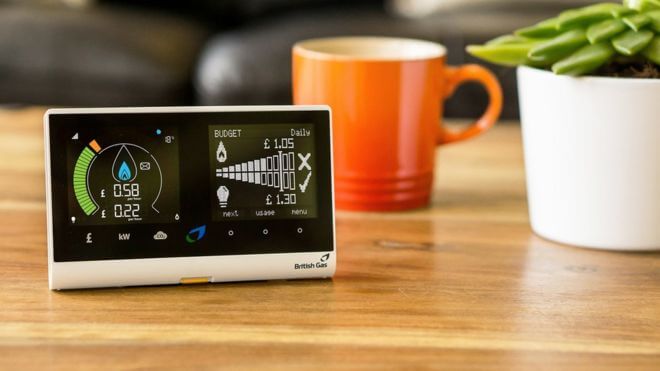 (image credit: British Gas)
Over 53 million smart meters are being rolled out by a Government energy efficient mission and being fitted into over 30 million homes and businesses. Smart Energy GB have reported that only 8.6 million smart meters have been installed across the UK to date, and problems are already starting to emerge.
Installing a smart meter into your home or business is entirely optional and there is no upfront fee. Having a smart meter in your home will help you monitor your energy usage, via the in home display, and hopefully save you money. It will also put an end to meter readings and will be done electronically.
The scheme costs the government and tax payers £11bn, but currently will only save homes an average £11 a year, a drop from the previously estimated £26 a year. But this is expected to rise to an average saving of £47 a year by 2030.
There are many critics of smart meters that doubt smart meters will actually save homeowners any money at all. In fact, some claim it will end up costing them more than they are saving, not to mention the hassle of changing smart meters if you switch energy suppliers.
Problems with smart meters
Despite Smart Energy GB claiming they rarely have issues with smart meters, in 2017, Citizens Advice reported that the amount of calls about smart meters had increased when compared to 2016. They estimate they receive 150-250 calls a month related to smart meters.
Of these calls, issues and concerns included: installation problems, those wanting some further information on smart meters, switching energy supplier issues, faulty smart meters or their bills had increased.
Smart meters and eco friendly technology
It was also discovered by a study that smart meters won't work correctly if you have eco friendly devices fitted such as solar panels, LED light bulbs and dimmers because it can't record when a different current is used.
Smart meters were reported to be giving readings up to six times greater than the actual amount of energy consumed, when the house was using energy saving lights.
Smart Meters and solar panels
If you have solar panels fitted on your home, they may cause a problem with a smart meter because your electricity works differently to how a smart meter reads. It cannot read the electricity you are creating, using and selling back to the grid. It would only read the electricity you are buying from your supplier and using.
Some homeowners with solar panels have even been turned down when requesting a smart meter, because they have solar panels installed, and of those who have successfully had smart meters installed, over half have reported problems.
Smart meters in rural locations
Smart meters run off the network, different from your broadband and wifi, so you may find that if you live in a rural location, you cannot have a smart meter fitted because the network infrastructure is too poor in your area.
Switching energy supplier with a smart meter
You can still switch energy suppliers with a smart meter; however some have found it difficult to do so. Many find that their smart meters lose functionality when switching provider and you may find that you have to return to giving manual meter readings.
Energy suppliers use different technology for their meters, and so some provider may not be able to communicate with your existing secure smart meter. It depends entirely on your meter reading setup.
If you are thinking about switching, call your new potential supplier about your smart meter and it is best to compare model and make numbers to ensure that there will be no downtime during the switch.
Smart meter installation
Smart meters must only be installed by your energy supplier. You will never be asked to pay upfront for your smart meter, so be aware of any tradespeople or rogue traders offering to install one in your home for a fee.
All smart meter installations are carried out by qualified and recognised smart meter installers. The installation will only take a couple of hours and meters are usually fitted in the same location as your old meters.
To become a smart meter installer, the person must have passed a formal qualification and meet the Smart Meter Installation Code of Practice. This code is regulated by Ofgem and every energy provider will have signed up to comply with it.

Do I have to have a smart meter?
No, you don't need to have a smart meter installed in your home. It is a completely optional service that the government are offering.
It's important to understand that having a smart meter installed won't reduce your bills. Energy providers hope that by having a handheld display, showing their energy usage in real time, will help consumers make conscious decisions to help reduce their bills.
Other alternative energy monitors are available to customers to help track spending and usage, available through Argos, Amazon and other various retailers.
They can still help track your spending and energy outgoings, helping you monitor energy usage and encourage you to make adjustments to your usage in order to save money.
They are just like the smart meters you receive from energy suppliers, except you will not have to change your gas and electricity meters over and you will still be called upon for meter readings, either to do yourself or have an engineer complete.

How to get a smart meter
If you're interested in getting a smart meter installed in your home, call your energy supplier for more information as only they can fit a smart meter.
Remember to tell them if you have solar panels and if you live in a rural location, ask them about network support for smart meters in your area.
Want to find out more about smart meters? Read on to find out if smart meters can save you money.
Back to blog