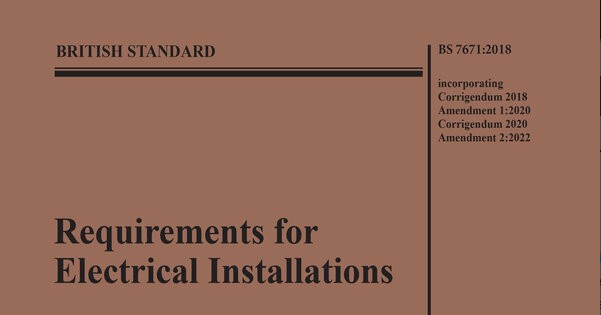 On the 15th May 2023 a corrigendum to BS7671:2018+A2:2022 was released. This comes into immediate effect. The corrigendum changes 5 sections of BS7671. They are as follows –
– Regulation 422.2 has been amended to clarify the scope of the regulation, the description 'protected escape routes' has been changed to 'firefighting lobby, shaft or staircase'.
– Regulation 443.4.1 has had indent (ii) removed. Regulation 443.4.1 deals with 'Transient overvoltages due to the effects of indirect lighting strokes'. Indent (ii) detailed the failure of a safety service (as defined in Part of BS7671) as one of the areas where protection was required. This led to unintended consequences when it came to the improvement or installation of fire safety systems.
– Table 443.2 which specifies the rated impulse voltage of equipment has been modified. Previously examples were listed in the column for Overvoltage Category I. These examples have now been removed.
– Regulation 534.4.1.1 (NOTE) has also had the examples 'fire/security alarm systems' removed.
– Regulation 701.1 has been amended. Regulation 701.1 gives the scope for Section 701 Locations containing a bath or shower. Previously it included birthing pools alongside bath tubs as examples of a fixed bath. The reference to birthing pools has now been removed.
– Section 710 Medical locations has had a new regulation added –
'710.422.2.201 Within a healthcare facility, cables or other electrical equipment may be installed in a protected escape route, where:
The healthcare facility complies with Health Technical Memoranda (HTM) and healthcare fire safety guidance, and
The particulars of the electrical installation within the protected escape route are documented as part of a fire strategy.'
NOTE: Specific guidance on fire safety for healthcare premises can be found in relevant Health Technical Memoranda as published by the Department of Health/NHS England. There are equivalent guidance documents in other devolved administrations, e.g. Scotland (SHTM) and Wales (WHTM).
The aim of this regulation is to provide more detailed guidance on the installation of cables in protected escape routes in a medical setting.
The corrigendum is available to download from the IET for free here.
Back to blog