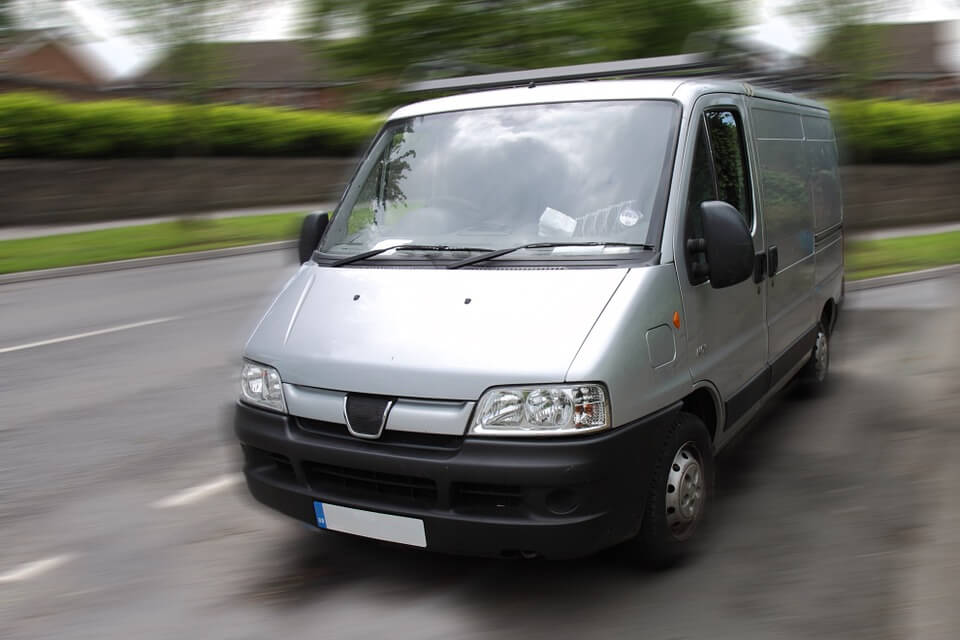 With more than £46 million worth of tools being reported as stolen since the end of the last lockdown in April 2021 it has never been more important to protect your tools and ultimately, your livelihood. The number of van thefts is also on the rise, with an increase from 12 to 35 vans being stolen every day in the last 6 years, and it is predicted to keep rising.
In this blog we are going to focus on how technology can help you with van and tool protection. If you would like to know more about general van and tool security take a look at our Van Security resource here.

Motion Sensor Camera
If you park your van in the same place every evening it may be worth investing in a motion sensor camera. There are so many different types of cameras and doorbells available now that connect with your phone or smart speaker and detect when you have unwanted intruders on your property.
A motion sensor camera would alert you immediately to the presence of unwanted visitors on your driveway or outside your house so you are able to check straight away that your van and tools are safe. The most well-known of this style of camera is the Ring doorbell.
Just be careful that you install the camera as per the manufacturers guidance, and you are only recording your own property and not your neighbours!

GPS Tracking
GPS tracking can be fitted onto your van and it is now also possible to track individual items such as power tools.
GPS trackers won't stop anything from being stolen but it will certainly help you in trying to get it back. There are a range of trackers you can buy to fit into your van, or most modern vans now come with a GPS tracker already built in that links with your phone. Make sure that you have any available apps downloaded and set up if this an option with your van.
Small GPS chips can now also be fitted to individual tools which again link to an app on your smartphone so you can see their whereabouts if needed. Take a look at the ABAX tracker, just one of the many tracker tags now available on the market.
Smart Padlocks
Do you have a habit of losing your keys? Or are you fed up with the hassle of opening all the locks needed to get to what you want? Smart padlocks may be the answer you're looking for.
Using either your fingerprint or an app you can unlock the padlocks quickly and easily without the need for keys, eliminating the fear of leaving your keys at home and not being able to access your tools!

Smart Tools
A fairly new product on the market, and therefore still limited in availability, are smart tools that can be disabled from afar.
One idea being introduced are Bluetooth enabled batteries. The batteries can be set up to only work in a specific area and if they leave this area they become useless and will no longer work. They can also be manually disabled, however, the only problem is that they can be replaced with non-Bluetooth enabled batteries. Take a look at the DeWalt Bluetooth enabled batteries here.

Smart Alarms
There are hundreds of different alarm systems out there and it very much depends on what you are looking for, however, smart alarms enable instant alerts if your van is broken into.
You can install silent alarms or sound-emitting alarms, both of which can call you if your van is disturbed, or others which can alert an app on your phone that there is an issue.
These smart alarms allow you to instantly know that there is a problem and gives you the opportunity to check your van and its contents straight away as soon as the disturbance occurs.

Insurtech
Insurtech is a new idea that combines smart technology with insurance. The product will provide you with GPS tracking technology, and digital inventory which will be combined with your insurance all on one app. The GPS system would detect a break in and alert you straight away as well as giving live location updates should the van go missing.
You can keep track of your tools and their worth on the app and should any claims need to be made you can do so through the app as everything is linked together. One company that is offering this new combined insurance and safety technology is ARMD. Not only do they provide insurance, tool inventory and security but they also run a tool store to tie everything together in one place!
Back to blog