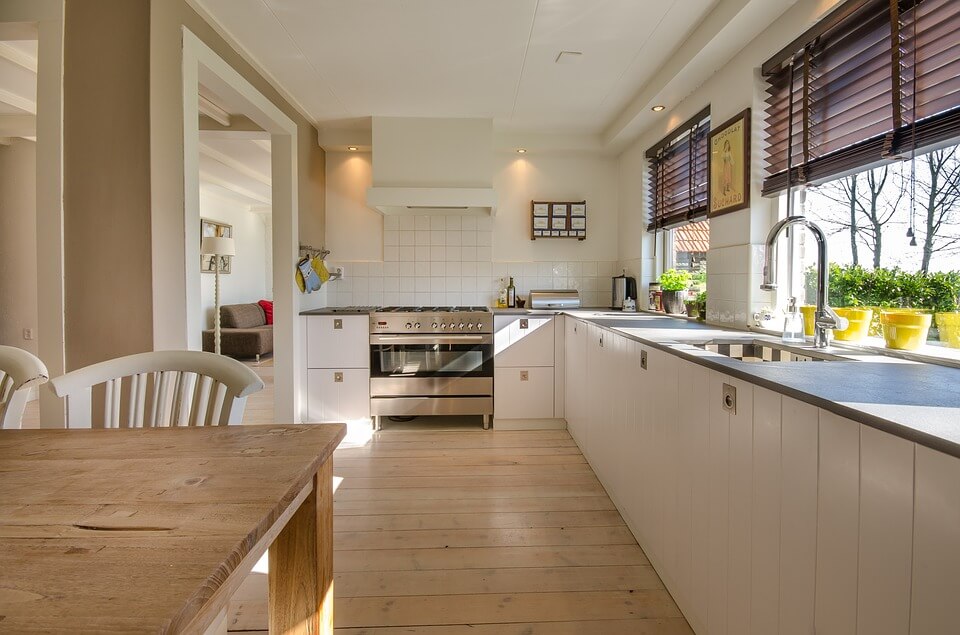 Planning to create a little more space in your home? Then adding an extension to your kitchen could be the right choice for you.
As well as increasing the property value dramatically, it can also improve your quality of living, giving you the space you need to relax, entertain and dine. The extra space will also make it look more appealing to prospective buyers or tenants in the future.
Rear kitchen extension
Rear extensions are most popular, as it allows home to open up onto views of the garden. Glass extensions allows for unobstructed views and are highly sought after.
Downlighters have become increasingly popular in kitchens and LEDs are recommending, due to them not overheating and longer lifespan. Cost to fit and install downlights isn't too pricey either! For 6, the average price is £200.
Kitchen extensions that flow into a diner are great for adding more space to the room, as well as allowing for extra storage. Islands give you extra surface space for food preparation and serving, whilst not losing contact with your guests as you entertain.
Kitchen island ideas
Interested in buying a kitchen island for your extension? Prices will start from £600 on average, with endless possibilities of adding cookers, electricity and plumbing. If you're looking for a cheaper alternative, smaller portable versions are available to buy, most notably at IKEA from £30.
Country style kitchen
Some kitchen extensions pull inspiration from farmhouse, country kitchen designs, with deep basin sinks and exposed beams and wood flooring.
Natural light is important to consider when designing a kitchen extension. Think about the direction of the sun and plan windows accordingly for optimum sunlight exposure.
With contrasting oak counter tops, white wash cupboards allow for the focus to be firmly on the rear garden. The velux windows and glass doors out to the garden allow for more natural light to enter the kitchen as well.
Modern kitchen extensions
By removing an exterior wall and preserving any period features, like beams, you open up the room completely, modernising the kitchen while still retaining the unique features of an older home.
It shows the contrast between old and new and adds to the charm of the overall look. It's important to research which beams and joists are weight bearing, as this can affect the price of extension and will result in more building work.
House extension cost
The average price of a basic extension starts from £1,050-1,450 per m/sq, depending on added extras and fitted kitchen appliances. It's best practice to look around different building contractors for the most competitive price, try and get a few good quotes to compare, and also research their previous work and extensions.
Bi-folding doors (as seen top left) help create the illusion of the kitchen opening up into the kitchen as one flowing space. Prices start from £1,600, depending on how many panels you require.
Natural light is an all important factor in kitchens; glass back doors allow for it to flood in but a vaulted glass roof adds the ultimate wow factor. Giving off a conservatory feel to the extension, it adds scenic views of the sky above – a vaulted ceiling will cost in the region of £2,000 – £3,000.
A kitchen extension can transform a space, like seen above with neutral white wash walls and a light oak island centerpiece. The vaulted glass ceilings aids the open-plan space which allows for entertaining and relaxing. The kitchen is the heart of the home and therefore an extension, will only add to the property value.
Top things to consider
It's important to remember that the kitchen is a hazardous area in your home and you must put your safety first when thinking about extending any existing circuits or adding any new circuits. Electricity is crucial to a kitchen extension and dangers lurk in every corner, from cookers, to lighting, to flood risk, to built in appliances.
Residual Current Devices (RCD) are essential in any wiring you are adding to your home and these should be fitted to comply with the latest amendment of the 17th Edition Wiring Regulations (BS 7671).
Make sure you are hiring a registered electrician to carry out any electrical work in your new extension. This ensures that the installation complies with the latest British Standards of electrical safety (BS 7671), the electrician is able to self certify their work and have valid insurance (including public liability), which is why we strongly recommend it
You can search for a registered electrician via Registered Competent Person Electrical, an online database for the public to find an electrician who is registered with a government approved Part P scheme provider.
It's best practice to always run any extension or renovation work by your local council first, even if you know it to be a permitted development as further approval may be required. You can read more about the criteria of a permitted development on the Government's Planning Portal. It is law to comply with the Building Regulations. Part P applies to electrical safety and it's advised that you call in advice from local registered electricians for any extensions.
Now you're kitchen is complete, find out how to transform your garden with our outside lighting guide!
Back to blog