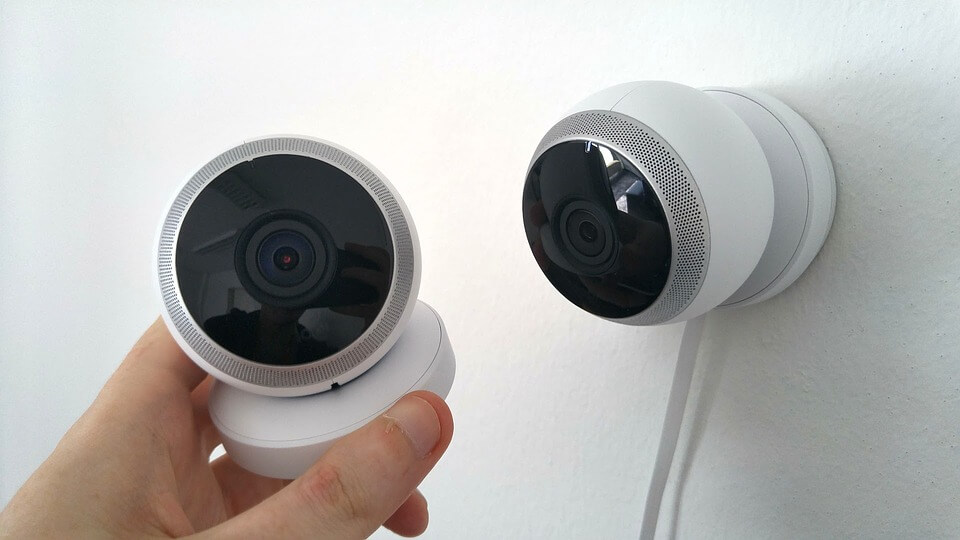 Simple measures can be taken to help protect your home from thieves, however it is these simple measures that can make a big difference. If your home has absolutely no security measures in place, then you are five times more likely to be burgled compared to a homeowner who has installed simple security measures.
On average, there is a burglary every 40 seconds in the UK and between April 2017 and March 2018, the Office for National Statistics reported that there was an increase in the number of crimes reported to the police.
We are talking you through the different types of cctv available, how to install cctv, and how smart technology is making it easier to keep tabs on our homes.

What are my CCTV camera options?
Different types of CCTV available
In this modern day, there are a variety of CCTV options to consider for your home, including: motion detection cameras, night vision cameras, audio cameras, CCTV with PIR sensor lights, interior and exterior cameras.
You will also need to decide whether you want to have wireless cameras installed (plug and play) or whether you want to hard wire the cameras into your home.
Wireless or wired in?
Depending on where you want to place your camera, one might be better suited for you than the other. Obviously, with wireless cameras you can place them anywhere as they run on batteries and have no wires to limit placement.
However, they can prove to be a hassle when it comes to having to remember to recharge the better. Another possible drawback with wireless cameras is that if you have any internet connectivity issues, you also risk losing the ability to film via CCTV.
The most common choice is to have CCTV wired into a constant power source, making it a more reliable choice. You will need to decide where it is best to place the cameras for optimum coverage, as once they are wired into place, you won't be able to move them easily.
If your cameras are wired in, that doesn't mean they won't connect wirelessly to an app to control remotely either, some will still offer this functionality.
Inside, outside or both?
Interior CCTV cameras are becoming more and more popular with the rise of smart home hubs. Most can sync with your home hub, making it another device that you can control and monitor remotely.
Outside CCTV cameras are your first point of protection against thieves as they act as a visual deterrent. In comparison, thieves have no way of knowing you have cameras installed inside your home and won't act as much of a deterrent.
In some cases, you may opt for a combination of cameras, installing one on your weakest point of entry and also another camera within your home.

Video storage
It is rare now to find a CCTV camera that just offers you a live feed and doesn't offer anywhere to store the footage. Usually, cameras will store footage to a harddrive or send it wirelessly to a cloud for storage. To give you the best advantage, it's advised that you find a CCTV system that allows you to store video footage, as if you only have a live feed and need to report something to the police, the stored footage will act as evidence.

Things to remember
When narrowing down your choice of camera, you need to think of how many cameras you will need for your property, the range of the camera (how far it can see), whether they have night vision capabilities, how it stores the footage, the quality of the picture (the higher the number, the better quality the photo) and also if you want to be able to control the cameras remotely and view footage remotely (smart CCTVs).

Smart CCTV security for homeowners
Cameras are getting smarter every day; certain ones will alert your phone via an app if motion is detected, some will recognise familiar faces to avoid concern, most will allow you to live stream footage, and others will send footage directly to your phone.
Ring Doorbell is one of the most popular items for home security as it uses both a microphone and camera to detect, while also acting as a doorbell. It can send you alerts when it detects motion and allow you to talk back through your phone and into the device even when you are away from the house.
All smart cameras will need to connect to your WiFi network and usually record when motion is detected. To allow you full control over the camera, you install an app onto your mobile or tablet device and then you can view the footage.
The key benefits with smart CCTV is that you have remote control over the camera system, they are versatile for both indoor and outdoor, and usually require no hard wire installation.

Can I install CCTV cameras myself in my home?
Yes, you can install CCTV cameras into your home, some systems are very simple to install and come with video and power transmission cables and a hard drive to store footage. You would simply just need to connect the cameras to the recording device for an easy install.
In some cases, depending on the type of camera and overall CCTV system you are having to install, you may require professional help. If it's above your technical abilities, don't push yourself and get into trouble, reach out to an electrician to help install the cameras on your home to ensure it is done safely and correctly.
Wireless cameras would be the simplest for any homeowner to install, both indoor and outdoors, as it would be a case of finding a suitable place to mount the cameras and then connecting them to the recording device.

CCTV and privacy
When installing CCTV in your home, you need to remember to position them so that they are aimed at your property only, not others. Consult your neighbours for approval if there is no way to avoid a camera pointing their way. You should not point cameras at public spaces or neighbours houses/gardens. If possible, aim the cameras at parts of your home, such as the back door, a driveway, garage, etc.
The data that is collected from CCTV cameras, the digital footage, can also not be shared online and must be used for the sole reason of protecting your property. The only exemption is that the data can be used in a criminal investigation.
Back to blog