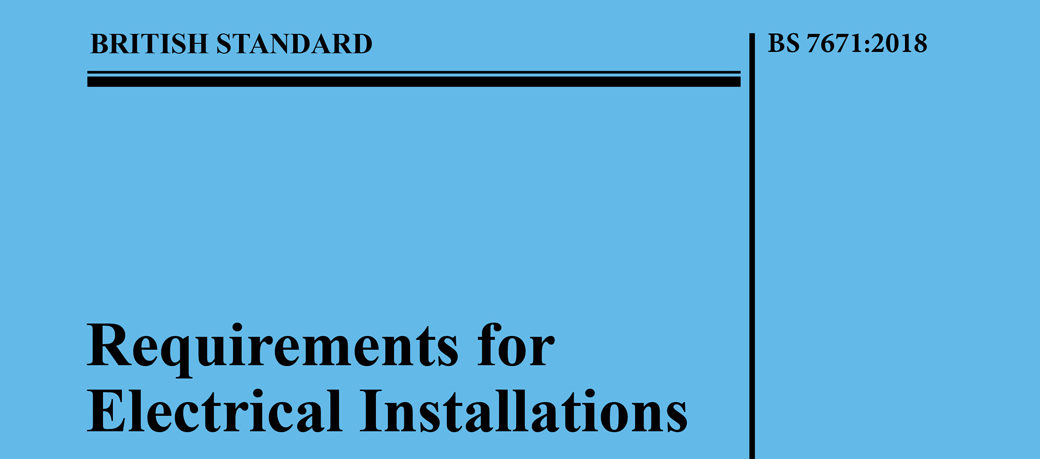 Amendment 2 of the 18th Edition is planned for release in early 2022. The IET and BSI have issued the draft for Public Comment which is available to view here.
The main changes are listed at the beginning of the document and cover the following areas:
Part 2 definitions
Chapter 41 Protection against electric shock
Chapter 42 Protection against thermal effects
Chapter 44 Protection against voltage disturbances and electromagnetic disturbances
Section 514 Identification and notices
Chapter 54 Earthing arrangements and protective conductors
Section 542 Earthing arrangements
Section 543 High protective conductor currents
Chapter 64 Initial verification
Section 03 Rooms and cabins containing sauna heaters
Section 704 Construction and demolition site4 installations
Section 706 Conducting locations with restricted movement
Section 710 Medical locations
Section 711 Exhibitions, shows and stands
Section 712 Solar photovoltaic (PV) power supply systems
Section 714 Outdoor Lighting installations
Section 717 Mobile or transportable units
Section 722 Electric vehicle charging installations
Section 753 Heating cables and embedded heating systems
Chapter 82 Prosumer's low-voltage electrical installations
Appendix 6 Model forms for certification and reporting
Appendix 7 Harmonized cable core colours
Appendix 11 Warning and user instruction labels
Appendix 13 Escape routes and fire protection
Appendix 17 Energy efficiency
Chapter 42 Protection against thermal effects
AFDD's
There was a lot of buzz when the 18th edition was first released about the inclusion of AFDD's. It looks like Amendment 2 is going further and mandating their use on circuits not exceeding 32A supplying socket outlets and fixed current using equipment. Also included is a list of omissions where the inclusion of an AFDD may give rise to more of an issue than they are designed to protect against, with the most relevant for domestic installers being domestic lighting circuits.
Protected escape routes
Whilst the 18th edition made steps towards increasing the protection of wiring systems in the event of fire, amendment 2 is introducing 'protected escape routes'. Looking to be aimed at larger or more complex buildings, rules will be in place defining how cables should be contained, the type of cable to be used and the where the cable should be run.
Section 542 Earthing arrangements
Foundation Earthing
Originally rumored to be in the 18th when first released, amendment 2 is making foundation earth electrodes a requirement for new premises where ADS (automatic disconnection of supply) is the protective measure.
Chapter 64 Initial verification
Initial verification
Additional clarity has been added to insulation resistance testing regarding carrying out the test when equipment that is either liable to be damaged or influence the result of the test is present.
Appendix 6 Model forms for certification and reporting
Model forms
All the model forms in Appendix 6 have undergone some changes but the EIC (Electrical Installation Certificate) sees some of the largest with a complete restructuring of the Schedule of Inspections. The current 2-page inspection list has been replaced with a smaller 13-point list contained within the certificate itself. The full inspection list is still included within the book and there is still the requirement to ensure that the installation complies with it.
Chapter 82 Prosumer's low-voltage electrical installations
A new Part 8 – Functional Requirements
Part 8, and Chapter 82 in particular, is going to be focused around the 'Prosumer's low-voltage electrical installations'. A prosumer being someone that can both produce and consume electricity and a prosumer's electrical installation being the consuming/producing installation. A prosumer's installation will typically be one that has local power supplies or storage that monitors and controls the energy from the sources to current using equipment, the public distribution network or local storage.
The type of equipment this is aimed at covering will include off grid storage such as Tesla's Powerbank or V2G (Vehicle to Grid) technology. One of the primary aims of this new chapter is ensuring ongoing compatibility with any future developments.
The Draft for Public Comment period runs until the 11th December 2020. As more information becomes public we will keep you informed.
Back to blog